Jimmy Osmond admits that, when he first joined his siblings' famous group, he felt "like the mascot".
The ninth and youngest of the group of preternaturally wholesome looking siblings that took the world by storm in the 1970s, he tells HuffPostUK, "I didn't take myself very seriously. I was always asking, 'What am I going to do when this is over?'"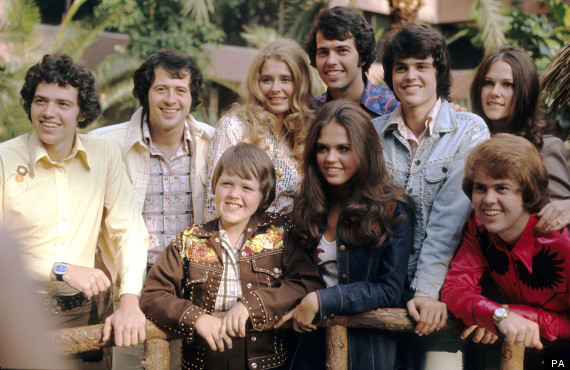 Jimmy, centre - "I was the mascot, I didn't take myself seriously"
Well, nearly half a century later, it still isn't over, with the Osmond Brothers once again making their way to the UK. This original insecurity about his place in the lineup forced Jimmy to become the most versatile of the group, learning about all aspects of the business, turning into what he now calls himself "the clean up guy - I sort everything out for my family".
Jimmy runs the whole back end of the enduring industry around himself and his siblings - the marketing, the merchandising, the itinerary, as well as enjoying lucrative and diverse business interests that have netted him a separate personal fortune.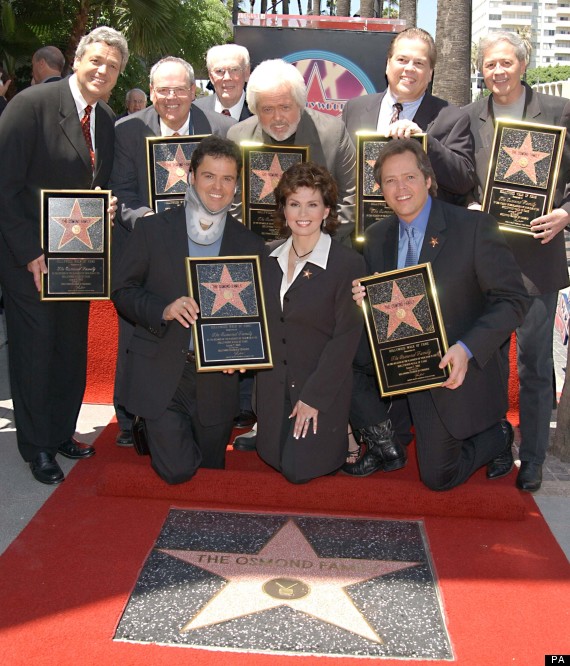 Jimmy and his other siblings were given a star on the Hollywood Walk of Fame in 2003, celebrating their sales of more than 100million records, and 51 gold recordings
But his happiest place remains up front on stage, performing hits including 'Down By The Lazy River' and 'Crazy Horses' along with the rest of his family - an enduring proximity that surely presents a challenge sometimes? He agrees...
"It's interesting working with brothers," he reflects. "One of my brothers was feeling down recently. I told him, 'Hey, people still want to hear us sing, see us perform, if you're feeling down about that, you're an idiot.'
"But I've had my share of being on the other end of those conversations too. And they're not ones you could probably have so easily if it wasn't your brother talking to you."
It's true people still do want to hear, with the band touring again this year joining other golden favourites - see below - but Jimmy is far too well-mannered to take the credit for this...

"By now, it's not about you any more, it's the people who want to see you," he explains. "And they want to hear songs that transport them back to a particular time in their life. And the way I see it, we're there to perform that service."

The Osmond Brothers will be joining David Essex, Showaddywaddy and Les McKeown's Legendary Bay City Rollers for the final 'Once in a Lifetime' tour coming to the UK in June. More ticket info here:
TOUR DATES:
JUNE 2014
FRI 20th MANCHESTER Phones 4U Arena 0844 847 8000 www.phones4uarena.co.uk
SAT 21st LEEDS First Direct Arena 0844 248 1585 www.firstdirectarena.com
SUN 22nd CARDIFF Motorpoint Arena 029 20 224488 www.motorpointarenacardiff.co.uk
TUES 24th NEWCASTLE Metro Radio Arena 0844 493 6666 www.metroradioarena.co.uk
WED 25th LIVERPOOL Echo Arena 0844 8000 400 www.echoarena.com
THUR 26th LONDON THE O2 0844 856 0202 www.theo2.co.uk
FRI 27th BIRMINGHAM LG Arena 0844 338 8000 www.lgarena.co.uk
SAT 28th BRIGHTON Centre 0844 847 1515 www.brightoncentre.co.uk
30 Great Things About Growing Up In 1970s Britain
Whether you loved football or Disney movies, you could literally lose DAYS filling in your Figurini Panini sticker albums... as well as all your pocket money on buying the packets.

Cola Bottles! Cola Fizz! Other sweets that weren't Cola flavoured! Yes, you could buy a whole bag's worth - and still have money left over for a Wagon Wheel.

Did we completely understand the true genius of The Goodies at the time? Or did we just love their silly jokes, slapstick chases and the giant white kitten? Who cares. They were brilliant.

The most fun - and possibly least practical - form of transport in the 1970s. (Although clearly the kid in this photo is doing it wrongly, as the space hopper's face is facing backwards.)

In the Seventies, we were rich! Rich, we tell you! Or it at least it felt that way, because our pockets and piggy banks were weighed down with half-penny coinage.

A man called Yoffy. A selection of gloves. And lo! You had 'Fingerbobs'. Only 13 episodes were ever made - and yet our memories are engrained with phrases like: "Yoffy lifts a finger... and a mouse is there".

...and his master, Tony Hart, of course. And his mate Chaz. And the nailbrush dog. And all the other wonderful things about 'Take Hart'. But mostly: Morph.

Admittedly, they weren't the most practical item of clothing - especially when you wanted to ride your bike - but still, they went with everything. And by 'everything' we do of course mean knitted vest-tops and clogs.

If it wasn't nailed down in the 1970s, chances are it got embellished with a Dymo label (with your name on).

Was there ever a sweeter, more gentler race than the Clangers? No. Never. Not even the French come close.

The machines used to record every '70s mix tape, every home radio show you made with your siblings, and every Top 40 rundown (by placing it in front of the radio).

Because the summers were hotter in the Seventies... weren't they? That's how we remember it, anyway.

"Once upon a time, not so long ago..." we all watched an adorable show about a saggy cloth cat and a marvellous, mechanical mouse organ. And it really was marvellous.

If you wanna be the best... If you wanna beat the rest... Wooah... you've got to watch the inimitable Roy Castle on 'Record Breakers'. As we all did.

There wasn't a week that couldn't be enhanced by the arrival of Jackie magazine. And a problem that couldn't be solved by its agony aunts, 'Cathy And Claire'.

Loved flares? Loved tartan? You must have LOVED The Bay City Rollers. Altogether now: "Bye bye, baby, baby bye bye..."

Imagine how many packets you could buy with your weekly pocket money! (And fortunately back then, the ensuing dental work would be free.)

Back when Noel Edmonds wasn't annoying - nor Keith Chegwin, for that matter - we all thought it was great to give things away to strangers. In exchange for something else, of course. Who can forget the 'Top 10 Swaps'?!

The anarchic older brother of BBC Saturday morning TV, the truly cool/hard kids watched ITV's "Today Is Saturday, Watch And Smile". And who can blame them? It had foxy Sally James on it.

Boys loved him for his footballing skills, girls loved him for his hair. Mainly because girls wanted to have hair like his.

Back in the days when albums were games of two halves, album covers were works of art, and inner sleeves contained lyrics. The only thing better than a vinyl record? A double gatefold vinyl record. Oh, yes.

Why Don't You... just switch off your television set and go out and do something less boring instead? Or failing that: leave your television on and watch a bunch of middle-class kids tell you what to do. Brilliant!

Pop a disc in! Click through the pictures! Repeat forever!

Through their actions, they taught us to not drop litter, and through their names, they taught us geography. Was there nothing we couldn't learn from the cuddly inhabitants of Wimbledon Common?

A Radio Times for kids, "la la la la la" Look-in magazine was available every week. Just like the jingle said.

Johnny Morris! Doing the voices to animals! TV didn't get much better than this. Well, not until Morris voiced 'Creature Comforts', that is.

They burst into our consciousness with 'Waterloo' and provided ear worms before any of us ever used that phrase. The flares and platforms were just a wonderful added bonus.

Your favourite toy was Little Ted, right? No, wait: Jemima. And your favourite presenter was Brian Cant? No. Fred Harris. Floella Benjamin? And which shaped window did you like best? *continues ad infinitum*

If you were VERY lucky, you had boots like these. If you were less fancy, you had ones that you strapped to your shoes. Either way, they were the best mode of transport for '70s kids (apart from space hoppers).

Chew one of these and you could blow the biggest, pinkest bubbles known to man. Swallow one, and it would be in your stomach until 1984.