Harrison Ford may pick and choose his projects with abandon these days, preferring to spend time with his wife Calista Flockhart and young son - last seen motoring up the Norfolk Broads on a long boat, no less - but it wasn't always the way.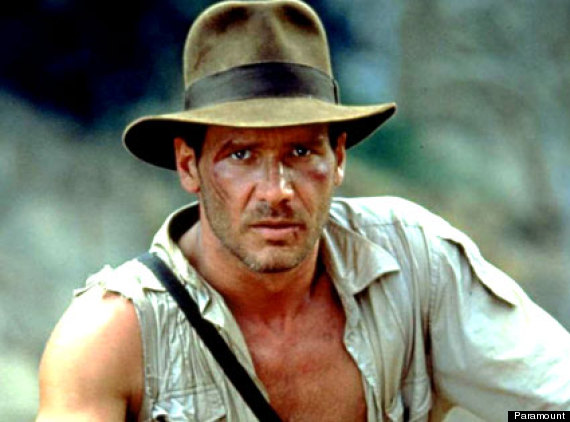 What is Harrison Ford's finest moment? It's hard to decide...
With a career spanning six decades, and films, including three massive franchises, often breaking box office records and securing more than $3.5billion at the US box office, Harrison Ford arguably remains the most successful actor of all time.
Add to this his catalogue of memorable cinematic heroes, and it's clear he's a unique figure in Hollywood. But how did he do it? To celebrate the release of his latest film, 'Ender's Game', on DVD, here's a review of some of his best moments...
Harrison Ford's Big Moments
In a nutshell: In one of the few sequels held in higher esteem than its predecessor, Empire Strikes Back picks up the tale 3 years after the events of Star Wars as Darth Vader pursues our rebel heroes across the galaxy. The role: Han Solo - Despite swapping his intergalactic smuggler status for a ranking position in the Rebel Alliance, Solo sacrifices none of his edge from his first outing, ceaselessly trading barbs with Princess Leia and generally refusing to deal with anyone's nonsense. Best moment: "I love you." "… I know." And if that means nothing to you, go watch the original trilogy this instant.

In a nutshell: The first outing for the unlikely archaeologist-turned-adventurer, Indiana Jones' globetrotting race to recover the legendary Ark of the Covenant ahead of the Nazis takes him from an ancient temple in Peru to a snake-pit in Egypt. A global smash on release that proves equally watchable after 30 years, Raiders is bursting with iconic scenes that remain indelibly imprinted in the cultural zeitgeist. The role: Indy - Part chalkboard intellectual, part temple trawling hero, Ford is quietly smouldering as the intensely learned academic who is shockingly adept in the field. With his signature fedora and sharp turn of phrase to match, Indy is no slouch with the ladies – though former flame Marion Ravenwood (the ineffable Karen Allen) gives him a run for his money. Best moment: The Sword vs Gun moment, where a knackered Indy (actually a flu-ridden Ford on whom Spielberg took pity) answers some flamboyant swordplay by pulling out his gun and firing off a shot.

In a nutshell: The quintessential dystopian Sci Fi flick, Blade Runner takes a misanthropic look at technology, big corporations, and what it is to be human (with a healthy dollop of film noir influence for good measure). The role: Ford's Rick Deckard was an underappreciated character in its day (as was the film, really), but reveals the pain of a man who's realised he's not deactivating machines, he's killing people — and hates the job. Best moment: While this article is about how awesome Ford it, we just can't let this one go. Rutger Hauer's rain-drenched soliloquy is a surprisingly heartbreaking moment in the high concept Sci Fi; "I've seen things…"

In a nutshell: When a young Amish boy is the sole witness to a high profile murder, it's up to cop, John Book to go into hiding with the boy and protect him before the trial. The role: Harrison Ford received his only Oscar nomination (so far) for this Peter Weir-directed film, a smart and perfectly structured thriller about a big-city cop who learns about love and violence when he goes undercover in an Amish community. Best moment: City boy Book ain't used to Amish time, so when an old bearded fella speaking in Dutch tells him to get up, he's not best pleased. It's the exchange between the two in the barn, once Book's hands are 'on the teats', that's so awkward, it's pretty funny

In a nutshell: Ostensibly a breezy romantic comedy, Working Girl broke the mould for female-lead cinema, placing not one but two strong women in the heart of that most masculine of domains - Wall Street. Coming at the tail-end of the 80s capitalist feeding frenzy, the film confronts contemporary issues of women in the workplace, alongside wider middle-class aspirations that cross the gender aisle. The role: Jack Trainer - an unusually humorous and well-rounded performance from Ford as the irresistible boss, but it's never supposed to be his film and he plays his part perfectly. Best moment: He doesn't get one - and that's the point.

In a nutshell: Indiana Jones rounds off a perfect trilogy by (once again) racing the Nazis to a Biblical treasure. This time, the Holy Grail is up for grabs and Indy's oblivious father (played by Sean Connery himself) is along for the ride. The role: Following the out-and-out fun of previous instalments, Last Crusade treads a slightly different path as it takes us back to Indy's childhood and his fractious relationship with his disinterested dad. Here, we see a different Indy - one partially driven to heroic heights by a yawning chasm of familial affection. We're also treated to every conceivable origin to the Indy myth in the first five minutes. Why'd it have to be snakes, eh? Best moment: From the mischievous score to the great comedic timing, the scene where Indy knocks out a Nazi to save him and his dad from discovery is hilarious. When the well-to-do onlookers look aghast at the violence, Indy gives a nonchalant, "No ticket." Film fans of the indie persuasion might have seen this cool moment given decent homage in Kevin Smith's Dogma.

In a nutshell: The classic tale of a man on the run, accused of a crime he didn't commit, sees Dr. Kimble try to clear his name of murder before a determined US Marshal catches up with him. The role: Ford and Jones are both excellent as Kimble and Deputy Samuel Gerard, respectively. The magic of this film is that you find yourself rooting for both characters, and we're going to go as far as saying Tommy is nearly as awesome as Harrison here. Best moment: Obviously the giant water duct. OBVIOUSLY, the giant water duct. In two lines of dialogue the entire premise of the film is brilliantly summed up. "I didn't kill my wife." "I don't care."

In a nutshell: Russian terrorists set their sights high when they aim to hijack Air Force One, along with the US President and his family. Unfortunately for the post-Soviet radicals, the President is a total bad-ass. The role: President James Marshall - A decorated 'Nam vet and all-around patriot, President Marshall is surprisingly spry for a middle-aged politician who spends his life attending meetings. Regardless, Ford's signature blend of laconic charm and ferocious sincerity make him a cinematic force to be reckoned with. Best moment: Yes, there are some questionable physics taking place in the moment where President Marshall releases Gary Oldman's parachute, yet still manages to hang on to him to deliver his final quip… but it's a bloody cool quip, nonetheless; "Get off my plane."

In a nutshell: Mustachioed Seventies relic Ron Burgundy moves to New York to take on the Eighties and 24-hour news. The role: Ford takes a backseat from his lead roles and plays an epic cameo in the form of Mack Tannen, a veteran broadcaster with the cadence of a knackered retriever. Best moment: The whole scene in which he hires Veronica and fires Ron is excellent purely for how straight Ford plays it. It's easy to forget that the guy's got comic chops, but when you think back to Indiana and Star Wars, Ford's cool headed characters often derived the bigger laughs.

In a nutshell: Having narrowly survived an alien invasion, humanity realises the tactical genius of youth is their best bet to thwart the inevitable reprise attack. Mind-bending zero-gravity simulations and spectacular space battles lead the eponymous hero to a fateful showdown. The role: Colonel Graff - Hard-nosed head of the International Fleet's military bootcamp for young hopefuls. Tough and distant yet with an ever-watchful eye on Ender, Graff steers humankind's best hope through the minefield of his intensely rigorous training. Best moment: Damning Ender with early praise and thereby purposefully setting him against his peers, all in order to make him perform at his best: "We need a Julius Caesar, a Napoleon…"
'Ender's Game' is out now on DVD. Watch the trailer below...