Pampering, girly banter and probably champagne... Hen dos and spa breaks go hand in hand, don't they? In a nutshell, yes - but that doesn't mean finding a spa that ticks all the boxes (price, location, reputation, treatments) is easy to track down and once the spa has been selected, how does a girl survive the group preening session?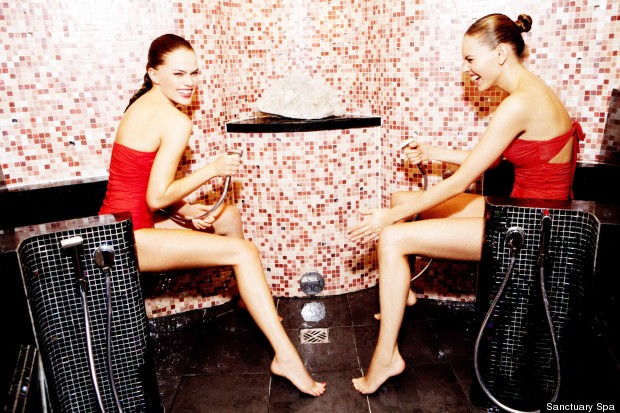 Whether it's your idea of the ultimate day out or more like your worst nightmare, here are a few tips to follow on a hen do at the spa:
1. Go easy on the champagne. Most spa packages offer a glass or two on arrival or with lunch. Scrummy. But bubbly + massage + steam room + sauna? It will either result in a nap, a headache or both.
2. Don't forget to pack your swimwear. Sounds obvious but hen do packages all involve a lot of "downtime" in the pool and jacuzzi areas in-between treatments.
3. Don't be alarmed if you find yourself half-naked, even if you're only having a facial. It's common spa etiquette.
4. Don't expect to have the whole spa to yourselves when you get there. Some spas allow areas to be booked out for private parties but it's likely that there will be other guests using the facilities too.
5. If you've never met the other girls, avoid the "is my bikini/body/waxing better than yours?" mind games. It will involve too much staring and you probably won't make friends.
6. But definitely do get waxed beforehand. Remember there's a wedding to follow - you don't want to be the girl fellow hens reference to as "the girl with the bad bikini".
7. It's not the time or place to start debating the colour of the bridesmaids dresses with the other girls - a) things can get heated and it's too quiet to get away with bitching, b) no matter what she says, the bride really doesn't want all and sundry's opinions on her colour-scheme/cut choices.
8. Relax! How often do you get to do nothing for a day?
Find the perfect spa package in our guide below:
SUBSCRIBE TO & FOLLOW UK STYLE