When charity Action for Happiness asked people to tweet, Instagram and Facebook photos of what made them happy, their aim was to try and reclaim happiness from the clutches of consumerism.
So, not the pair of new trainers or the car you've always wanted, but rather the things that - usually - require no currency and make you happy simply because they are.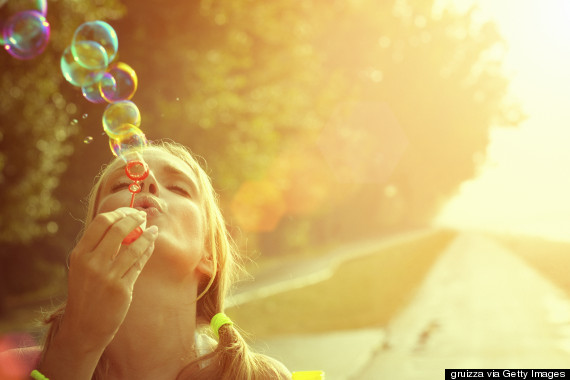 The entries came flooding in - a reassuring sign that people are connected with their own happiness.
In fact, according to a recent survey by the charity, 87% of people would pick being happy over money, and the chief reason for happiness was their relationships with their friends and family. In other words: not money or what it can buy.
SEE ALSO:

Blue Skies, Dogs And Baby Tortoises: HuffPost Editors Reveal What Makes Them Happy

Posting A Positive Message On Facebook Actually Helps To Spread Happiness
Talking about the entries, director of Action for Happiness Mark Williamson said:
"It's really inspiring to see so many people sharing photos of what really makes them happy. In a world where we're bombarded with fake images of happiness in the adverts and the media, these more authentic pictures remind us that the best things in life aren't material things. Above all it's clear that our relationships and the natural world are big contributors to our happiness"
"The UN Day of Happiness is about the fact that happiness really matters. It matters for us and our loved ones - and it matters for our countries and leaders too. All around the world, people are recognising that real progress is about more than just growing the economy - it's about increasing human happiness and wellbeing".
Story continues just below the slideshow:
28 Definitions Of Happiness
Happiness, as the Merriam-Webster dictionary defines it, is "a state of well-being and contentment." Sure, that's one way to put it. But what does it really mean to feel on top of the world or entirely at peace with oneself? Do you feel immersed in joy? On cloud nine? We were curious about the deeper, more personal interpretations of the sensation we all know so well. So we asked our Facebook community to tell us how they explain the joyful feeling. See some of our favorite definitions below then let us know in the comments: How do you define happiness?

"Being at peace with everything going on around you." -- Kimberly Clark

"Travel!" -- Verna Coomer Ott

"Peace, contentment and love from a job well done." -- Sally Duros

"The absence of want. I have everything I need and I do what I love." -- Bouaketh Chanthavisouk

"The moment when you don't miss anything." -- Andrea Szente

"Following your bliss." -- Kim Fox

"Keepin' it real." -- Susanna Speier

"Healthy body + peaceful mind = happiness." -- Sanam Nour

"Selflessness." -- David Bader

"When you're at peace with the world." -- Pedro E. Thormodsen

"When you don't know what you've done and still you feel delighted ... thats happiness to me." -- Nishant Sinha

"Family." -- Phil Bundy

"Inner confidence and peace." -- Lisa Simone

"The byproduct of living a good life." -- Erica Peterson

"Slice of pie, and no one hassling me." -- Genevieve S. Jenner

"Knowing yourself." -- Dmitry Lambrianov

"Music!" -- Caitlin Tremblay

"Anything you give without expecting any return!" -- Rolando Vargas Soneja

"Pure love." -- Ekaterina Vitkina

"Feeling my chest, my heart space expand with love and excitement for just being in that moment." -- Zen Sensor

"A stack of books." -- Mary Jane Butler

"A smile from the inside out." -- Saundie Isaak

"Liking yourself and not having to explain why." -- Joanne Lawson

"Knowing the difference between what I can and cannot do anything about, and between what is my business and what is not my business and what is not anybody else's business." -- Denise Helberg Snider

"Seeking and becoming my original self." -- Leo O'Mara

"Grace, strength, ease, freedom. -- Ina Sahaja Yoga

"Peace...yes, inner peace. Not having any turmoil in my head." -- Martha Contreras

"A day off, with no hurried plans, and a slice of homemade strawberry rubarb pie, while reading a good book." -- Cynthia Amaro
Here are just some of the entries - to see more visit the website. And don't forget - you can always submit your own picture with the hashtag #happinessday.
"Things that make me happy for #HappinessDay."

"Sunset over Whitstable Bay."

"Yesterday I spent a relaxing day reading."

"Today's @yogitea message...These make me HAPPY!!!"

"Watching our three cheeky monkeys coming down the slide together makes me happy."

"They said post something that makes you happy. Here is the love of my life .... how can this face not make you happy?"

"#happinessday is a day in the park @hellokabrita"

"What makes me happy? Finding inspiration in the pages of a book."

"Such a lovely message from Milly this morning!"

"Happy lighting : )"

"Had a lovely walk this afternoon."

"Sunny day in London!"

"Cake Pop Making & Decorating Class. That puts a smile on our dial."

"#happinessday"

"Mi desayuno! (my breakfast)"

"Miniature daffodils. First blooms of spring."

"This picture was taken at Xmas last year.. But it definitely makes me happy."

"#happinessday"

FOLLOW HUFFPOST UK LIFESTYLE ON TWITTER | LIKE OUR PAGE ON FACEBOOK