Struggling to achieve that elusive female orgasm? Well, we might have found the nose gel for you. Yup, that's right, nose gel.
It might not sound super sexy, but Tefina has been "successfully" trialled in a recent study and could soon be available on the market.
The 'use as required' gel contains a low dose of testosterone, the male sex hormone, and researchers claim it produces no androgen-related side effects such as acne, facial and body hair growth or deepening of the voice.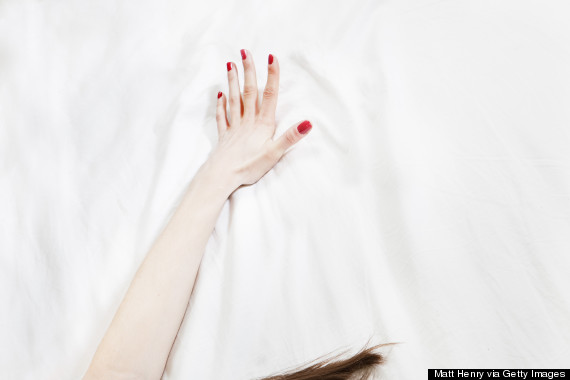 The spray is designed to help women with Female Orgasmic Disorder, which is characterised by the absence, delay or reduced intensity of orgasm that causes distress or interpersonal difficulties.
The study trialled 253 women over the course of 84 days. The women were randomly placed into four groups - three of these were given a different strength Tefina dosage, while one group was given a placebo - to see whether they were more likely to orgasm.
SEE ALSO:

Woman Who Orgasms Up To 50 Times A Day Says It Is Torture

We Have No Idea What A 'Third Level' Orgasm Is, But It Sounds Fun...
A 0.6 mg dosage of Tefina led to an increase in the average number of orgasms during the treatment period. Numbers rose from an average of 2.3 versus 1.7 for those in the placebo arm of the trial.
"Female Orgasmic Disorder is the second most prevalent sexual disorder affecting women,'" said Dr Sheryl Kingsberg, the lead investigator clinical trial.
Top 10 Female Orgasm Myths
Intercourse alone usually does not lead to orgasm. Only 30 per cent of women reach orgasm from intercourse alone. The rest need added clitoral stimulation to achieve pleasure.

Not so! There are some positions that make female orgasm much more likely, such as woman-on-top, as it gives her the added clitoral stimulation she needs to reach orgasm.

Pornography and Hollywood movies make the female orgasm seem effortless and straightforward. However, the truth is that most women need up to 20 minutes to become aroused and orgasmic, which is why foreplay is so important.

Sex aids can help to greatly improve your partner's sexual experience as well as your own. However, vibrators are not a replacement for a man, and they cannot help your partner achieve the same feelings of intimacy and pleasure.

While most men can reach orgasm faster than a woman can, this doesn't mean that quickies aren't fun or that they cannot serve a purpose in your relationship. If you don't have time for foreplay or a full-on sex session, a quickie can keep you bonded and close for the time being.

Recent advancements in condom manufacturing have made condoms thinner and less noticeable than ever before.

Not always! Some women deserve an Oscar for their acting performances; however, it's important to remember that faking orgasm cheats both of you. Ask your partner if she likes what you are doing or if she needs a different touch to reach orgasm.

Sometimes they do, but sometimes they also want sex that is more animalistic and wild. Explore that side of your partner's fantasies by asking her what she wants and taking the lead.

Unlike a man, a woman doesn't need a refractory period before she can be orgasmic again. However, it's not always easy to achieve one orgasm, let alone many! Hence, while some women are multi-orgasmic, not every woman knows how to harness that power. Practice makes perfect!

Don't think of orgasm as the destination. Sex should be about the journey and being in the moment. Stay attuned to your partner's body and the sensations of closeness and passion, and let your orgasm and hers happen when they happen. Remember, there is no "right" time or way to achieve orgasm. Every individual and every orgasm is unique.
She adds: "Approximately one in five women report difficulty with orgasm and one quarter of these show marked distress, a key criterion in a clinical diagnosis.
"Currently, there are no approved pharmacological treatment options, leaving an unmet need that Tefina hopes to remedy."
Tom Rossi, Trimel President and CEO, added: "These results mark an important milestone in the development of Tefina.
"They provide further evidence that Tefina could represent an important treatment option for the many women who suffer from this disorder."