There are certain events that remind us how much we still have to learn about handling the internet, from Sally Bercow's libelous tweets to trolls that think it's okay to issue hugely offensive and upsetting threats to people they have never met.
Another area where certain rules need to be put in place is around the issue of tagging, and people being more mindful about what they are aligning themselves with.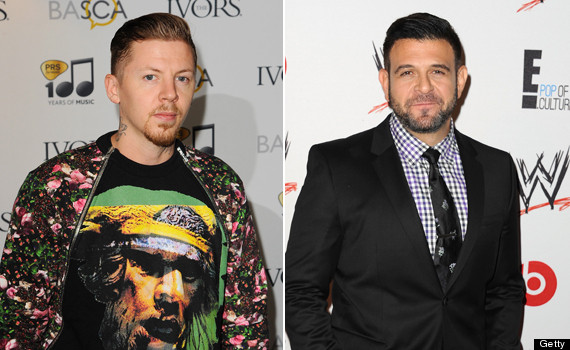 Coming from a place of neutrality, we hardly think that either party intended to glorify thinspiration - a term that has been appropriated by pro-ana and bulimia sites that insidiously worships women who are - on the face of it - too thin to be healthy.

"Of course, I don't believe in censorship either. I think the social media backlash has been strong enough to discourage others from using #thinspiration in jest, otherwise, one may face a social media firestorm! Society has spoken on the side of non-bullying, you could say. Use #thinspiration at your own risk."
Although Professor Green has now since deleted his tweets, there is no denying that this is an issue that needs to be nipped in the bud.
The spokesperson said: "'With the growth of social media sites comes more pressure on individuals to aspire to often unhealthy and even dangerously underweight role models. Those in the public eye with the opportunity to encourage and influence should remember that they are icons for many young people and think responsibly about the messages they are conveying."
For women who do think thinspiration is great, Jess Shanahan, blogger at Feeling Stylish, writes: "I don't think everyone who uses the terms 'thinspo' and 'thinspiration' is pro-anorexia and I don't think there's anything wrong with wanting to obtain a healthier physique. However, those terms have been adopted by pro-anorexia groups and girls who want to get down to an unhealthy weight. Millie Mackintosh works out and is toned, of course people want that kind of body.
"Thinspiration isn't (or shouldn't be) about starving yourself but about finding inspiration in people who have good bodies. We're all different in what we aspire to but personally I think 'fitspo' is more healthy and achievable goal. 'Thinspo' girls are usually naturally thin and don't have bodies that can be achieved by the average woman through exercise and diet."
Sam Thomas, who regularly blogs about eating disorders from a male perspective, says that if you post things on social media, you have to take responsibility for it.
"The rise of social networks in recent years has meant 'thinspiration' communities have grown and more accessible. Young women in-particular will turn to these sites ignoring health for their quest to be thin - and the thinner, the better. Images like Millie's post gym work out photos will be gold-dust to these communities and endorsing her ever shrinking physique."
For help with eating disorders, visit the B-eat website or call the helpline on 0845 634 1414.

SUBSCRIBE TO & FOLLOW UK LIFESTYLE