Kimberly and Steven were still the talk of the 'Big Brother' house during Thursday night's highlights show - with Ash comparing their steamy shenanigans to "soft porn".
A night earlier, the loved-up 'BB' pair were caught in the act causing quite a commotion under the covers by Helen and Ash and loud-mouthed hairdresser Helen accidentally interrupted their love-in by bumping her head as she tried to get a closer look.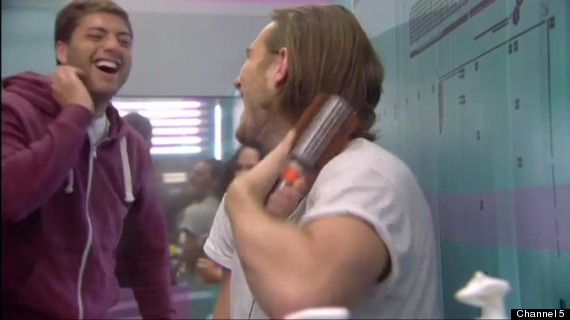 Ash teases Steven after he confesses what went on with Kimberly
The following morning, there was little else to discuss, and as Steven headed for the showers, Helen claimed he was doing the "walk of shame in the 'Big Brother' house", while Ash revealed he thought they'd both "regret" what they'd done in the long run.
Later on, although Steven said he and Kimberly had agreed not to give any details about their raunchy antics, he revealed he was "embarrassed" to have had sex in the 'BB' house, but justified it by saying they are "in a relationship", adding: "It's not like a one night stand - we told each other we love each other last night."
He then admitted he was worried that people would find out about their dalliance, though, claiming: "I don't want her to feel like everybody knows", though Ash reassured him that it was only a select few who were awake.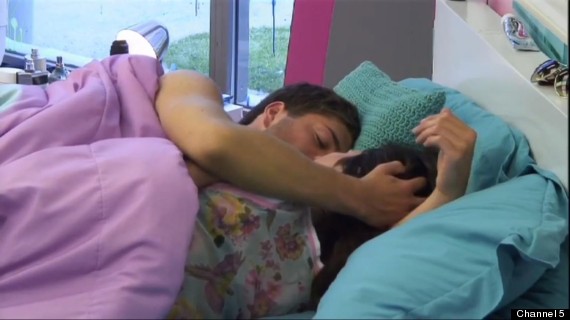 Kimberly and Steven in bed... well, where else would they be?
Later in the bedroom, the couple - dubbed 'Stimberly' by viewers - cosied up again with Steven whispering to her: "Do you feel safe in my arms?", which we would have found nauseating a week ago, but ever since he muttered "open it" to her in the throes of passion we've slightly changed our perspective.
And while things might be cosy right now in the 'BB' house, Monday kicks off 'Armageddon Week', which promises to shake up the house - with the Daily Star reporting that Kimberly's ex-boyfriend may even be putting in an appearance.
'Big Brother' Couples Through The Years
Lee Ryan was embroiled in a love triangle with both Jasmine and glamour model Casey Batchelor during his time in the 'CBB' house, which made him pretty unpopular with the British public. He and Jasmine went on holiday to Thailand once their time in the house was through, but it ultimately wasn't to be, and she's since branded him a "damaged soul with no money or career".

We'll never forget their romps in the 'BB' house (no matter how hard we've tried...), and Kimberly and Steven even kept their romance going in the outside world, tying the knot in 2015. Sadly, it wasn't to last though, with reports suggesting months later that they had called it a day.

The pair who have the honour of being the first couple ever to have full sex in the 'BB' house, after Michelle made them a cosy den underneath the dining room table. Romantic, eh?

The original 'BB' love story, Helen and Paul flirted throughout their time in the house but never acted on it because of her boyfriend in the outside world, Big G. However, once they were evicted they stayed together for a number of years.

Though they kept it low-key inside the house, Mikey and Grace were one of the few couples to last in the outside world, and are still married to this day.

It seemed at some point or another every woman in the 'Big Brother' house wanted to sink their claws into Pete, but it was ultimately Nikki Grahame who snagged the energetic raver... for about five minutes, that is, until the magazine deals dried up and she found herself single again.

Chantelle and Preston got swept up in a whirlwind romance while shacked up with Michael Barrymore, George Galloway and Pete Burns, but sadly their story ended in divorce. Cruelly, fate thrust them together again as they both wound up in the 'Ultimate Big Brother' house.

Luisa and Dappy claimed to be "in love" despite their blazing rows in the 'CBB' house, though she later revealed it was a purely staged showmance they'd gone through with for money from the inevitable magazine deals that followed.

Maxwell recently revealed that if he'd never started up with Saskia he'd probably have won the series, rather than disco dancing Geordie hairdresser Anthony Hutton. We're less than convinced.

It seemed like these two were really on the verge of something wonderful... that is until Daley was removed from the house for threatening Hazel with physical violence during a task.

Despite never actually being in the 'BB' house, Kinga and Kemal surprised us all when they revealed they were in a relationship in the outside world. We don't think it had anything at all to do with publicity. Not. At. All.

This 'BB' pair married not long after their eviction, but less than a year later they'd called time on their relationship as they "didn't get on". Oh dear.

Embarrassingly, Ziggy broke it off with Chanelle on national television using the line "it's not you... it's me". We're cringing still to this very day.

No, we can't quite believe it happened either, but it did. The 'Gogglebox' star and B*Witched singer briefly hooked up during their time in the 'CBB' house, though it was not the stuff of lasting romance.

Bristolian "randy mare" Josie and Australian Beckham-lookalike John James spent most of their final weeks in the 'BB' house laying around with their microphones off. They split once arriving back in the real world, with Josie breaking out of the 'Ultimate Big Brother' house to be with him, though it didn't last, as Josie claims he made too many comments about her weight.

Sorry, we just had to.