'Apollo Moon Landing Was A Hoax' Say All These People Who Are Wrong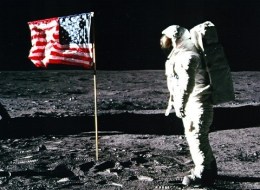 The Moon landings were not a hoax.
Not everyone agrees.
Despite clearly having happened, because of the fact that we can see the landing site, and it's 45 years later, and there's no evidence to the contrary, and just think, Twitter is still resplendent with Apollo-deniers.
Here is a small sample of the people who spent the 45th anniversary of Apollo 11 claiming that the Moon Landings didn't happen, when they did. Either that, or their claim that the landing was a hoax, was a hoax. To which we say... prove it. #hoax
(They did.)
I don't believe the moon landing ever happenned.

— Aido-Arse (@Corkgooner33) July 20, 2014
"@Oreokidronaldo: 45th anniversary of the moon landing. Apollo 11. #OneSmallStepforMan" fake

— . (@youngspacewolf) July 20, 2014
We allegedly landed on the moon 45 years ago today. Allegedly. #hoax

— Jim Giarrusso (@jgiarrusso82) July 21, 2014
@casillas_79 bollocks.it was a hoax. USA didn't have the first people on the moon

— david pedelty (@ped25677) July 20, 2014
@Razarumi @Forbes shadows and flag waving on moon.... biggest hoax to rest of the world

— Adeal Kiani (@adeelkiani) July 20, 2014
"@CloydRivers: Until your country's flag is on the Moon, know your role and shut your mouth. Merica." The moon landing was a hoax

— Kareem (@Kareem_Danish22) July 20, 2014
We never landed on the moon anyway. Shit was a hoax bruh.

— BIG_DOG_215 (@BIG_DOG_215) July 20, 2014
I can't think of anything that could convince me we actually went to the moon. Come on

— Birdie (@Birdie_SW) July 21, 2014
@NASA the moon landing was a hoax

— Amber Murphy (@ambercmurphy) July 20, 2014
Today's technology is way more advanced than the 70s, yet we haven't sent a person back to the moon... #hoax #weneverlanded on the #moon

— Dante Villalobos (@RockmSockmDante) July 20, 2014
45 years ago we landed on the moon. Or did we? Fascinating evidence of moon landing hoax. http://t.co/O7JZR4ZnLW

— Michael Sidoric (@avfolk) July 20, 2014
Congratulations @NASA it's been 45 years since you filmed the moon walk hoax film that has become a cult classic.

— ᕕ( ᐛ )ᕗ (@lookaspiritbear) July 20, 2014
Did Neil Armstrong Land On Moon? [VIDEOS]
Watch:
http://t.co/J1LFi6qwm1

#moonlanding #hoax pic.twitter.com/qpUtGEM92X

— Controversial Files (@ControversialF) May 12, 2014
Greatest hoax "@MANONTLEMOON: Huge respect to Neil Armstrong for making it to the moon. pic.twitter.com/6SUlKSm2U6"

— AJ (@AyJay_Papa) January 7, 2014
Man Never Landed On Moon . NASA & USA Lied To Entire Universe. Apollo11 Mission Was A Hoax.Dangerous ....

— Aniket M kulkarni (@aniketmkul) July 21, 2014
@HuffPostScience @michaelrundle nice try, still not convinced

— Rose (@litsas_rose) July 20, 2014
@HuffPostUK
me included. .. What's your point?

— Del toro © (@Desire_Truth) July 21, 2014