UPDATE: Wreckage Of Crashed Air Algerie Flight 'Found In Mali'
A search is is underway after an Air Algerie plane carrying 116 crew and passengers crashed after it was forced to divert due to a sandstorm, an Algerian aviation official has confirmed.
Flight AH5017 was flying from Burkina Faso to Algiers across the Sahara when Algerian aviation authorities lost contact with the aircraft, about 50 minutes after take-off, the APS state news agency reported on Thursday.
The passenger manifest says 50 passengers -almost half of those onboard- were French, four were from Burkina Faso, eight Lebanese, six Algerians, five Canadians, four Germans, two from Luxembourg and one from Mali.
There was also one Nigerian, one from Cameroon, one Belgian, one Ukrainian, one Romanian and one Swiss passenger, Air Algerie said. The six crew members are Spanish, according to the Spanish pilots' union.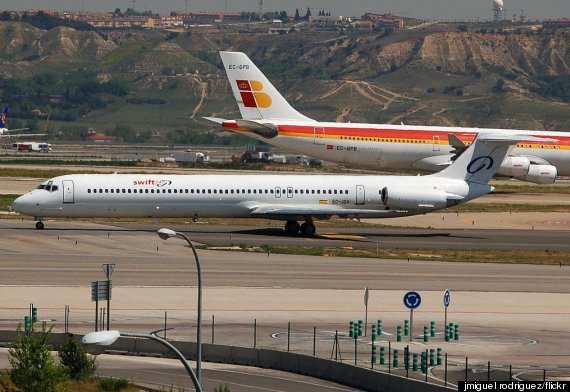 A MD83 Plane
"I can confirm that it has crashed," an Algerian official told Reuters, declining to be identified or give any details about what had happened to the aircraft on its way north.
The plane had been missing for hours before the news was made public, and officials did not make it immediately clear why there had been such a delay in reporting the loss of the aircraft.
There have been mixed reports about the location of the plane, with the head of Mali's National Civil Aviation Agency saying that a search was currently under way for the missing flight.
"We do not know if the plane is Malian territory," Issa Saly Maiga told Reuters. "Aviation authorities are mobilised in all the countries concerned - Burkina Faso, Mali, Niger, Algeria and even Spain."
The Air Algerie flight disappeared over northern Mali, France's transport minister said. The passenger airliner was last seen at 0155 GMT, when it was flying over Gao, the airline added. It should have landed at 0510.
The city is not on the flight route for the plane but officials said it had been diverted due to poor visibility. The plane was asked to change route at 01.38 local time because of a powerful sandstorm, the Burkina Faso transport minister said.
Satellite image showing storms over Air Algerie route last night: pic.twitter.com/Kkf0R5UiF2

— Alistair Bunkall (@AliBunkallSKY) July 24, 2014
"The plane was not far from the Algerian frontier when the crew was asked to make a detour because of poor visibility and to prevent the risk of collision with another aircraft on the Algiers-Bamako route," an Air Algerie source told AFP. "Contact was lost after the change of course."
Mali is at the end of its dry season, during which the "harmattan", a dry, hot wind that blows from the east out of the Sahara, "sweeps the soil into dusty whirlwinds and is accompanied by daytime temperatures of about 40 to 45 °C", according to Encyclopedia Britannica.
The weather map below shows the strength of the storm at the time that the plane disappeared. The green patches show that the clouds would have been up to 49,500ft - a plane's cruising altitude is around 35,000ft.
Weather at time of #AH5017 loss. Storm on flightpath: Clouds all rising above 40,000ft @eumetsat @thatjohn @RAeSTimR pic.twitter.com/efNHSbo47C

— Simon Proud (@simon_rp84) July 24, 2014
Two French fighter jets based in West Africa have been deployed to try and locate the missing plane, a French army spokesman has said.
"Two Mirage 2000 jets based in Africa were dispatched to try to locate the Air Algerie plane that disappeared on Thursday," French army spokesman Gilles Jaron said.
"They will search an area from its last known destination along its probable route."
The plane was chartered from Spanish airline Swiftair who said in a statement that the aircraft was an MD83 and first announced that they were unable to establish contact with the plane. Ougadougou is in a nearly straight line south of Algiers, passing over Mali where unrest continues in the north. Flight AH5017 flew the Ouagadougou-Algiers route four times a week, AFP reported.
The country is currently considered a "high risk" flight zone by US airlines, according to the Wall Street Journal graphic.
The downing of the Air Algerie plane comes a week to the day after the Malaysia Airlines MH17 crash in which 298 people died.
Swiftair MD83 with registration EC-LTV has been leased to Air Algerie for the last days. http://t.co/pqCiGNVbWh pic.twitter.com/8FVqOENAmA

— Flightradar24 (@flightradar24) July 24, 2014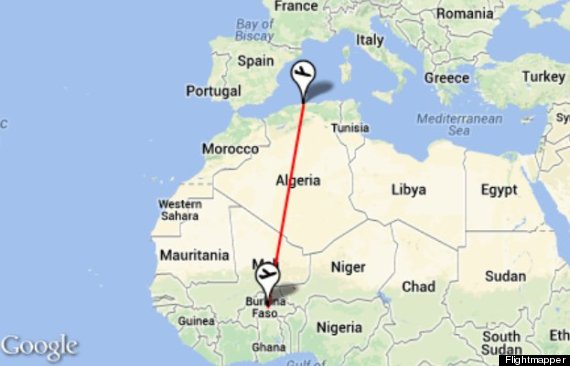 The plane's route from Ouagadougou to Algiers
25/07/2014 17:31 BST
VIDEO: Crash Site
The Associated Press released footage of the crash site of an Air Algerie plane.
25/07/2014 17:26 BST
French Officials Rule Out Ground Strike, Update Death Toll
Frédéric Cuvillier, the French junior minister for transport, said France is ruling out a ground strike as the cause of the crash of the Air Algérie flight over Mali.
French President François Hollande also spoke to the press Friday, updating the number of casualties to 118, more than had been originally reported.
25/07/2014 10:28 BST
French President: No Sign Of Survivors
France's president Francois Hollande says there are no survivors after Air Algerie flight crashed in Mali with 116 people on board

— Sky News Newsdesk (@SkyNewsBreak) July 25, 2014
25/07/2014 09:29 BST
French Soldiers En Route To Guard Wreckage
A French military unit has been dispatched to secure the crash site of the Air Algerie jet that crashed in northern Mali on July 24, The Associated Press reported.
The troops aim to secure the evidence and human remains found about 30 miles from the border of Burkina Faso before extremists take over the area.
"Terrorist groups are in the zone ... We know these groups are hostile to Western interests," French Interior Minister Bernard Cazeneuve told RTL radio.
FMI: Click here.
25/07/2014 09:18 BST
Investigators: Jet Likely Crashed Due To Weather
French investigators believe bad weather may have played a role in the crash of Air Algerie Flight AH5017 on July 24, ITV reported.
"We think the aircraft crashed for reasons linked to the weather conditions, although no theory can be excluded at this point," French Interior Minister Bernard Cazeneuve told RTL radio.
For more, click here.
24/07/2014 23:14 BST
Malian State TV Reports Wreckage Found In Mali
Reuters reports that Malian State TV has said that the wreckage of the Air Algerie flight was found close to Gossi in Mali.
24/07/2014 23:11 BST
More From The AP:
OUAGADOUGO, Burkina Faso (AP) — A Burkina Faso official says the wreckage of the Air Algerie plane that went missing has been found in Mali.

Gen. Gilbert Diendere says the wreckage was located about 50 kilometers (31 miles) from the border of Burkina Faso near the village of Boulikessi in Mali.

Diendere is a close aide to President Blaise Compaore and head of the crisis committee set up to coordinate research for the plane that vanished Thursday in a rainstorm over northern Mali.

He says searchers found human remains and burned and scattered plane wreckage.
24/07/2014 23:05 BST
AP: Wreckage Found
BREAKING: Burkina Faso official says wreckage, remains from missing Air Algerie flight found in Mali.

— The Associated Press (@AP) July 24, 2014
24/07/2014 22:55 BST
Swiftair
Swiftair, the company that owns the plane that went missing over Ukraine, says the wreckage has not been located yet.
Swiftair: Air Algerie plane not located; earlier, Burkina Faso airport official said wreckage found in Mali; more: http://t.co/r1QNTC8bJJ

— Breaking News (@BreakingNews) July 24, 2014
SUBSCRIBE TO & FOLLOW UK DAILY BRIEF