In the past, he's been linked with some of the most famous women in the world - including Jennifer Aniston, Cameron Diaz and Naomi Campbell - so it seems only right that Gerard Butler would now be romancing… Lizzie Cundy.
Yes, seriously.
We're still reeling from the news that former 'Hollyoaks' actor Ricky Whittle is going out with Hollywood golden child Rumer Willis, and now it's been reported that Gerard Butler is dating the former WAG and TV personality.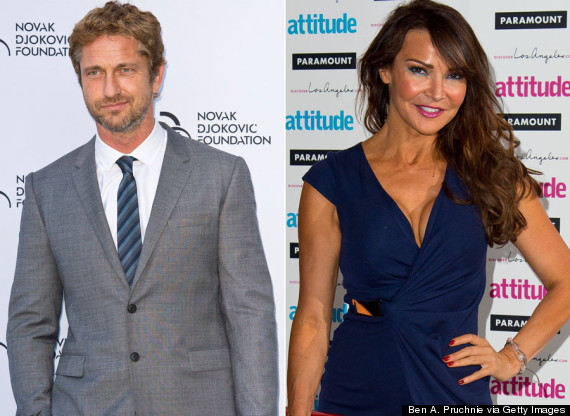 Gerard Butler and Lizzie Cundy
According to OK!, the two have been spotted canoodling at the Chiltern Firehouse (where else?) and are scheduling another private rendezvous, with a source saying: "Lizzie and Gerard have arranged to meet up at the Chiltern Firehouse… watch this space."
Lizzie and Gerard first hung out together at the London eatery earlier this month, with the star posting a photo of them, along with a number of other showbiz pals, on her Twitter page.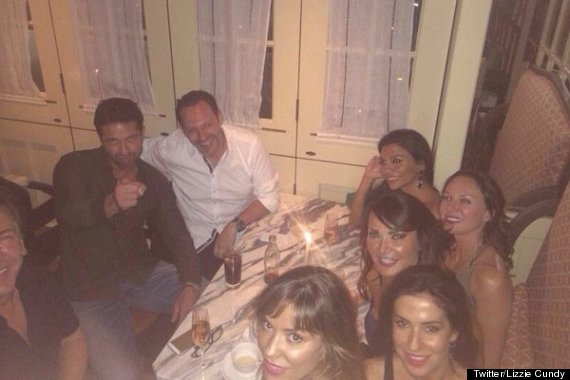 Lizzie and Gerard enjoy a night out at the Chiltern Firehouse
Well, we have to say we think Lizzie and Gerard are a perfect match and we imagine they have so much to talk about - what with him starring opposite Angelina Jolie, Hilary Swank and Pierce Brosnan over the course of his career, and her co-hosting the makeover series 'So Would You Dump Me Now?' on Wedding TV.
We're sure it won't be long before we're picking out a hat.
Lizzie was previously married to footballer Jason Cundy, who she divorced in 2012. Together they have two sons, Josh and James.
Farrell dropped quite the bomb on "The Ellen DeGeneres Show," telling the host and the audience that he and Taylor were in a relationship for nearly two years before she died. "[It was] the last kind of romantic relationship I had," Farrell said, "which was never consummated ... I just adored her, she was a spectacular, spectacular woman. I wanted to be [husband] number eight, but we ran out of road."

Last September, Osbourne told her "The Talk" co-hosts that she had a "flingy wingy with Jay Leno" when she was 25, explaining: "The fling was more fling for me, and not fling enough for him. Because, a couple of months into it, he brought around his real love of his life for me to meet. She was lovely."

The two Texans dated briefly before breaking it off, allegedly because the "Supernatural" star cheated on the blonde singer with LeAnn Rimes.

Back in 1993, People magazine reported that Roberts engaged in "a long-distance -- and possibly nonexclusive -- romance with actor Daniel Day-Lewis," adding that the relationship "has been kept under wraps. His manager denies reports that the two are involved, and [Roberts' publicist] would only say that she would neither confirm nor deny the stories. "

Hartnett and Cruz were spotted together "on a tour of New York hot spots" in 2007 and ended the night by getting "cozy on the couch together."

In 2006, Australian magazine NW claimed to have obtained photos of the actor and the socialite, who is over 20 years his junior, getting hot and heavy. The photos were allegedly snapped four years prior, in 2002, at Kilmer's West Hollywood mansion.

In 1986, while making her first movie, "Lucas," Winona reportedly got together with her co-star Charlie. Legend has it, MSN adds, that it was Charlie who convinced Winona to change her last name, Horowitz, to the more stage-friendly Ryder.

When she was 14, Love-Hewitt went on a date with the then 16-year-old "Wonder Years" star. "We went to a comedy club and we went to dinner and he dropped me off at home. He never called me again," she told Wendy Williams in 2010.

Before Tom had to reportedly audition ladies for the part, Cher was his main squeeze. Back in the mid '80s and before he became a huge star, the two were going strong. "He was so wonderful. And I was so crazy about him," said the iconic singer in 2008. "And he was so, like, different. He was a shy boy. He didn't have any money."

Helen Hunt and Matthew Broderick gave love a shot in 1987 and although happily every after wasn't in the cards for the pair, the couple did forge a lifelong friendship. Hunt and Broderick are even comfortable enough with their relationship that they filmed a sex scene together for 2008's "Then She Found Me."

Back in 2008, Jackson was rumored to be dating "Baywatch" bombshell Pamela Anderson. "It was all arranged by their people in total secrecy, very cloak and dagger," a source told the Mirror back in the day. "They are such a strange couple but they seemed to really hit it off."

Though by now Wood is married to British actor Jamie Bell and is expecting their first child, we cannot forget her wild streak: the actress was once engaged to shock rocker Marilyn Manson.

Legend Frank Sinatra wed iconic actress Mia Farrow in 1966, despite a three decade age difference. But that age difference is also what tore them apart, after 16 months as husband and wife.

Before Brad Pitt and even before Billy Bob Thornton came Jonny Lee Miller, Angie's first husband. The two actors married in 1996, separated in 1997, and divorced in 1999, but are to this day good friends. Some pesky rumors recently hinted maybe a little too good, even.

In 1991, Roberts broke off her engagement to Sutherland after more than a year together. The wedding cake was ready to go and so were the bridesmaids dresses, but rumors of the actor's infidelity (with a go-go girl, no less) sent Roberts flying into another man's arms.

They made us swoon in "The Notebook" and swoon even harder when they took their love off-screen. These two Hollywood hotties dated from 2004 to 2007, then rekindled their romance a bit in 2008.

Lovett and Roberts were married for almost two years back when she was America's sweetheart, nearly two decades ago. The 27-year-old actress fell hard for the 37-year-old country crooner and they were married just three weeks after they met.

Not much is known about their relationship, but somewhere in the late '80s, Shields and Cage dated for about a year.

Winona Ryder and Jimmy Fallon were reportedly linked in 2002, though she denied a relationship in W magazine that same year: "I do date once in a while, and I've gone out with wonderful people in the past. Although not with Jimmy Fallon, who everyone thinks is my boyfriend. We're just great friends."

In 2007, then 21-year-old Olsen was spotted making out with Armstrong, 15 years her senior, at Rose Bar in New York. Yeah, we don't really get it either.

Roger Ebert and Oprah went on two dates way back when the two were just starting out in Chicago -- and Ebert counts himself as her mentor. "Yes, it is true, I persuaded Oprah to become the most successful and famous woman in the world," Ebert wrote in 2005.

What's even more bizarre than Oprah and Roger Ebert? Oprah and musician/television host John Tesh. Tesh allegedly left Oprah broken-hearted in the 1970s when he bolted in the middle of the night from the apartment they shared in Nashville, Tenn.

How did we miss this? Gary Oldman and Uma Thurman were married from 1990 to 1992.

George Clooney may be the ultimate bachelor, but he did get married, just once, to actress Talia Balsam. (Balsam is now married to John Slattery of "Mad Men"). "I was married, so I gave it a shot," Clooney told Piers Morgan in 2011. "I've proven how good I was at it, and I just...I'm allowed one."

Before Blake, before Scarlett, there was Alanis: Reynolds dated fellow Canadian Morissette from 2002 until 2007, when they called off their engagement. Morissette later admitted that her album "Flavors of Entanglement" was about their breakup.

These two funny people dated when he was a writer for "Saturday Night Live" and she was working as a comedian in Los Angeles. "He was really smart, really funny and he thought I was funny, but found we were better as friends," Kudrow said of their brief romance.

Before his two-year relationship with Kate Moss, Johnny Depp briefly dated Ellen Barkin in 1994.

The "Friends" star and "Batman" actor dated from 1989 to 1995.

The hunky heartthrob and funny girl were together from 2002 to 2003. "I had two of the greatest girlfriends of all time. I haven't met anybody who could top them," Gosling told Us Weeklyin 2011 (about Bullock and Rachel McAdams, whom he dated afterward). We wonder what current amour Eva Mendes might have to say about that?

These two Hollywood staples were briefly linked in 1991 -- eight years before they starred together in 1999's "Never Been Kissed."

In 2001, the Canadian comedian filed for divorce less than six months after marrying the then 26-year-old Barrymore, saying: "Drew is a wonderful woman, I love her very much. I wish our marriage could have worked out, I wish her much happiness."

By his own admission, Robert Downey Jr. was less than a model boyfriend to Sarah Jessica Parker, whom he dated from 1984 to 1991. "I liked to drink, and I had a drug problem, and that didn't jibe with Sarah Jessica, because it is the furthest thing from what she is," Downey Jr. said of their relationship.

According to Moby, his fling with Portman caused a lot of nerd wrath. "You don't date Luke Skywalker's mom and not have them hate your guts," he said about their romance.

Long before Ashton Kutcher married and divorced Demi Moore and January Jones gave to her baby boy (whose father she refuses to reveal), these two gave it a go in the romance department.

The romance between the Smashing Pumpkins frontman and reality star came out of nowhere, and left just as quickly as it arrived.

The couple broke up in 2002, but there were no hard feelings. "I love Owen. He's so talented, and a great, great person," Crow said about the actor the same year.

Keaton dated her "Godfather" co-star Al Pacino in the '80s; the relationship dissolved after Keaton pushed a marriage ultimatum on Pacino. She told People: "He's charming, hilarious, a nonstop talker. There was an aspect of him that was like a lost orphan, like this kind of crazy idiot savant. And oh, gorgeous! I was mad for him. I worked hard on that one."

Ah, live television. The "Hunger Games" star and Hudgens shared an awkward moment on an Australian morning show when an interviewer asked the pair how long they had been going out. "We're not," Hutcherson said. "We were at one point, but she broke my heart. No, I'm just kidding. That was a while ago. We're really good friends now."

The unlikely couple had an on-again, off-again relationship from 1999-2006.

Jennifer Love Hewitt and Joey Lawrence were a match made in teen icon heaven from 1995 - 1996.

Scott Baio and Pamela Anderson called each other sweetheart in the late '80s and early '90s.

Emilio Estevez and Demi Moore were romantically tangled from 1985 - 1987. After starring in 1985's "St. Elmo's Fire," the pair became engaged but never made it to the church.

Nowadays, it's hard to imagine that one of the most high-profile couples in the '90s was tennis star Andre Agassi and actress Brooke Shields. The couple dated for six years before marrying in 1999; they divorced just two years later.

The telegenic "There's Something About Mary" co-stars dated for three years before splitting in 1998 -- the same year the hit comedy hit the big screen.

It's strange to think of now, but Vergara was once more commonly referred to as Iglesias' ex before hitting it big with the ABC sitcom "Modern Family."

It seems like ages ago, but Kunis split from rumored fiance Culkin only in September 2011. They began dating in 2002.

LaBeouf and Duff, who just gave birth to her first child, went on an epically bad date -- according to LaBeouf himself. "Probably the worst date either of us have ever had," the "Transformers" star told Details of their failed connection.

It's crazy to think about now, but Lohan and Carter were once a hot item, albeit not without some controversy. Carter had previously been dating that other teen star Hilary Duff, and cheated on her with LiLo.

After meeting on the set of 2009's "Paper Man," Stone and Culkin were rumored to be dating . Stone is now currently dating "Spiderman" co-star Andrew Garfield.

Johan Stamos and Marlee Matlin reportedly dated in 1989 -- but romantic or platonic, the pair remain good friends and at least carry on a Twitter relationship.

Seal sure has a thing for telegenic supermodels! Seal and Tyra confirmed their budding romance when they stepped out to the Essence Awards in 1996, but broke up shortly thereafter.

You better believe it: In 1992, Danson was apparently so smitten with Goldberg during the filming of "Made in America" that it led to a divorce with his then wife-of-16-years, Casey, the next year. "I'd walk in Whoopi's shadow for the rest of my life--I adore the woman," Danson said about Goldberg.

John Lennon's son and Sobieski were spotted canoodling during a Rock & Roll Hall Of Fame induction in 2004, when the former teen star was just 20 years old.

These teen stars were linked twice: first, in 2006 (pictured, strolling in New York); and in 2008, shortly before co-starring in "Brothers." Gyllenhaal and Portman remain pals -- the latter offered a friendly roast of Portman in January 2011, when he said: "She is elegant, graceful, has amazing eyebrows ... is talented, really short, funny, smart, dedicated, incredibly kind."

Cutest -- and weirdest -- double date ever? Carson Daly/Tara Reid and Katie Holmes/Chris Klein are the epitome of the '90s here.

Before Blake, before Scarlett, before Alanis, Reynolds dated yet another famous face: Kristen Johnston, of "Third Rock from the Sun" fame (pictured together here, in 1999).

Bell and Morrison both attended New York University, where they "dated very briefly." Also, Bell calls the "Glee" star "Matty." Everybody say awww.

This unlikely couple dated for three years in the '90s after co-starring in "The People vs. Larry Flynt" together, and was even rumored to be engaged. Years later, in 2010, Love would blast Norton on Twitter over an alleged $300,000 she says the actor owed her.

Before she got together with Yankees star Derek Jeter, Kelly dated the "Clueless" actor for a year, from 2004-2005.

Before Nickelback's frontman (but after Sum 41's), the Canadian songstress dated reality TV hunk Jenner, also known as Kim Kardashian's half-brother. The two reportedly broke up a year ago because Lavigne wasn't ready to settle down.

A pre-fame Brad Pitt dated Givens in 1989, in the midst of a nasty breakup with ex-husband Mike Tyson. In Jan. 2013 Tyson stopped by HuffPost Live and recounted the story of catching the two in a compromising position: "They pulled up in her car, I knew it was her car because I paid for it. She pulled over and I see this little grayish silhouette in the passenger seat. So I'm thinking it's one of her white girlfriends from that whack show the 'Head of the Class.' And as they get closer, I know it's not a white girl from 'Head of the Class,' it's some white guy that she's probably giving head to."

The Brad strikes again: This time, with the "Married with Children" actress in 1988.

Hollywood's sweetheart and the Australian heartthrob enjoyed a jet-setting romance from 1999-2001, to much controversy: Ryan was still married to actor Dennis Quaid when the future lovebirds met on set of "Proof of Life. "Dennis was not faithful to me for a very long time, and that was very painful," Ryan told InStyle. "I found out more about that after I was divorced ... Russell didn't break up the marriage."

Cher was involved with the Bon Jovi guitarist for two years in the early '90s. We bet the glamour-hair contests were awesome.

The "X Factor" judge and '80s pop star were once a power couple in the U.K. Even more surprisingly, Sinitta also dated Brad Pitt in the late '80s.

There are a lot of crazy rumors surrounding this unlikely pair, among them that Madonna desperately wanted to be impregnated by the former basketball star in the early '90s.

Not only did Sheen's relationship with then-fiancée Preston end tumultuously, it ended with a bang -- when Preston was accidentally shot with Sheen's gun, in 1990. "There's a beautiful person in there. He really is a great man," Preston would say about her former boyfriend nearly two decades later.

Remember Bennifer? Ben Affleck was with another Jennifer before now-wife Jennifer Garner; the couple dated for 18 months and even got engaged, but split in 2004.