An 11-year-old boy has lost his hand after he tried to pet a tiger through the bars at a zoo.
The incident occurred at Brazil's Cascavel Zoo on Wednesday, Globo reports.
The boy and his three-year-old brother were lifted over the security barrier at the tiger's enclosure by their father so they could touch the animals.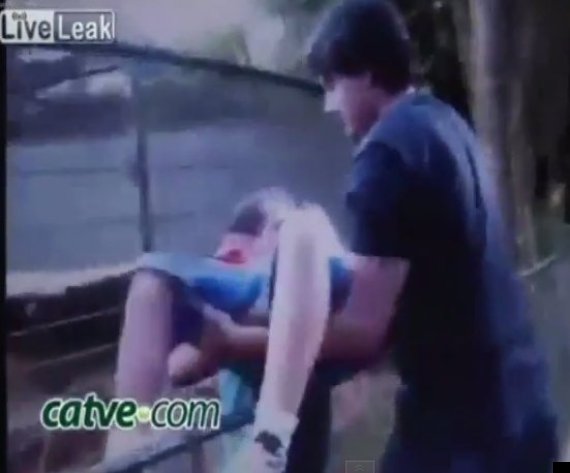 The stricken boy is lifted over the barriers after the attack
The Mail Online quotes witness Ricardo Espindola as saying: "He was giving the tiger pieces of food, meat and stroking it.
"I finished looking at the animals, left, then heard screams."
Footage of the aftermath of was posted to LiveLeak, which cites witnesses claiming to have heard the boy crying: "I'm going to die, I do not feel my arm."
The video shows him being lifted over the barrier, his mutilated limb dangling limply from his body.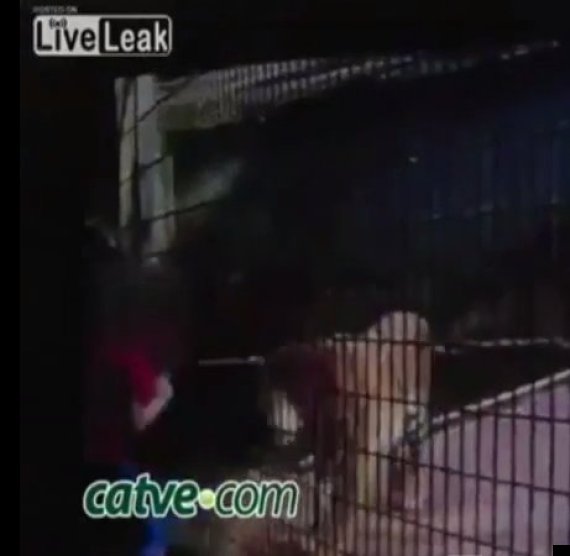 He was seen trying to feed the big cat earlier
He is then laid on the grass while first aiders surround him. The boy remains conscious as he is tended to, moving his legs.
Sky News reports the boy was rushed to hospital where he underwent several operations, including the amputation of his hand.
He remains in intensive care.
Zoo director Lauri Dallagnol told Globo the guard who is usually present at the enclosure was doing rounds elsewhere in the zoo when the accident occurred.
Tigers weigh up to 720 pounds, stretch 6 feet long, and have a 3 foot long tail.

Unlike most members of the cat family, tigers love water. They are good swimmers (they can swim up to 4 miles) and can be found bathing in streams or pools to cool off.

As with humans and fingerprints, no two tigers have exactly the same pattern of stripes. The striped pattern is also found on the skin of a tiger, so even when shaved, its unique pattern is still visible.

A tiger retracts its claws as it walks, leaving no claw marks in its tracks.

Tigers are solitary creatures -- they live alone, except for mothers and their young. A male and female tiger will mate, and then part ways.

The captive population of tigers in the US rivals the population of wild tigers in the entire world.

A subordinate tiger will give up territory to a dominant tiger by rolling over on its back, displaying its belly submissively.

Tigers hunt at night -- they can see well in the dark. Their nightvision is 6 times stronger than that of humans.

The name 'tiger' is taken from the Greek word tigris, a derivative of the Persian word for arrow, referring to the animal's great speed.

The whole species of tigers is endangered throughout its territory. They have been hunted aggressively for their fur and other body parts used for traditional medicines. Their habitat has also been taken over by humans for farming and logging.