The Zara fashion chain has withdrawn a striped shirt for children featuring a "sheriff" star after its design sparked an almighty backlash due to its similarity to the clothes worn by Jewish concentration camp prisoners.
The shirt, which is produced in Turkey, had reportedly been on sale in Israel, France, Denmark, Albania and Sweden. Critics point out that the "sheriff" lettering is very faint, so it just looks like a prisoner's shirt with a yellow Star Of David on it.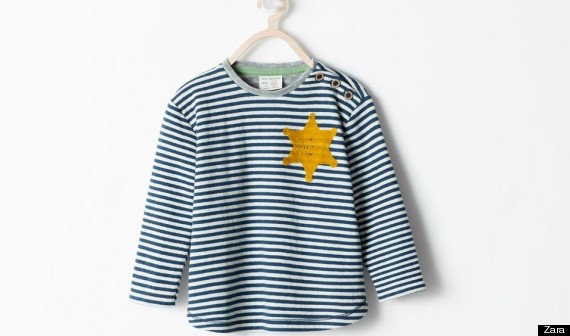 Zara's controversial "Sheriff" shirt
Dimi Reider, an Israeli journalist and associate fellow at the European Council on Foreign Relations (ECFR), attacked the shirt on his blog.
"A striped pijama with a yellow star for your child," he said. "It's a SHERIFF shirt for your three year olds. Obviously. What else could it be?"
Jewish Press writer Hana Levi Julian said that shirt was an "ugly, sly swipe at Jewish Holocaust survivors". "The word 'Sheriff' vanishes in letters that are transparent, outline shapes on the bright yellow fabric of the star," she added.
What were the designers thinking @ZARA ? http://t.co/SukupXR3XN pic.twitter.com/hzhcUbO0Kz

— Nathalie Rothschild (@n_rothschild) August 27, 2014
One outraged social media user said on Twitter: "Hitler has found a job at Zara" Another said it was a "sick Nazi" shirt which was similar to "Holocaust death camp clothing".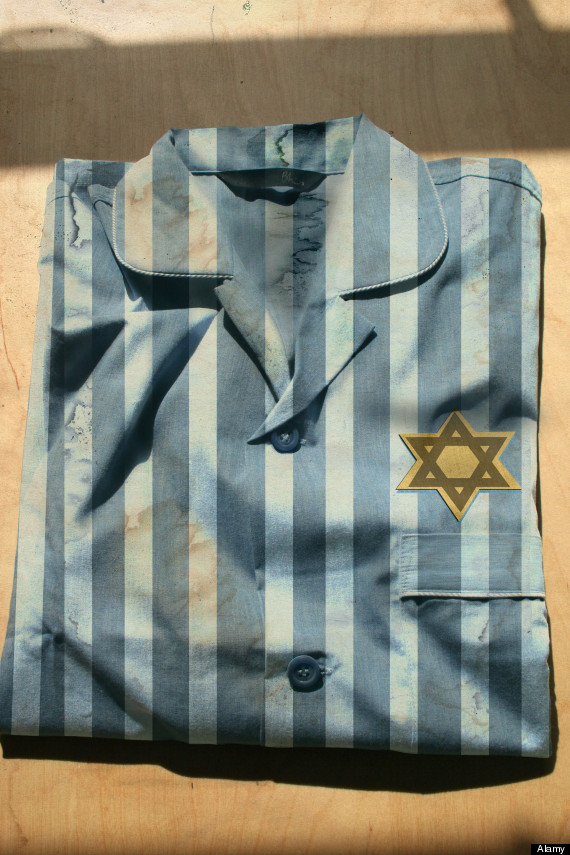 Clothing worn by Jewish concentration camp prisoners
Did you ever wonder where to get a trendy Holocaust T-shirt for your kids? Go to @ZARA. Shame on you! pic.twitter.com/O5OWKF593K

— Lior (@i_lior) August 27, 2014
This is not the first time Zara has got into trouble for having imagery reminiscent of the Nazis on its merchandise. In 2007, the firm withdrew a handbag from its stores after a customer noticed that its design featured swastikas.
The fashion chain said the bag had come from an external supplier and the symbol was not visible when it was selected. Zara spokesperson Susan Suett insisted at the time: "Had the symbol been seen we would not have sourced that particular handbag."
The £39 bag, which had four green swastikas at each corner, also featured flowers and bicycles.
@ZARA Zara you sick nazi how dare you sell holocaust death camp look alike Jew clothing I'm calling for a WORLD WIDE BAN hope u go bankrupt

— IsraelJoshi (@JoshuaKlein8) August 27, 2014
A spokesperson for Zara, which is owned by the Spanish company Inditex, told the Huffington Post UK that the controversial sheriff shirt "is no longer on sale in our stores".
"The design of the T-shirt was only inspired by the sheriff's stars from the Classic Western films," the spokesperson added.
Top Corporate Social Media Fails
An invite to the launch of Susan Boyle's new album went horribly wrong after an unfortunate choice of hashtag implied an entirely different kind of event. Many were keen to attend.

A PR company massively blundered its way to Twitter fame by asking journalists to tweet plugs for a Brit award sponsor in return for tickets. Journalists everywhere rebelled gleefully.

The US Airways Twitter account was conversing with a passenger complaining about a delayed flight when all of a sudden… an image of a naked woman with a model aeroplane protruding from her vagina made it into the feed.

Ah, who will ever forget this total car crash. In a move described as "a terrible PR idea", British Gas decided to host a Twitter Q&A - on the same day it unveiled a 9.2% price hike.

On the same day the Chancellor came under extreme scrutiny for the Budget, he chose to join Twitter. The responses were creatively vicious.

Stumbling from one #fail to the next, a sponsored British Gas post on Facebook received over 20,000 mostly negative comments filled with terms describing British Gas as "shysters" and "thieves".

Fired HMV staff fought back and livetweeted the "#HMVXFactorfiring" in 2013, it was a magnificent show of defiance.

From "My Lidl Pony" to a plethora of #horsemeat hashtags, Twitter was dominated by the supermarket horsemeat burgers scandal. Tesco managed to make it *so* much worse with this ill-advised tweet..