While the majority of us were unwrapping socks from our nan this Christmas, one guy opened a present of an entirely different nature.
The man in question had been sending some very personal direct messages to a woman who was not his girlfriend via Twitter and Facebook.
His girlfriend, known only as Cassy, discovered his infidelity and took screen shots of the illicit conversations.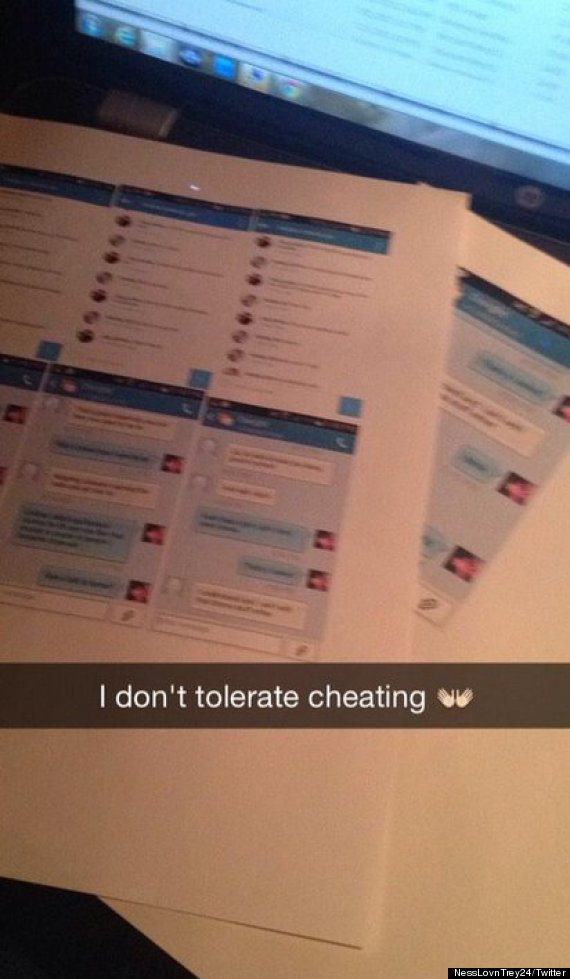 Determined to get revenge, Cassy wrapped the screen shots in Christmas paper and presented them to her boyfriend as a present.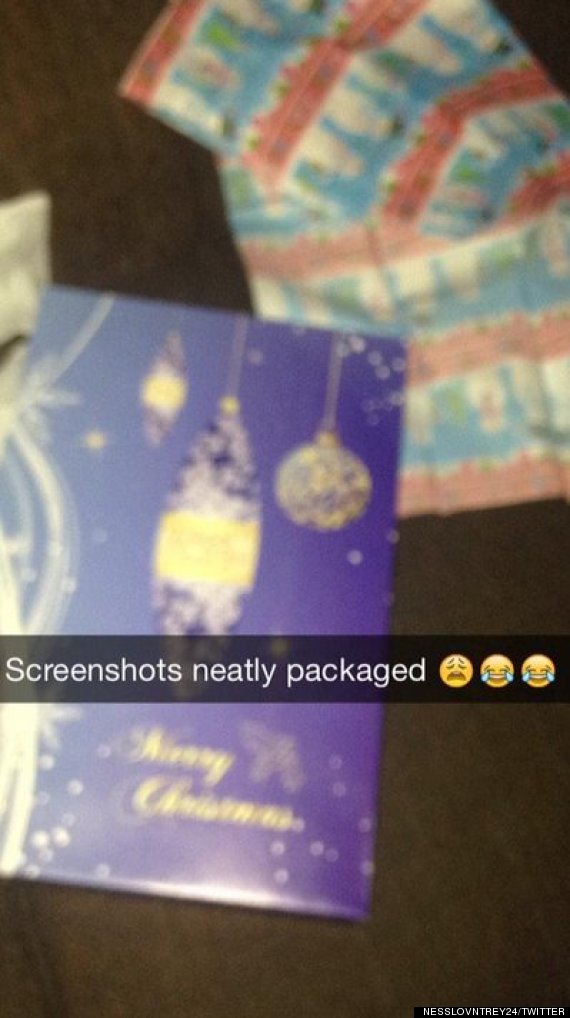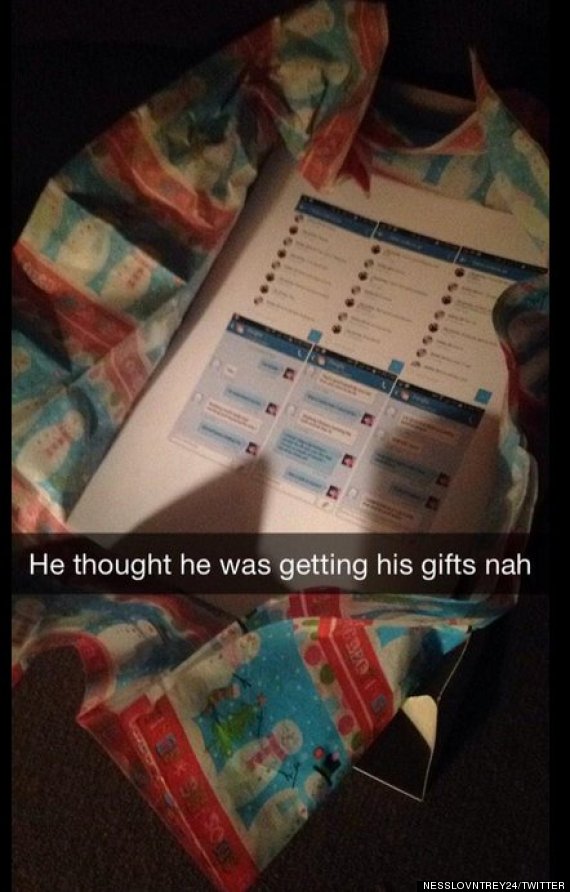 She posted the pictures to Twitter and Snapchat, along with a video of her boyfriend opening the "gift".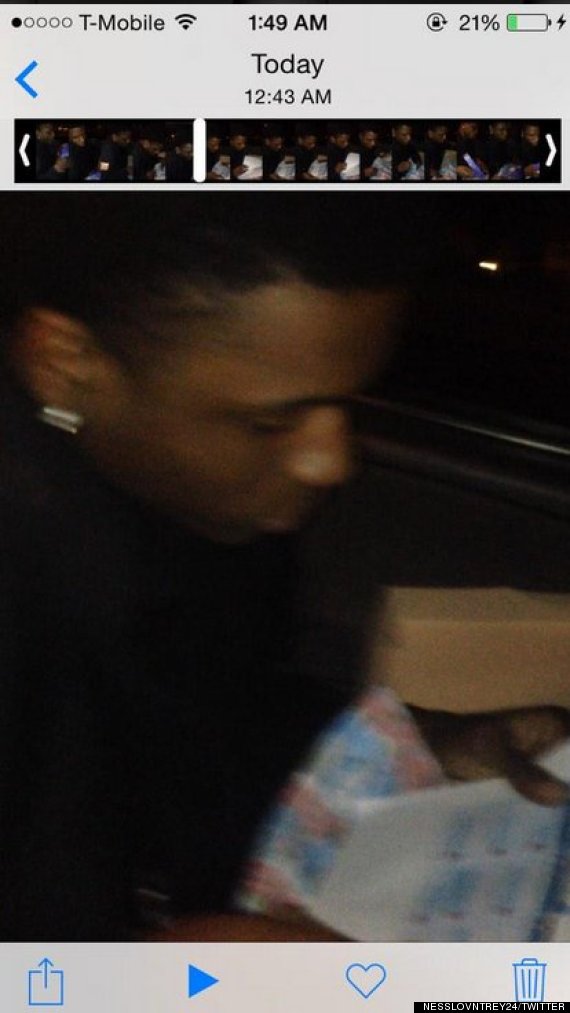 The moral of the story? Don't cheat, especially if your girlfriend is social media savvy.
H/T: Elite Daily
SEE ALSO:

American Football Fan Spots Man's Pregnant Girlfriend Cheating Over Text

Woman, Ting Su, Finds Husband Cheating With Her Own Twin, Gets Spectacular Revenge
Celebrities Talk Cheating
Sandra Bullock was married to Jesse James for five years before it was revealed that he reportedly had an affair with tattoo model Michelle "Bombshell" McGee. Bullock spoke out about how the scandal and divorce affected her, saying, "I was perfectly content to be permanently broken."

Burlesque star Dita Von Teese was married to shock rocker Marilyn Manson for just over a year before she filed for divorce in January 2007. Von Teese moved out on Christmas Eve amid allegations that Manson was having an affair with Evan Rachel Wood, then 19 years old. "I left with nothing. I knew that there was an inappropriate relationship going on in [my home], and I didn't want any part of it around to remind me," she said. "I didn't want that sofa. I didn't want that bed."

Eva Longoria filed for divorce from husband Tony Parker in November 2010, after finding out that he reportedly cheated on her with the wife of his former teammate. "It wasn't about who he chose. I had moments of like: 'Okay, I'm not sexy enough? I'm not pretty enough? Am I not smart enough?' Then I immediately stopped," she said. "'No, no, no -- don't start doing that.' Because you can get stuck in that cycle and you can carry that onto other things."

Sienna Miller was engaged to Jude Law when it was revealed that he had cheated on her with his children's nanny. Miller has spoken out about the affair and how it affected her perception of love. "What makes me sad [is] that there was a loss of innocence on my part," she said. "I was blinded by being a romantic person. I sort of feel like, 'What if I never love that vulnerably and that openly again?' But I feel like I'm really strong. I feel like I grew up."

Sophia Bush and Chad Michael Murray were married for only five months before separating amidst allegations that he was cheating with Paris Hilton. "I can't say there are no hard feelings... I feel hurt, humiliated and broken-hearted," she said.

Usher has been accused of cheating several times in his career, both on his ex-wife, Tameka Raymond, and former girlfriend, Rozonda "Chilli" Thomas. "I was faithful at heart, but not faithful all the way," he said of his relationship with Chilli.

Kristen Stewart made headlines when photographs surfaced of her kissing married director Rupert Sanders. Stewart, who was dating Robert Pattinson at the time, issued a public apology for the affair. "This momentary indiscretion has jeopardized the most important thing in my life, the person I love and respect the most, Rob. I love him, I love him, I'm so sorry," she said. Sanders and his wife of 10 years, Liberty Ross, split six months after Sanders' affair with Stewart was revealed.

Whoopi Goldberg has been married three times, but told her cohosts on The View that she has cheated while being married multiple times. "I did it five or six times… Yes, I screwed around while I was married, yeah. I made mistakes too. It happens sometimes," she said.

There is speculation that Meg Ryan and Dennis Quaid divorced because she had an affair with Russell Crowe, but Ryan has also gone on record to assert that her husband was unfaithful as well. "Dennis was not faithful to me for a very long time, and that was very painful. I found out more about that after I was divorced," she said.

Tiger Woods became the center of a very public cheating scandal when it was revealed that he had cheated on his wife, Elin Nordegren, with multiple women. The numerous affairs led to a divorce. Woods spoke out about why he strayed, saying, "I felt I had worked hard my entire life and deserved to enjoy all the temptations around me. I was unfaithful. I had affairs. I cheated."