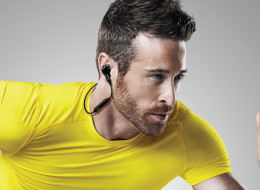 With 2015 now finally here, there hasn't been a better time to try and fight back against Christmas with an army of fitness trackers, wearables and gadgets.
Fitness tech has never been as advanced as it is now, or affordable. From £79 all the way up to £300 there's something for everyone including waterproof headphones and state-of-the-art fitness trackers like the Fitbit Surge and Jawbone UP3.
We've picked out our nine favourite fitness gadgets which you can buy this year below. All of them will give you a good boost to getting down the gym - or at least give you something fun to play with while you sweat your guts out.
If we've missed any out that you love, let us know in the comments.
Since its first product, Jawbone has been slowly but steadily creating the ultimate 'lifestyle' fitness tracker. Blending good looks with genuine functionality the UP3 is an activity tracker, fitness tracker and heart health monitor. All packed into a body that's water-resistant and has a week of battery life.

The Misfit Shine is a Kickstarter success story. Having bee fully funded over a year ago the company is now at the forefront of fitness wearable technology. Entirely waterproof and painfully simple to use the Shine measures your daily activity based on intelligently analysing your movements and then, when it's time to go to bed, it'll automatically start tracking your sleep as well.

Fitbit's Surge is for those who train and train regularly. It's the ultimate performance tracker that combines all the attributes you'd need including GPS tracking, multi-sport recognition, heart-rate monitor, all-day activity tracking, wireless syncing and the list goes on. If you want a fitness tracker that you can take anywhere that'll record anything, then this is the one for you.

The Jabra Sport Pulse headphones are quite simply the ultimate home gym solution. These incredible wireless headphones are your fitness tracker, your commuting headphones and your personal coach all rolled into one. In-ear heart-rate monitoring kit lets you analyse precisely how you're workouts are affecting you. From there the headphones will coach you towards your goal.

The Nike Fuelband is one of the most attractive and intuitive fitness trackers on the market - and the new SE edition is the best one yet, adding Bluetooth LE for constant syncing with your iPhone, 'Session' markers and limited sleep tracking. It's not a complex gadget, and it's hurt by the lack of Android compatibility. But it works, is stylish and has earned a legion of fans.

For £129.95 you might expect that these Bose headphones would be Bluetooth enabled. Sadly, they're not - but they are totally water resistant, secure in the ear and have fantastic sound quality. They also come with in-line controls and a microphone designed for the iPhone, and a fitness armband to hold your music player safe when you work out.

The FINIS SwiMP3 headphones (£93) are a stunning bit of kit which transmit music through your cheekbones via induction. It's one of the only pair of headphones you can wear in the pool, and if you're spending a lot of time underwater and need an Andrew WK boost on your 50th lap, it might make the difference. (£93)

If you want to get fitter, it's worth knowing the state of play before you start - and during your programme. The Withings Smart Body Scale will give you that. It's able to accurately track your weight, body fat and various other stats, and sync them to your phone so you can easily monitor progress over time. They're pricey - but they might make the difference.