The Dalai Lama appears to have self-confirmed himself for Glastonbury, according to his online schedule of 2015 events.
MORE:
Yes, seriously. Feel free to read that sentence again, we are also speechless.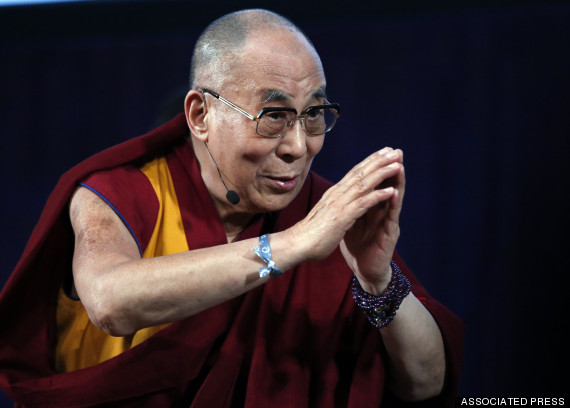 The Dalai Lama
Eagle-eyed fans, and the Central Somerset Gazette, have spotted that the Dalai Lama's list of 2015 events includes a stop-off at the Worthy Farm festival this June.
The public talk is listed as taking place on Sunday 28 June. So. Surreal.

The event, as it appears on the Dalai Lama's schedule
Further investigations suggest the booking may not be as random as it seems.
The festival's Green Fields have welcomed public speakers from many walks of life and in 2013, his Tibetan Monks performed there, holding a ceremonial Sand Mandala to celebrate the 100th anniversary of the Tibetan Declaration of Independence.
At present, the only act officially confirmed for Glastonbury is Lionel Richie, who will fill the Sunday Legends slot, following Dolly Parton's standout performance last year.
Other acts rumoured to be taking to the stage at Glasto include Oasis and Muse.
At present, the festival organisers have not commented on the Dalai Lama's apparent self-confirm.
Glastonbury 2015 Line-Up Rumours
Taylor Swift has a Glastonbury-sized gap in her '1989' World Tour schedule, and Michael Eavis has stated that he'd love the singer to perform at Worthy Farm. Watch this space...

AC/DC have already confirmed that they're working on a new album, before heading off on tour again - could a stop at Worthy Farm be on the cards?

Plenty of Glastonbury fans are keeping their fingers crossed for a Fleetwood Mac annoucement.

Could Queen and Adam Lambert be heading for Somerset? Brian May has refused to confirm - or deny - the rumours...

Well, it wouldn't be Glastonbury without Fatboy Slim, would it?

After weeks of speculation over a possible secret set at 2014's festival, Prince and his band didn't perform there. Could 2015 be the year?

Adele's famously said she'll never do festivals - could Michael Eavis convince her to change her mind?

Could Florence's comeback include a stop at Glasto?

Rockers Muse are being tipped by bookmakers.

If Oasis ever reunite, surely Glastonbury would be the perfect place to do it?

Foo Fighters graced the Main Stage in 1998 so we think it's about time they returned.

Well, if Beyoncé can...

Coldplay's seventh album is in the works, and rumour has it that Chris and his bandmates could be heading for the Pyramid Stage once again.