[WARNING: NSFW images]
Fans are devastated after Bizarre magazine, the British publication celebrating alternative culture, announced it would be closing next month.
For nearly two decades, Bizarre's covers starred tattooed girls in latex, stories of monsters and vampires, punk porn, weird photos and avant-garde art - but February's issue will be its last.
The magazine for people who "dare to be different" sometimes featured a warning sticker saying "don't buy if you're easily offended". It launched in 1997 but is closing with its publisher blaming falling sales in the digital age.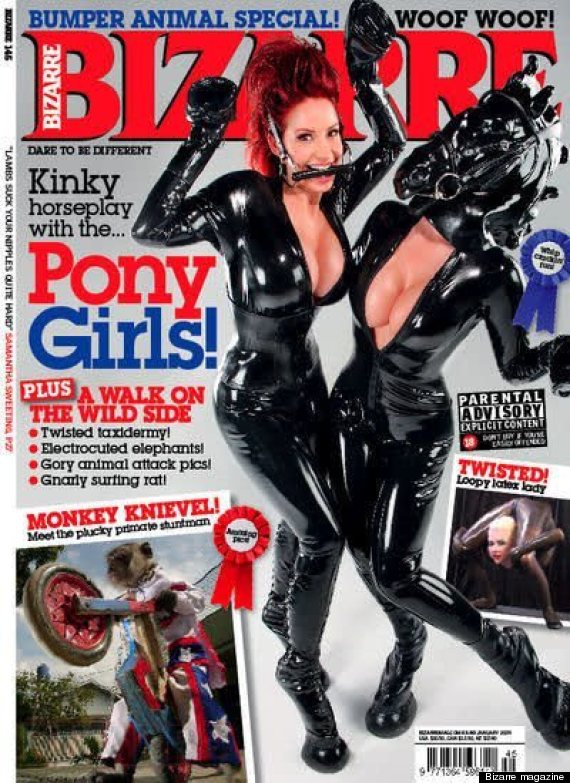 A Bizarre cover promising taxidermy, stunts and explicit content in a "bumper animal special"
Bizarre has been considered a home to subculture around Britain and a place where "freaks" could indulge in non-mainstream passions like fetish sex, extreme body art and macabre music, films and literature.
Gonna miss the Bizarre Magazine it was one of the first mag to give alternative people a platform, truly a unique mag #BizarreMagazine

— Vynx Vyxen (@VynxVyxen) January 15, 2015
It also covers political and human rights news, such as censorship, sex offences, terrorism and bigotry.
It campaigned to raise awareness of discrimination against alternative culture in 2007 after the murder of Sophie Lancaster, whose "gothic" clothes were thought to have led to her killers targeting her.
In its heyday in the early 2000s, Bizarre sold over 100,000 copies per issue, but at the last count in 2013 it was shifting barely 11,000.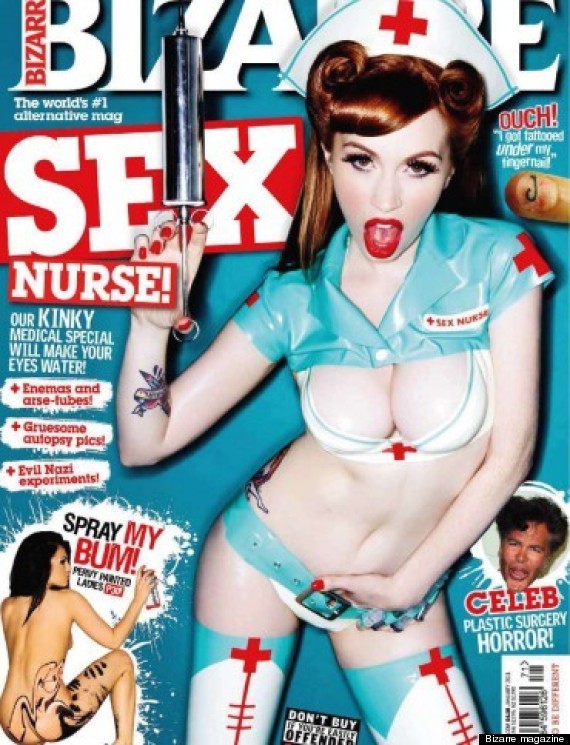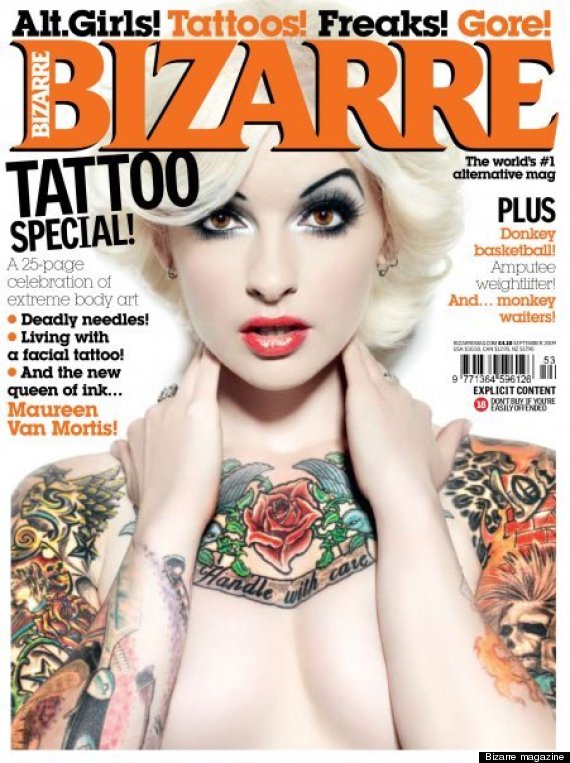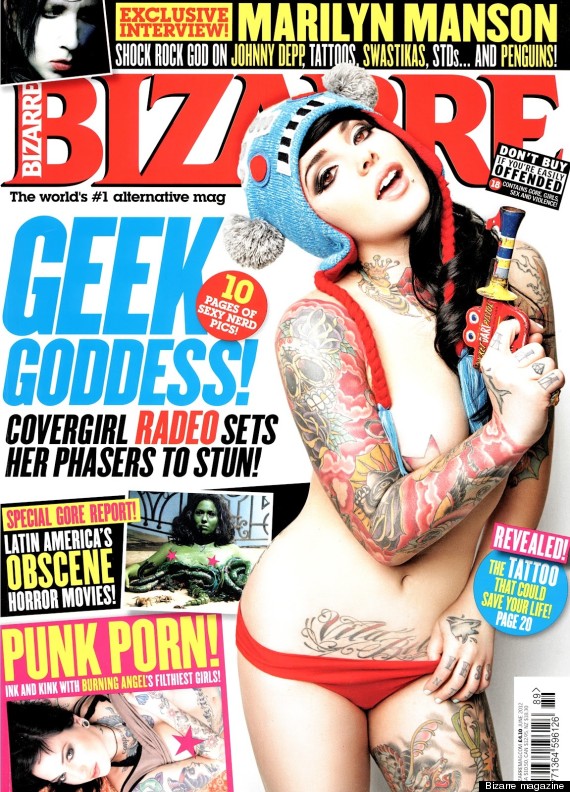 Saddened to hear about the demise of Bizarre magazine

— Horror Hothouse (@HorrorHothouse) January 16, 2015
Gutted to wake up to @bizarremagazine closing. Reader from #1 & proud had work featured 2-3 times. Where will I get my monthly madness now?!

— SteamPrepp (@SteamPrepp) January 9, 2015
@bizarremagazine @SteveyKitten @AmandaCoban @Dr_Blackthorn @davekel just got the sadest news of the year. I will miss you for a long time

— Dan Whileman (@BrotherWhileman) January 7, 2015
Just read that #Bizarre magazine will publish its final issue on Jan 20th :(
Was reassuring seeing a #fetish friendly magazine growing up

— bow2her (@bow2her) January 16, 2015
Really sad to see that #bizarre magazine has come to a end after 18 years but I'm thankful I've been… http://t.co/Ex70lKILpv

— Carly Agnew (@MsCarlyJuliette) January 15, 2015
Just seen that Bizarre magazine is closing. Damn you, the internet for making softcore-BDSM porn and tattooed grannies free for all.

— Si Gold (@simongoldsays) January 16, 2015
Magazines that have closed in the last 5 years
The teen magazine closed in 2011. Sugar's publisher Hachette Filipacchi said it was responding to the "fundamental shift in the nature of the teen publishing marketplace", with more young people spending time on mobile and web platforms. Its final issue featured One Direction.

She magazine closed in 2011 after its publisher Hearst Magazines UK - which has just bought it along with other magazines such as Elle and Red - decided to focus on more successful titles.

Cosmopolitan Bride was another title, along with She magazine, that Hearst Magazines UK decided to close in 2011. Its sister, the main Cosmopolitan magazine, lives on and is one of the top women's magazines, selling more than 200,000 copies an issue.

Easy Living closed in May 2013 and became online-only, as "digital reach far outweighed that of print" according to its publisher Condé Nast. It appears to no longer have a website.

Front, the men's magazine famed for girls, sport and entertainment, closed in February 2014. It left a message on Facebook with these parting words: "It's been a lot of fun being the best, sexiest magazine in the world, and we couldn't have done it without you lot. Thanks for being so rad, you all rule."

Publisher IPC Media closed Nuts magazine in March 2014 with a tearful image of model Lucy Pinder.

Bliss, the teen mag for girls published by Panini UK, which also makes sticker books for children, closed in June 2014.

Announced in August 2014 that it would stop printing its print edition in October 2014. Company will live on as a digital brand.
Bizarre's publisher, Dennis Publishing, said in a statement: "Since its launch in 1997, Bizarre has brought together members of the alternative scene. It offered an uncensored view of the world, lifting the lid on the things other magazines run screaming from featuring the most thought provoking stories and photography on the planet.
"The brand has been more than just a magazine and website; it has been a community committed to delivering unique, amazing and shocking content to thousands of loyal fans across the world.
"Unfortunately with a large proportion of the printed magazine market suffering a decline with lower sales in an increasingly digital age, Dennis Publishing has made the difficult decision to close the publication."