We're a romantic bunch here at HuffPost and with Valentine's Day on the horizon we're not about to let this special date go unpecked. Yes, we're talking about kissing, people.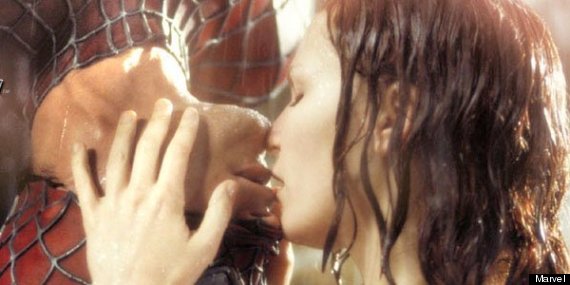 Tobey Maguire and Kirsten Dunst perform an impressive, upside-down kiss in 'Spider-Man'
Not only do we bring you 22 Adorable Animal Kisses Caught on Camera but, perhaps more helpfully, how to be an excellent kisser. Yes, there is a manual.
MORE: The Famous Upside Down Spiderman Kiss, As Acted By Dogs
But, here at HuffPost Entertainment, it's all about the stars, so here - for your delectation - are 50 of the steamiest kisses ever caught on the big screen.
If this lot don't get you in the mood for a spot of tonsil tennis, then we don't know what will.
The long-simmering attraction between superstar Rachel (Houston) and her bodyguard (Costner) turns into passion one night as she finally lets down her guard.

Taylor was never more beautiful than here, at 18, as she whispers in Clift's ear to "tell mama all," as they breathlessly surrender to their overwhelming passion, one that leads Clift's character to kill the woman standing in their way.

When two people finally admit they're meant to be together, even pouring rain (and lousy lines like "Oh, I hadn't noticed") can't douse the passion of that long-awaited kiss.

Rhett Butler tells Scarlett O'Hara, "You should be kissed, and often and by someone who knows how." When he finally shows her how a real man kisses, it leaves her more than a little lightheaded.

Who knew that two small-town kids finally admitting their love for each other could be so passionate? When George and Mary try to listen in on the same phone, their proximity proves too much and soon he's shaking her and she's crying and they can't stop kissing.

Who can forget when Ingrid begs Humphrey, "Kiss me like it's the last time." The camera pans down, and a wine glass gets knocked over, which was code for a lot more than a kiss back in the era of heavy censorship.

After preventing the near annihilation of earth, this hot futuristic couple is allowed some alone time to make out, don't you think? They don't even care if everyone else is watching.

Movies don't get much more romantic than this one, where a single mother-to-be and a G.I. find love at a vineyard. After getting soaking wet stomping grapes, they stumble in, laughing to the bedroom for a long-in-the-making kiss.

Everything about this film is epic, including the unspoken love between Hawkeye and Cora. Their first kiss might not be as dramatic as when he declares "I will find you," but the fact that he can leave her without a kiss means that he made that first one count.

Cusack always seems to be left standing in the rain, only with Skye, their getting drenched leads to a love scene in his car where they're literally shaking as they kiss.

Carmen sets her sights on spoken-for soldier Joe and he's a goner. Dig the scene where he's eating a peach and she's redoing his belt. The music blares as he gives in and kisses her -- and throws the peach against a wall.

When one of the world's most beautiful screen goddesses breathily confesses, "I hate you. I hate you so much, I think I'm going to die from it," and then kisses her leading man, it becomes the reason people still watch "Gilda," nearly 70 years later.

Jean Grey is dangerously unstable, and she's accidentally killed her lover: Alone in a lab, she grabs Wolverine, who's always been madly in love with her and everything in the room shakes as they kiss. Dare we say the kiss is "X"-rated?

Now here's a kiss that's literally steamy: The young lovers' passion fogs up the windows of the car they've chosen as the spot to consummate their doomed relationship.

We could make a whole list of Depp kissing scenes ("Cry-Baby!" "The Ninth Gate!") but this one is memorable for the tactile way the connection between these two builds as they finger paint.

All that pent-up energy from dancing suggestively has got to go somewhere, and it goes straight into one of the screen's hottest and most memorable kisses. No wonder Ryan Gosling got his make-out moves from this movie.

MTV voters chose this as "Best Kiss" when the movie came out, and we agree; seeing Blair get a teasing lesson in the art of kissing from Gellar isn't a bad way to spend the afternoon.

Everyone remembers the romantic ending, but it's a rocky road to that fadeout: She yells at him that he's no gentleman, and he kisses away her tears in one scene that proves he can be gentle but still very much a man.

Sexy younger man Winston goes all out to seduce older tourist Stella in a scene that makes most women's toes curl in the best way possible. Who could resist Taye Diggs when he lays on the charm?

One of the steamiest movies ever made, period. Turner used her body as a weapon to bring a helpless Hurt to his knees. You may feel the need to wipe down your TV screen afterwards.

This famously kinky flick has Basinger giving into the sensual demands of her mysterious lover, including the scene where he feeds her while she keeps her eyes closed. It all builds to an incredibly messy but sexy kiss.

Sure, the movie's about how a sex addict feels no pleasure in getting it on with strangers, but the scene where he takes a coworker to bed is smolderingly hot: Until he finds the intimacy too overwhelming.

Which kiss is your pick in this tale of unrequited love: the oral-fixation fountain kiss or the impassioned kiss in the rain?

The spandex just make this hookup hotter: Not to mention their adrenaline is pumping because these two superheroes just fought off a horde of bad guys and voila, hot hero-on-hero action.

Two hot chicks kissing in a pool while a guy videotapes them? The kink factor is off the charts, especially when Richards takes off her top.

The moody atmosphere of this noirish thriller only heightens the tension when Watts realizes she's falling for mysterious amnesiac Harring: Their first kiss is achingly sultry.

A bored, married housewife can't resist the charms of a traveling salesman. Her knees almost buckle in the scene where he begins kissing her neck. Hot water-fall sex follows, but this first kiss is pretty steamy on its own.

Before Thelma finally "gets laid properly" thanks to drifter J.D. (a young and smoking-hot Brad Pitt), there's a whole lot of flirtin,' some play actin' and, oh yes, some kissin.' No wonder Thelma had such a big grin on her face.

The love scene in which Edward stops being Vivian's client and becomes her lover is one we're sure got worn out back in the days of VHS. Unless you prefer shopping sprees to sweet, soulful kisses, that is.

To quote Crash Davis, "I believe in long, slow, deep, soft wet kisses that last three days." And as Annie Savoy says, "Oh my!"

As if the sensual pottery-making scene wasn't ridiculously hot enough, the two start kissing. Because clay is a well-known aphrodisiac.

The legendary kiss on the beach that launched a thousand parodies is still pretty damn hot when you watch it: There's a reason people say, "They don't make 'em like they used to."

A couple has played a dangerous game since they were children and, as adults, their passion leads them to more and more outrageous dares and more and more intense scenes of passion.

Movie scenes don't get any more famous -- or any more steaming hot -- than the one where Stanley bellows for his Stella and she comes down to his level as they kiss.

Cop Bud White and call girl Lynn Bracken make a smoking hot couple: Take the scene where he unzips her dress as she arches against him, exposing her bare back. He carries her to the bed, never breaking their kiss.

Even though it was all in Natalie Portman's mind, this sexy, frenzied hookup with her rival was all anyone was talking about. It certainly helped boost both women's careers (and libidos everywhere).

Who can forget the subway ride where Cruise and De Mornay wait impatiently for the other passengers to get off so they can, um, do the same? They begin kissing even though there's one old bum left, but then finally escort him out and get down to business.

Two coworkers who've been crushing on each other finally go on their first date, and when they lock lips at long last, it's a scorcher.

The crew called this the "hate scene" because the stars didn't get along, but there's geunine heat in the moment where Rick forces replicant Rachel to kiss him.

Alfred Hitchcock famously got around the censors' kissing time limit by having his lovers kiss, then talk, then kiss again, drawing it out into an even more sensual scene than if they had merely kissed nonstop.

These young, star-crossed lovers can't stop kissing, even underwater, as they hide from Juliet's family. It's like their lives depend on each kiss.

Reunited for the first time after a brief and forbidden tryst, Jack and Ennis bruisingly lock lips, hands tangled in each other's hair, while Ennis's shocked wife tries to pretend she saw nothing.

In the ultimate "sexy" movie for cinephiles, Brando and Schneider are two strangers looking at an empty apartment when they begin to kiss passionately, leading to a heated, no-names affair.

The (arguably) hottest James Bond and the hottest Bond girl enjoyed a brief romance between all the killings, torture, death and betrayal, including an impassioned kiss atop a hospital bed.

Eddie ably passes his make-out audition with Amber Waves to become porn star Dirk Diggler in "Boogie Nights." The guy can do a lot more than kiss, but the kissing ain't bad either.

The pouring rain, the upside-down kiss, the fact that they're secretly in love already and that he just saved her life, all lead to one of the most memorable kisses in moviedom.

The camera pans away as Javier has Scarlett spread out on the floor and their hands clasp: That might be a romantic cliché but has there ever been a hotter pair of actors acting it out?

Nothing like a good fight to the death to get the passions up: Turns out all this married couple needed was some lethal foreplay to bring some fire back to their kisses.

After convict Clooney kidnaps Lopez's U.S. Marshall, he can't stop thinking about her, which leads to the steamy scene where he imagines her joining him in the tub. Towel, please!

You knew this would be number one: The frustrated passion, the rain-soaked clothes, his throaty rasp, and the way he lifts her up all make this cinema's steamiest, most "wish I were her" kiss.