Rita Ora
has strongly hinted that the most recent series of
'The X Factor'
could be her last as a judge, despite having mentored this year's winning contestant.
READ MORE:
Following Louisa Johnson's victory on Sunday night, Rita put in an appearance on 'The Xtra Factor', where it certainly sounded as though one year on the panel was enough for her.
She told hosts Melvin Odoom and Rochelle Humes: "As a new judge, [winning] is a good way to leave the show."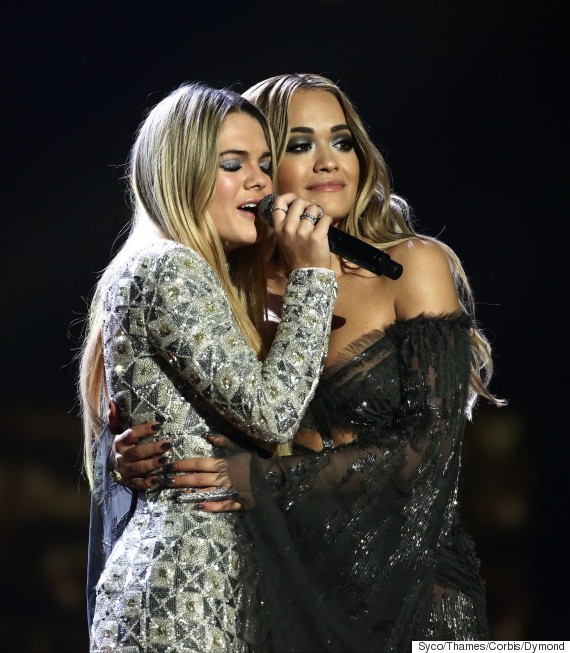 Rita Ora and Louisa Johnson
The 'I Will Never Let You Down' singer previously cast doubts on appearing on a second series of 'The X Factor', claiming that her forthcoming sophomore album would be her "priority" in 2016.
Rita was one of the two new recruits on this year's 'X Factor', after being persuaded by Simon Cowell to defect from 'The Voice', where she had previously been a coach.
Nick Grimshaw also joined Rita as a new addition to the line-up this year, though rumours over the weekend suggested viewers shouldn't get too used to seeing him either.
While reports suggested Nick would not be returning to the panel next year, an ITV spokesperson was quick to nip those claims in the bud, dismissing the rumours as "pure speculation", adding: "We have not even started discussing the next series and won't do so until next year."
It had previously been reported that Simon was keen to sign up One Direction singer Louis Tomlinson, who helped him out at Judges' Houses this year, to judge the show while the boy band are on hiatus.
Best 'X Factor' Musical Guests
At the absolute height of her fame and cultural significance, Lady Gaga treated 'The X Factor' to a performance of her then-new single, 'Bad Romance', while dressed in an elaborate bat costume. She and her dancers performed the track in a giant bath, though she did leave the tub towards the end to perform a piano piece... while sitting on a lavatory. Nice.

Back when Girls Aloud were still on their *ahem* year off, Cheryl gave her debut solo performance on 'The X Factor', performance her single, 'Fight For This Love' in full military garb. There had been a lot of talk in the lead-up to the performance about whether or not she'd be able to pull it off, but we were pleased to see she absolutely smashed it, with the song shooting to the number-one spot shortly afterwards.

As the show's most successful winner ever, Leona performed on 'The X Factor' a number of times, but this was undeniably her most memorable time on the show. In one of the trippiest 'X Factor' guest spots ever, she performed her festive offering 'One More Sleep', surrounded by dancers in Christmas tree costumes, all flashing their pants throughout, while others pranced around dressed as presents in colourful leggings.

This was memorable not so much for JK's performance, but more for the fact that Dannii Minogue and Cheryl deliberately didn't stand up for him when he was done singing - which we're sure might have had something to do with the less-than-kind comments he'd made about them in the press days earlier...

Y'what..? No, we don't understand a word she's singing either...

One year after leaving 'X Factor', One Direction were on the cusp of world domination. They returned to the show in 2011, to perform their sophomore single, 'Gotta Be You'.

Fast-forward a few years, and the boys were the biggest group on the planet, showing up to the final in 2014 with none other than rock legend Ronnie Wood backing them up.

1D aren't the only ones who can bring in an A-list guest for an 'X Factor' performance, with Olly duetting with the biggest diva on the planet (that'd be Miss Piggy, then) on his single, 'Dance With Me Tonight'.

In a word: YASSSSSSSSSSS.

Britney Jean marked her return to the world of music after some time off with a performance of 'Womanizer'. The appearance gained a mixed reception from viewers... but how could you argue with Louis Walsh's happy face in this video? It also gained notoriety for her awkward chat with Dermot O'Leary at the end of the clip.

Showing us all how to handle a wardrobe malfunction and keep on singing (plus, throwing what definitely feels like shade at the contestants during Dermot's interview, with her 'practice, pratice, practice' remark).

And speaking of "practice, practice, practice"...

She might be best known for her elaborate and theatrical productions, but Rihanna proved she can still thrive with a stripped-back performance, as she did with this gorgeous rendition of 'Diamonds'.

Why have one former 'X Factor' finalist come back and perform when you could have two? Reigning champ Alexandra joined forces with runners-up JLS for this exciting (and, let's face it, sexually-charged) performance, that was the highlight of the 2009 final.

"Gaga, do you want to make sure that sea-shell is properly attached?" "Nah" "Gaga, do you want to make sure your wig is nicely brushed, and doesn't look like you bought it last minute at a fancy dress shop?" "Nah" "Gaga, do you want to perform a single rather than a poorly-received album track and a problematic duet with R Kelly" "Nah" Yeah. So this happened.