Bra designers, scientists and smart textile engineers have come together to develop the Queen of all sports bras.
The high performance smart bra from OMsignal enables the wearer to workout, stay supported and have her fitness levels tracked all at once.
It's multi-tasking at its finest - and we've got a lot of time for that.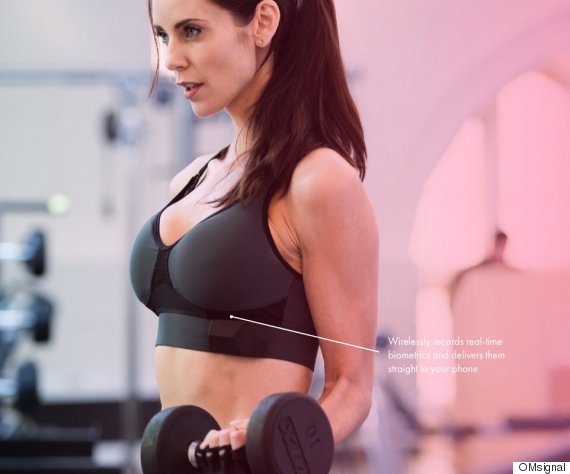 OM bra works by sending data to the wearer's phone, which can then be used to improve workouts and monitor their health and fitness levels.
It enables users to monitor how many calories they've burned and track their stamina. It also monitors breathing, heart rate and how hard they're pushing themselves.
It was launched at the CES technology trade show in Las Vegas this week.
The bra is made from stretchable fabric which is designed to mould to an ever-changing and constantly mobile body, while retaining comfort.
One of its more impressive features is that it assesses the body to figure out when a person needs to work harder and when they need to chill out. This helps maximise users' time at the gym and helps prevent them from overtraining, which can lead to a decrease in performance and tiredness.
It also minimises the need for yet another tech gadget on your wrist or around your chest, as it's merged all of that greatness together into a stylish-looking bit of kit.
The super bra (read: woman's new best friend) will be available to buy from Spring 2016. And we can't wait to get our hands on it.
Best Fitness Gear January 2016
£135 from Hipandhealthy.com Even if your workouts are confined to the gym, you can still embrace the great outdoors with luxe graphic prints. These leggings are also made from Subli-Cool 2.0 Polyester - sweat absorbing, quick drying, plus cool and comfortable to wear.

£50 from Hipandhealthy.com Show off your sports bra and the top of your leggings with pride with this modern mesh vest. The loose fit will keep you feeling cool, as well as looking stylish.

£105 from Nike.com The shoes we're dreaming of owning this year. Nike's lightweight, yet supportive, Air Max design has received a new season revamp complete with desert camo detail.

£22 from Activeinstyle.co.uk Because workouts are so much more enjoyable when you get to pick the soundtrack. This lightweight phone holder has safety reflective tape and a clear window, so you can switch songs on the go.

£95 from Sweatybetty.com Don't let the weather get in the way of your runs. This thermal top, with dropped back hem and reflective panels, provides the perfect amount of coverage.

£10 from Lululemon.co.uk Who says socks have to be boring? Stop your feet feeling the burn when you run with these high-density cushioned socks. They also feature wicking nylon and mesh inserts to avoid the dreaded 'sauna sock' scenario.

£35 from Reebok.co.uk This sports bra may look sweet, but its sturdy design means your cardio routine doesn't have to be. The chafe-free seams and mesh ventilation are a great finishing touch.

£26 from Adidas.co.uk Bring back 90s sportswear chic with this classic swimsuit. It's made from chlorine damage-resistant fabric, has comfy medium-cut legs and a X-back for speedier swims.