Men who carry their mobile phone in their pocket could be inadvertently "cooking" their sperm, a new study has suggested.

A group of scientists based in Israel monitored more than 100 men over the course of a year.
They found that almost half of the men (47%) who kept their phones in their front trouser pocket had low sperm levels, compared to 11% of the general population.
The study also revealed that men who chatted on the phone for more than an hour each day were twice as likely to have low sperm quality as those who spoke on their mobile for less than one hour per day.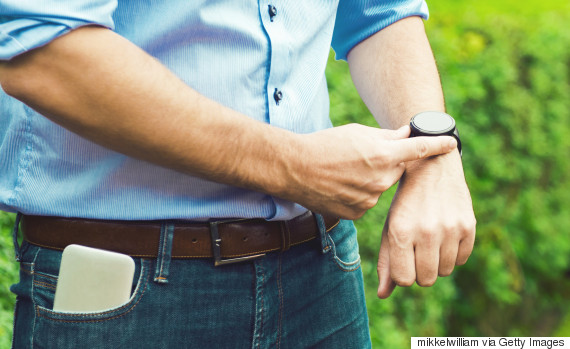 Throughout the study participants filled out detailed questionnaires about their lifestyles including their mobile phone usage.
They noted down how much time they spent on the phone each day, where they were carrying their phone and whether they received calls while charging their phones.
In addition to pocket placement and extensive call times being found to negatively affect sperm, the researchers also found that speaking on the phone while charging was linked to lower sperm counts.
According to the Daily Mail, Professor Martha Dirnfeld, of the Technion University in Haifa, which carried out the study, said: "The [sperm] levels were down to a number that would make conception difficult.
"If you are trying for a baby and it doesn't happen within a year you might want to think of whether it could be your mobile phone habit that is to blame."
Speaking to The Huffington Post UK, Professor Geeta Nargund, medical director of Create Fertility, said negative associations between mobile phone exposure and sperm viability and motility have been reported in the past.
"Thermal effects could increase the temperature of testes since mobile phones are carried in trouser pockets. Age, smoking and other lifestyle factors also need to be taken into account," she said.
"Men need to consider the findings of this study, and previous studies of potential detrimental effects of mobile phone exposure on sperm quality, and reduce their exposure.
"We need further large randomised studies to establish if the effects are due to heating or radiation or both."
The study has also led Professor Gedis Grudzinskas, a fertility consult at St George's Hospital London, to warn men to be mindful of their mobile phone habits.
According to The Telegraph he said: "If you wear a suit to work put the mobile in your chest pocket instead of close to your testes. It will reduce the risk of your sperm count dropping.
"And do you need to keep the phone right next to you on the bedside table? Some men keep their mobile in their shorts or pyjamas in bed. Is that really necessary?"
The full findings are published in the journal Reproductive BioMedicine.
SEE ALSO:

Mass Sperm Freezing is Not an Answer: Fertility Education Is the Solution
The common household chemical bisphenol A (BPA) can lower sperm counts and motility, according to a study in Reproductive Toxicology. Food packaging is a major source of BPA, which can seep into the food. Most food cans are coated with BPA resin, and acidic canned foods are especially risky.

Certain plastics, including vinyl used in some sex toys, release phthalates — plastic-softening chemicals that have been tied to lower reduced sperm count and quality. Glass, silicone and green sex toys are a safer bet.

Phthalates are found in many shampoos, soaps, deodorants and shaving creams. Look for natural, phthlate-free products instead.

It's not surprising that smoking cigarettes is bad for sperm, but smoking weed isn't much better. Heavy marijuana smokers have been found to have significantly lower sperm counts and sperm with bad swimming strategies.

Stress can cut sperm count dramatically by inhibiting the production of testosterone.

Women aren't the only ones who should slow down on drinking while trying to conceive. Alcohol can inhibit sperm production and lower sperm counts.

BPA is found on about 40 percent of cash register receipts, according to a 2010 University of Missouri study. The chemical can penetrate skin or be passed from hand to mouth to the digestive track. Skip the receipt or wash your hands after signing.

Isoflavones found in soy products mimic estrogen, and a 2008 study linked soy consumption to significantly lower sperm counts. The soy food industry disputed the study's findings.

Polychlorinated biphenyls (PCBs) are a group of toxic chemicals that have been banned but have accumulated in certain fish — especially predator fish and bottom-feeders. They are associated with decreased sperm counts and integrity. Smaller, younger fish are considered safer.

Chemicals called perfluoroalkyl acids are used in the manufacturing of nonstick products such as Teflon, Gore-Tex and wax paper and can significantly lower sperm counts, according to a Danish study.

Of course not having sex at all won't help, but some couples abstain for days or weeks in hopes of saving sperm until the woman is ovulating. This doesn't work. Researchers have found that while it does take a day or two for sperm to replenish themselves after ejaculation, waiting any longer than that can cause them to lose motility and change shape.