The UK is in the midst of a national biscuit shortage - and it could last until April.
Britain's biggest biscuit factory was severely flooded after Storm Desmond hit the UK back in December, resulting in halted production.
It has since been revealed that the 'Biscuit Works' factory in Carlisle still isn't up and running, which is set to have a drastic effect on the number of biscuits produced.
The factory, which is run by manufacturer United Biscuits, produces biscuits for big brands including McVitie's, Go Ahead and Jacob's.
It is thought that favourites including custard creams, bourbons and ginger nuts could disappear from supermarket shelves until mid-spring.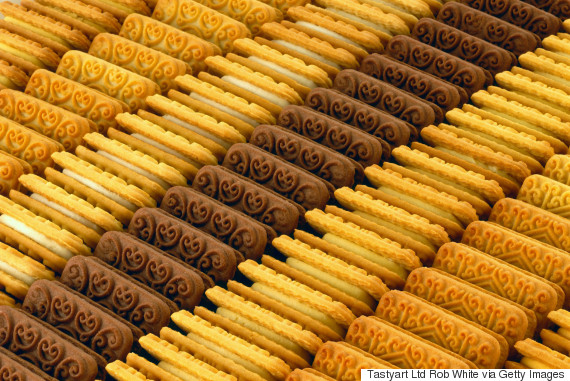 The nation's favourite biscuits could be out of stock until April
A spokesperson for United Biscuits said that there isn't a date for production to start again, as of yet.
"We apologise if consumers are finding it difficult to get hold of some of these products and we are working hard at our Carlisle site to resume normal service as soon as possible," they said.
The company has 400 employees, contractors and suppliers working at the factory site to kickstart their production line again.
"Resuming factory production is an absolute priority for us," they said.
Sainsbury's say their shelves could be affected by the biscuit drought until April. Meanwhile Tesco remains optimistic, saying that biscuits will be back in stock by 28 February.
Unsurprisingly, news of the extended biscuit shortage has sent a lot of people - including ourselves - into a state of panic.
There is a biscuit shortage. That's it it's over. The world is coming to an end. #killmenow

— Leanne (@leabe18) February 23, 2016
OK, stay calm, but there is officially a biscuit shortage after the floods from storm Desmond. THIS IS NOT A DRILL. pic.twitter.com/V9rqw4JRuE

— kmfm - Radio In Kent (@kmfmofficial) February 23, 2016
I can't believe there is UK wide ginger nut shortage! This is against my human rights, my biscuit human rights!!

— Joss (@joss668) February 18, 2016
The bourbon cream #biscuitshortage is actually real. Good job I have a good stock.

— Abdul Firfire (@afirfire) February 18, 2016
The Bourbon biscuit shortage is real

— Em (@em_gattlin) February 15, 2016
Also known as bourbon creams, these sandwich cookies consist of two chocolate biscuits with a thin layer of chocolate cream filling. The Essential Waitrose Bourbon Creams from the British department store are pretty fantastic.

These semi-sweet wheat biscuits were first made by McVitie's in 1925 under the name Chocolate Homewheat Digestive. Today, they come in the original flavor, milk chocolate, dark chocolate or with caramel. They're Britain's favorite biscuit, and might be ours too.

Jam 'n Cream cookies consist of a sugary layer of cream sandwiched between two shortbread cookies. They are topped with a thin disk of raspberry jam. These biscuits by Fox's are as tasty as they are adorable.

These cookies are coated in sugary icing and swirled with different colors. They taste like childhood and should be eaten by adults and children alike.

These cake-like cookies consist of a sponge-like base, a layer of jelly and a coat of chocolate. The jelly is traditionally orange-flavored, but other varieties include lemon-lime and strawberry. You can make them at home, but the boxed ones are so good we don't know why you'd want to.

Also known as "cow biscuits," these sweet, malt-flavored cookies have one or two cows depicted on them, depending on the brand. They're buttery and perfect for drinking with tea.

These classic, savory biscuits are more cracker than cookie. They may be described as "bland flavoured," but they're bland in the best way. Eaten alone or with cheese, they are the perfect simple comfort.

Classic and dead simple, these biscuits are the ultimate tea-dunker. Apparently Rich Teas are Prince William's favorite biscuit, and he asked for a chocolate biscuit cake made of the cookies for his wedding. The royal family favors the McVitie's brand.

Buttery, crunchy and crumbly, these Scottish shortbread fingers aren't too sweet and are supremely comforting. Walker's was established in 1898, and their shortbread is a "100-year-old family recipe."

A custard-flavored cream -- that tastes pretty much like vanilla -- is sandwiched between two elaborately decorated cookies in this classic sandwich biscuit.

These unlikely cookies are actually amazing, in spite of (or maybe because of?) the intense pink dye. If you're wary of such unnatural coloring, just go with it. You'll be happy you did.