The UK is in the midst of a national biscuit shortage - and it could last until April.
Britain's biggest biscuit factory was severely flooded after Storm Desmond hit the UK back in December, resulting in halted production.
It has since been revealed that the 'Biscuit Works' factory in Carlisle still isn't up and running, which is set to have a drastic effect on the number of biscuits produced.
The factory, which is run by manufacturer United Biscuits, produces biscuits for big brands including McVitie's, Go Ahead and Jacob's.
It is thought that favourites including custard creams, bourbons and ginger nuts could disappear from supermarket shelves until mid-spring.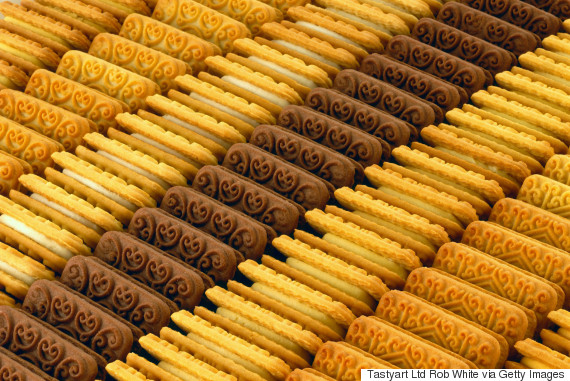 The nation's favourite biscuits could be out of stock until April
A spokesperson for United Biscuits said that there isn't a date for production to start again, as of yet.
"We apologise if consumers are finding it difficult to get hold of some of these products and we are working hard at our Carlisle site to resume normal service as soon as possible," they said.
The company has 400 employees, contractors and suppliers working at the factory site to kickstart their production line again.
"Resuming factory production is an absolute priority for us," they said.
Sainsbury's say their shelves could be affected by the biscuit drought until April. Meanwhile Tesco remains optimistic, saying that biscuits will be back in stock by 28 February.
Unsurprisingly, news of the extended biscuit shortage has sent a lot of people - including ourselves - into a state of panic.
There is a biscuit shortage. That's it it's over. The world is coming to an end. #killmenow
OK, stay calm, but there is officially a biscuit shortage after the floods from storm Desmond. THIS IS NOT A DRILL. pic.twitter.com/V9rqw4JRuE
I can't believe there is UK wide ginger nut shortage! This is against my human rights, my biscuit human rights!!
The bourbon cream #biscuitshortage is actually real. Good job I have a good stock.
The Bourbon biscuit shortage is real
SUBSCRIBE TO & FOLLOW UK LIFESTYLE
Get top stories and blog posts emailed to me each day. Newsletters may offer personalized content or advertisements. Learn more