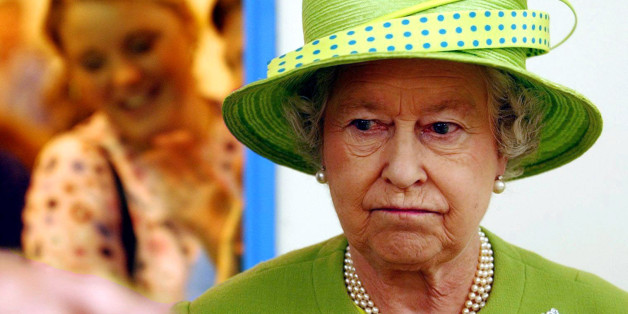 Wednesday's Sun: "Queen backs Brexit" #TomorrowsPapersToday #BBCPapers (via @hendopolis) pic.twitter.com/hBAKbneWmH
The article uses alleged remarks made by Her Royal Highness to pro-EU Nick Clegg during a lunch at Windsor Castle when he was Deputy Prime Minister back in 2011, in which she said the EU was heading in the wrong direction.
A "highly reliable senior source" told The Sun: "People who heard their conversation were left in no doubt at all about the Queen's views on European integration.
"It was really something, and it went on for quite a while. The EU is clearly something Her Majesty feels passionately about," the source was quoted as saying.
Intriguing. Claim is NOT that Queen expressed view on Brexit but did say EU heading in wrong direction (4 yrs ago) https://t.co/M0BaVlLl1e
Another incident in which she reportedly she "doesn't understand Europe" is also described.
Clegg was more forthright in his criticism, calling the story "nonsense":
Re Sun story. As I told the journalist this is nonsense. I've no recollection of this happening & its not the sort of thing I would forget
A spokesman later added: "This is categorically untrue. Nick has no recollection of this conversation and it is not the sort of conversation you forget."
Despite the alleged incident occurring well before David Cameron announced the Brexit referendum, Eurosceptics jumped on the story as evidence "a boost" for the campaign to leave the EU.
Nick Clegg quite right to refuse to confirm private conversation with the Queen, but The Sun splash nonetheless a great boost for Brexiteers
Others however suspect the "threadbare" story is simply the Murdoch-owned tabloid pursuing its own anti-EU agenda.
Sun accuses Queen of anti-European 'venom': Palace denies. Murdoch plumbs new depths in 'brexit' desperation.
Republican Rupert (cont): Sun claims Queen pro Brexit. https://t.co/suODlXHe9b Threadbare stuff. Tomorrow it will say she is in pro EU plot
The Queen story reminds me of Boris - just because he was pro-EU a month ago doesn't mean you can assume he's still pro-EU today!
Queen story is a bit like deducing that Sajid Javid must back Brexit because someone heard him venting against EU five years ago.
Even The Sun's own picture captions seemed doubtful.

While the BBC's Andrew Marr seemed in two minds: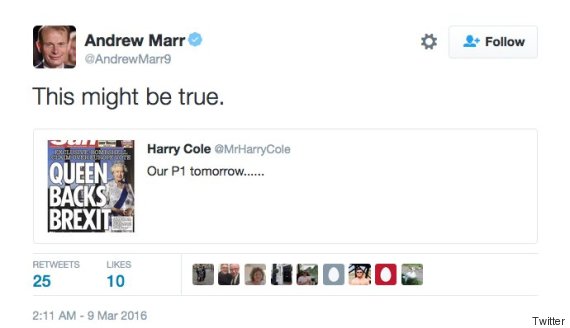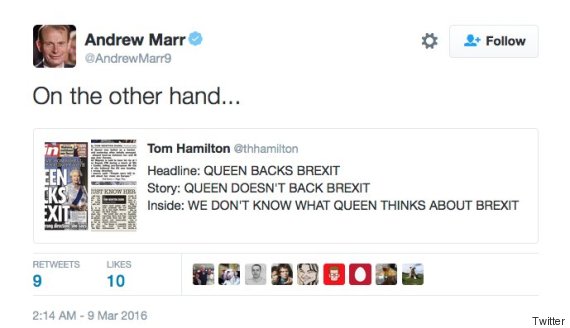 Whatever was actually said at Windsor Castle that day, attention has now turned to who the "highly reliable senior source" could be, with many quick to point out that cabinet member and prominent Brexiter Michael Gove was among those attending the event:
@JohnRentoul @TheSun ah hadn't read online. I saw this in Court Circular for 2011 pic.twitter.com/cjdOFERFZQ
Cheryl Gillan is also an Outer, but my inner Poirot suggests a likelier source https://t.co/4GJgmoV5Kp pic.twitter.com/UxWraiozoQ
Nick Clegg? Tick. The Queen? Tick. Someone who could potentially have told the Sun about EU discussion? *Ahem* https://t.co/KnmxVwvD9K
Despite her official position of being politically neutral, the Queen has been drawn into political debates with her comments before, most noticeably in the run-up to the Scottish Independence referendum.
SUBSCRIBE TO & FOLLOW UK DAILY BRIEF