Scotland commemorates St Andrews's Day as a celebration of Scottish culture. The Welsh celebrate St David's Day with parades, music and singing. St Patrick's Day is marked by a bank holiday in Ireland and celebrated by Irish communities throughout the world. But if you're English you may struggle to even remember that today is St George's Day.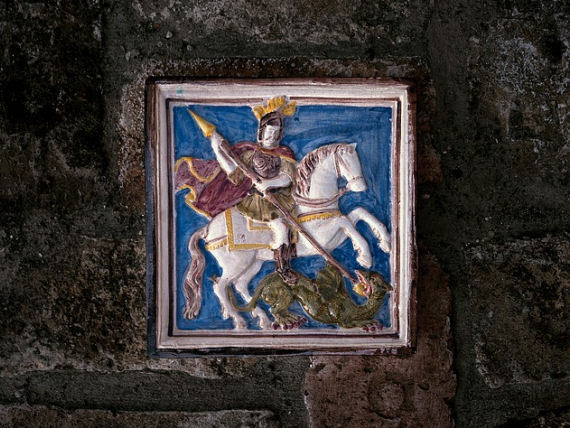 Photo: St George and the Dragon
Contrast that with Barcelona. Visiting in the late 1990s I found that throughout Catalonia they also celebrate St George's Day, known locally as El Diada de Sant Jordi. It turned out he is Catalonia's patron saint too.
But whereas in England there may be little reason to remember St George's Day, in Catalonia it is a day you'd better not forget. The Ramblas should be on the itinerary of anyone visiting Barcelona, but on 23rd April each year the city's best-known street is overtaken by bookstalls and flower sellers commemorating the Catalan equivalent of Valentine's Day, only better.
Although the legend of George and the Dragon is well known, there is strong evidence the man really existed. A Roman soldier who in 303AD was martyred for refusing to denounce his Christian faith, George was canonised in 494AD. Probably of Greek origin, he died in what is now Turkey with the dragon myth emerging later from Beirut.
In England St George's Day was first mentioned in a ninth century document and churches dedicated to the saint began appearing during the following century. The story of St George and the Dragon appears to have been introduced to England by returning Crusaders and in 1348, when Edward III founded The Order of the Garter and inspired by their stories, he chose St George as patron.
This coincides with the Hundred Years' War (1337-1453) with France when English soldiers started to use the saint's name as a battle cry. During the battle of Agincourt (1415) the English carried banners adorned with the cross of St George and the same year it became obligatory to take St George's Day as a holiday.
I remember marching as a Cub Scout on the annual St George's Day parade, but the day got lost to me after leaving the Scouts. Maybe we were reminded at school and perhaps the English flag was flown above official buildings, but I would have been hard pressed to name the date.
As well as England, St George was also adopted as the patron saint of the Crown of Aragon, which on the Spanish mainland included Catalonia, Aragon and Valencia. In fact, it turns out St George is also the patron saint of Portugal, Georgia, Romania and others and his feast day celebrated in countries that include Russia, Syria, Hungary, Iraq, Jordan and Lebanon.
We all know the story of St George and the Dragon, but the version told in Catalonia ends with St George giving the princess a red rose born from the blood of the slain dragon. And in a tradition dating from at least the 15th century, Catalan men give their sweetheart a red rose on St George's Day.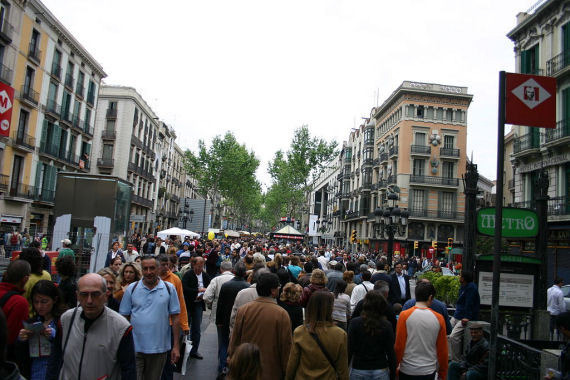 Photo: The Ramblas on El Diada de Sant Jordi by Yearofthedragon. Licenced under CC BY-SA 3.0
Since the 1920s, men receive a book in return. This addition to the tradition was started by an enterprising bookseller in Barcelona who wanted to commemorate the birthdays of Shakespeare and Cervantes, both born on 23rd April, and in doing so shift a few books. Throughout the city on street corners, in squares and outside bookshops you'll find book and flower stalls.
The day is popular with all ages and, unsurprisingly, the biggest day on the calendar for book sales in Catalonia. I imagine for roses too. But what a shame the day is so overlooked in England.
This Blogger's Books and Other Items from...
SUBSCRIBE TO & FOLLOW UK LIFESTYLE