'Big Little Lies', the latest must-see TV drama isn't a Nordic crime thriller, nor is it a police or hospital procedural, instead it's not so much a curtain-twitching but blind-pulling, mystery set between the ocean waves and steep hills of Monterey in California. 
Reese Witherspoon and Nicole Kidman lead an all-star cast in HBO's seven-parter which has arrived in the UK courtesy of Sky Atlantic (or NOW TV). If you need more convincing, here are the six top reasons to watch... 
The cast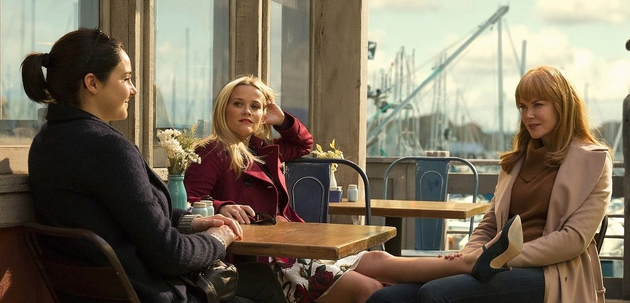 The scenery
The producers moved the location from the Sydney of Liane Moriarty's novel to the picturesque Monterey, perched along Route One on California's world-famous coastline. The reason, they said, was the "more villagey feel" but there's no arguing with the stunning backdrop, whether the town's glamorous residents are gazing out through their windows across the Pacific Ocean, or driving through the vertiginous mountains in the world's most exotic school-run. 
The soundtrack
The daughter of Reese Witherspoon's character Madeline Martha Mackenzie is the music buff of the ensemble, headphones always perched, and there is constant music as the women drive their broods around, or dance to Elvis, or even put on a stage show. The crowning glory is the theme tune, Michael Kiwanuka's 'Cold Little Heart'. 
The mystery
At the heart of the narrative, between the rivalries between school mums and dads, ex-partners, even spouses, the series is shot through with fast forwards to a murder being committed. Obviously, one of this telegenic number has been felled, but we don't find out which one, or who by, until the very last episode, instead getting lots of hints as to why it could have been any of them. We're used to this trick being used to identify a murderer, but a victim, too? Smooth. 
The striking marriage of the familiar, and the novel
We had a set of beautiful yummy mummies living in unspeakably spotless houses before - think 'Desperate Housewives' - and yet this manages to do something completely new. The A-list cast means we think we know these characters, and yet every episode they surprise us - Martha Madeline with her self-doubt, Celeste with the darkness behind her seemingly perfect marriage, Jane Chapman with a big secret threatening to follow her all the way to Monterey. It's all there with a big Gothic twist.
The shout for equality
Of those seven or so leads, there are - count them - five women. And it's not gratuitous. There is just a good story to tell. Bravo. 
'Big Little Lies' is available to watch in the UK on Sky Atlantic, or through NOW TV. 
Nicole Kidman's Style Evolution
SUBSCRIBE TO & FOLLOW UK ENTERTAINMENT