Davina McCall had the tough task of taking over on 'The Nightly Show' on Monday (13 March) night, and while the whole show received mixed reviews, there was one joke that tickled the audience.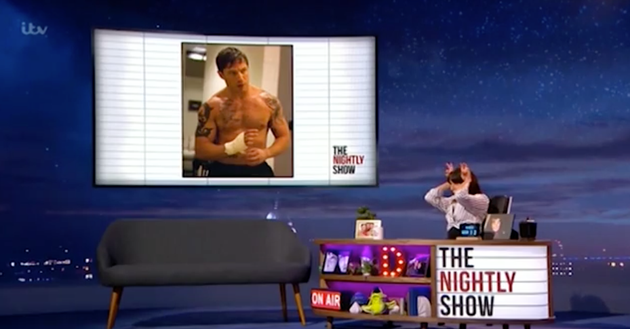 After showing a picture of Tom - y'know, just in case we all forgot what he looks like - Davina told the studio audience: "I mean, hello! Like most CBeebies shows, the programme will try and teach kids something: specifically that mummy likes to watch this alone with her bedroom door locked.
"Last time his appearance caused quite a buzz - and guys, if you're not sure what I mean by that, check your wife's bedside drawer."
Just in case you didn't get the joke, Davina then made bunny ears behind her head.
Davina is the third host of the show, and it's fair to say that many viewers still can't agree on whether the programme is a winner or not:
Ahead of her stint in the hot seat, the presenter decided to quit Twitter, and will be back - and presumably have a sneak peek at what's been said in her absence - once her time as host is over.
150 Photos Of Tom Hardy Because Why Not
SUBSCRIBE TO & FOLLOW UK ENTERTAINMENT