The black flag of the Islamic State has reportedly been hoisted atop two vehicles roaming the streets of Marawi where the military has been locked in a fierce firefight with local militants. 
Residents of the Islamic city of Marawi, on the island of Mindanao in the Philippines, posted a string of videos online on Tuesday showing the clashes between the IS-linked, Maute group, and the AFP (Armed Forces of the Philippines).
Residents have been urged to stay indoors amid reports that at least 15 gunmen from the rebel group had stormed the streets while brandishing assault rifles.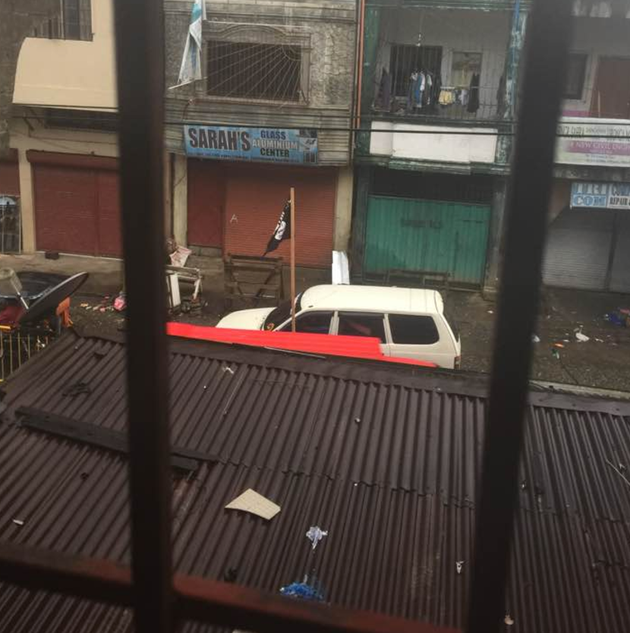 "I'm appealing to residents of Marawi City to stay home, drop on the ground if they hear gunshots," Mamintal Adiong Junior, the governor of the ​Lanao del Sur province, told The Philippine Star.
"They have to lock their doors and gates too."
He said local emergency response teams from across the region had been mobilised to help residents trapped in the crossfire. 
The militant group, also known as the Islamic State of Lanao, have reportedly received support from Isis.
CNN reported that the militants had taken over the Amai Pakpak Medical Centre, with the group allegedly replacing the Philippine flag with a black flag, supposedly representing IS. 
They also reportedly blocked nearby checkpoints, the broadcaster claimed, and according to eyewitness accounts, had set fire to the city jail and Dansalan College. 
Officials have downplayed reports that the militants had seized the hospital and, according to a report by Reuters, have urged locals not to spread rumours about it. 
The news agency reported Tuesday that five soldiers were injured during a raid on an apartment in Marawai City in an operation targeting 15 militants. 
Lieutenant Colonel Jo-ar Herrera, an army spokesman, said the military was acting on information that Isnilon Hapilon, a leader of the Abu Sayyaf rebel group, was among the militants holed up in the apartment.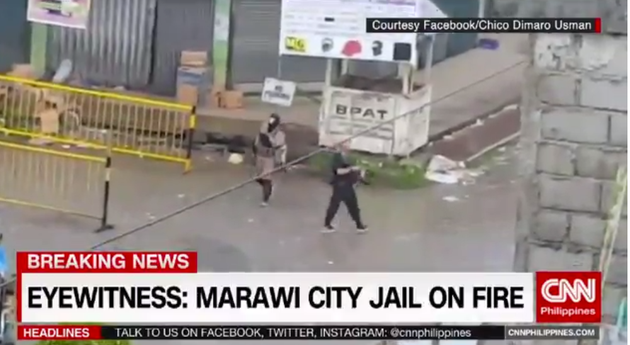 The US State Department has a bounty of up to $5 million (£3.8m) for his arrest.
The Maute and Sayyaf have an alliance and are both linked with IS, a source of growing concern for President Rodrigo Duterte, who has warned of the expanding influence of the militants in the Philippines.
Some residents fled Marawi when the fighting erupted and soldiers blocked off roads, Reuters reported.
Security forces in the mostly Christian Philippines have battled Muslim separatists for decades and peace efforts have led to a reduction in clashes with main groups.
However, small, violent factions, some with a more radical agenda, have broken away from main groups and stepped up attacks.
Government troops have been intensifying offensives on the island strongholds of Sayyaf and last month killed about 36 Maute group fighters when aircraft bombed their mountain lair in Lanao del Sur province.
SUBSCRIBE TO & FOLLOW UK DAILY BRIEF