The star was invited on the ITV breakfast show to discuss being thrown off an overbooked Easyjet flight from Spain to London. 
Jo became involved in a dispute with the airline, but was later awarded £747 in compensation.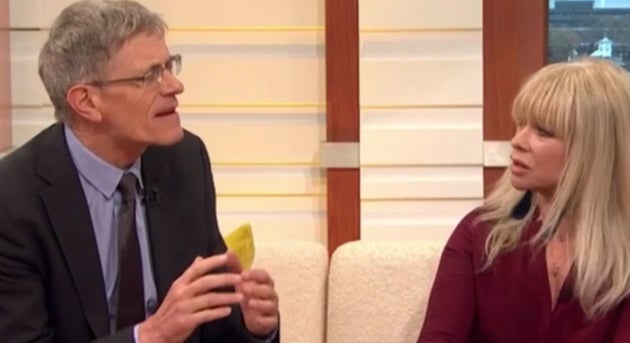 However, Simon was keen to tell her she may well have been in the wrong, having spoken to the airline. 
Simon explained they'd offered volunteers to leave the flight £250 - something which Jo disputed. 
Shutting down Simon's claim, she hit back: "They didn't stand there and say, 'Who would come off the plane?' Nobody said that, they just took us aside."
Simon replied: "Well, they said that you arrived later at the gate and they had already asked for volunteers then.
"Just check in early because British Airways and Easyjet say, 'We tend to get people who have checked in last to offload'."
Jo went on to claim that a technical issue with Easyjet's app meant she couldn't check in early. 
But Simon warned: "When it's a technical issue and it says it isn't working, that's the first signal that you could be in trouble and you could be selected for denied boarding."
"No, that was the day before!" Jo protested. "I bought my ticket three weeks, nearly four weeks, beforehand."
"You should have checked in that instant," Simon said.
"No, it doesn't allow you to check in [that quickly]," she argued.
But Simon insisted: "Thirty days, it does."
A spokesperson for Easyjet also said: "We were sorry to hear of Miss Wood's experience and would like to sincerely apologise for the inconvenience.
"While there was one seat available, we understand that she wanted to fly with her travel companion. We have been in contact with Miss Wood directly to apologise."
'Good Morning Britain' airs weekdays at 6am on ITV. 
Awkward Interview Moments
SUBSCRIBE TO & FOLLOW UK ENTERTAINMENT