The most popular baby names in or 2015 have been released by the Office for National Statistics.
Oliver and Amelia were once again the most popular first names given to babies born in England and Wales in 2015.
Amelia - the name given to 5,158 newborns last year has been in the top spot since 2011, while Oliver - given to 6,941 children - has been top since 2013.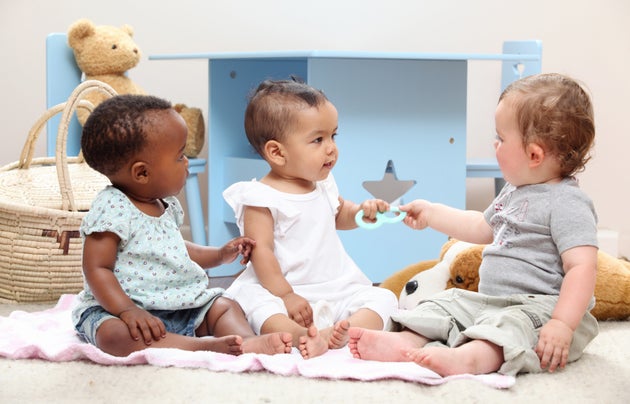 In 2015, there were 697,852 live births in England and Wales, with over 27,000 different boys' names and over 35,000 different girls' names registered.
Noah entered the top ten boys' names for the first time on record - replacing James. While Ella and Mia replaced 2014 favourites Lily and Sophie in the top ten girls' names list.
There were four new entries in the top 100 most popular boys' names: Jaxon, Roman, Reggie and Carter. These replaced Owen, Robert, Joey and Finlay.
There were six new entries in the top 100 most popular girls' names: Penelope, Mila, Clara, Arabella, Maddison and Aria. These replaced Lydia, Faith, Mollie, Brooke, Isabel and Amy.
Aria showed the largest rise in popularity among the girls' names, gaining 70 places to number 100. While Katie, down 22 places to number 99, showed the largest fall.
Within the boys' top 100, Jaxon showed the largest rise, up 35 places to number 80 and Kian, down 44 places to number 98, showed the largest fall.
There is some regional variation. Amelia was the most popular girls' name and Oliver the most popular boys' name in 7 out of the 9 regions in England.
However, in the East of England and the East Midlands, the most popular girls' name was Olivia.
While in London and the West Midlands, the most popular boys' name was Muhammad.
The top 10 girls' names in 2015:
1. Amelia
2. Olivia
3. Emily
4. Isla
5. Ava
6. Ella
7. Jessica
8. Isabella
9. Mia
10. Poppy
The top 10 boys' names in 2015:
1. Oliver
2. Jack
3. Harry
4.George
5. Jacob
6.Charlie
7. Noah
8. William
9. Thomas
10.Oscar
Whether you're looking for a name that is 'cool', 'cute', 'pretty', or 'unique', our Baby Name Generator is here to inspire you. Discover the meaning of your favourite name, browse the 100 most popular baby girl names and baby boy names in England and Wales, or let our Random Name Generator throw up an unusual suggestion.
Also on HuffPost
Retro Baby Names Making A Comeback In 2016
SUBSCRIBE AND FOLLOW
Get top stories and blog posts emailed to me each day. Newsletters may offer personalized content or advertisements.
Learn more