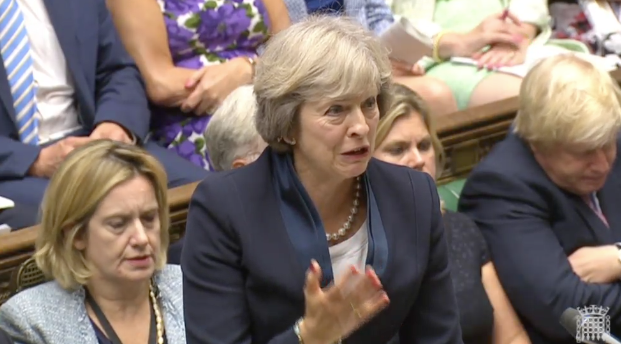 It may have been one of the hottest days of the year in Westminster, but Theresa May today vowed to "stand up" for Christmas.
The Prime Minister was asked by a Tory MP to "send a loud and clear message" that Christmas must not be "threatened by political correctness by council officials."
North-West Cambridgeshire MP Shailesh Vara asked the question after the author of a year-long review into integration criticised councils for "over worrying" about political correctness.
Speaking in the Commons this afternoon during Prime Minister's Questions, Vara thundered: "Christmas is not Winterval, and Christmas trees are not festive trees."
Responding from the Despatch Box, May said she did not want to pre-judge the report – which is due out within weeks – but added: "I will simply join him in saying this that what we want to see in our society is tolerance and understanding but we also want minority communities to be able to recognise and stand up for their traditions but we also want to be able to stand up for our traditions generally as well, and that includes Christmas."
The exchange prompted mocking on social media:
SUBSCRIBE AND FOLLOW
Get top stories and blog posts emailed to me each day. Newsletters may offer personalized content or advertisements.
Learn more