Unsettling footage of a SeaWorld-owned orca deliberately beaching itself after a show at a waterpark has devastated animal lovers.
Killer whale Morgan launched herself onto a concrete slab after performing for tourists, where she lay motionless for more than 10 minutes. Morgan lives at Tenerife's Loro Parque along with five other orcas owned by SeaWorld.
While most show-goers paid no heed to the distressed orca, some stopped to take selfies with her.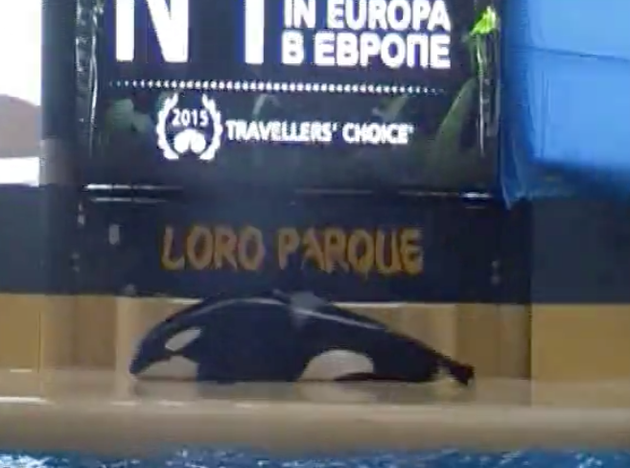 Footage of the incident was shared on Vimeo, where one viewer remarked the animal: "Looks to me as if she was trying to take her own life, I don't blame her."
Sève Jukka May added: "LIBEREZ LES ORQUES !!! LEUR PLACE EST DANS L'OCEAN !!! HONTE AUX HUMAINS QUI LES EXPLOITENT" which translates as: "Free the orcas. Their place is in the ocean. Shame on humans who exploit them."
While a few wild orca populations occasionally beach themselves temporarily while hunting, they otherwise remain constantly in motion and even swim while they are sleeping.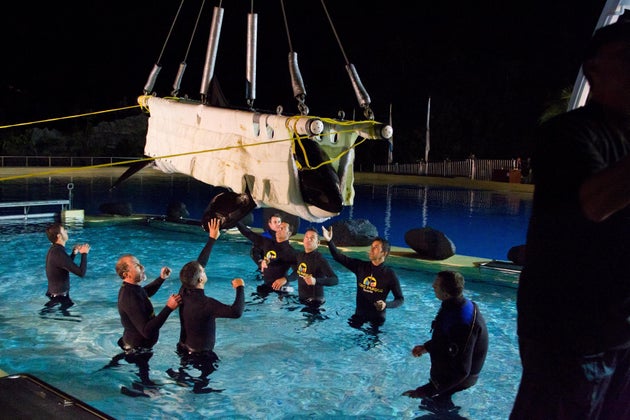 While on land, there is a risk that the weight of their bodies out of water can crush their internal organs and other structures.
The footage has renewed calls for killer whales to be released back into the wild.
Ric O'Barry's Dolphin Project said: "While we cannot explain the reason for her behaviour, the juxtaposition of a previously-wild orca against the stark backdrop of the park's performance area is unsettling, to say the least.
"Some people took selfies with Morgan in the background. Sadly, Morgan was still out of the water by the time the videographers had to leave.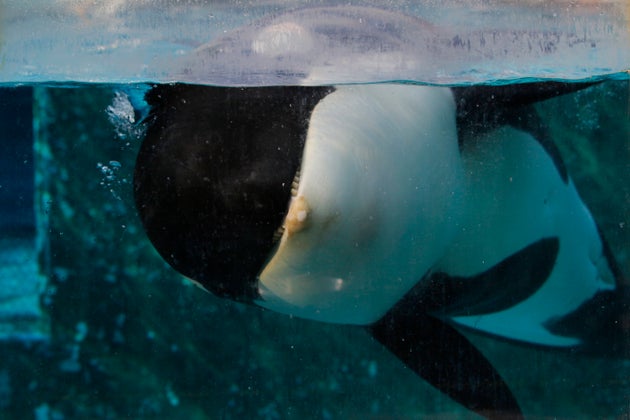 Born in the wild, she was dehydrated and emaciated when she was captured in 2010 under a "rescue, rehabilitation and release" permit. This has never been fulfilled and Morgan remains in captivity. (You can support continuing legal efforts to free her here.)
Originally taken to the Dolfinarium in Harderwijk, Netherlands for rehabilitation and then release, Morgan was later transferred to Loro Parque by order of a Dutch court.
On average, female orcas in the wild live between 60-80 years. In captivity however, the average length of time they survive is less than nine years.
In the wake of the footage of Morgan beaching herself, further footage – believed to be of the same orca – has been published by an anonymous animal activist.
It shows one of the orcas at Loro Parque panicking in a small medical pool. The animal is in clear distress and repeatedly bangs its head against the metal gate in what some believe is an attempt to escape.
The Dolphin Project's Ric and Helene Hesselager O'Barry travelled to the park last year to investigate the park. They said: "We were shocked at the poor living conditions and commercial exploitation of the orcas and bottlenose dolphins there."
A statement from the park published by Mail Online said: "The video published by the Dolphin Project on its website is a new attempt at manipulation through exaggeration and dramatization of a completely normal situation in which there is no problem for the animals."
A PETA probe into the park observed orcas "who had fractured teeth and other injuries, floating listlessly in tiny tanks and begging for food."
Conservationists with the Free Morgan campaign visited her in April and made some grave observations: 
SUBSCRIBE TO & FOLLOW UK DAILY BRIEF