MPs descended into a fit of giggles during prime minister's questions on Wednesday after Theresa May, hopefully accidentally, made a joke about Tory MP Peter Bone having sex with his wife.
Today is Mr Bone's birthday. He is 64. The Wellingborough MP frequently mentions his wife while making political points in the Commons.
May told him: "I am happy to wish him a very happy birthday today."
She added: "I hope that Mrs Bone is going to treat the occasion in an appropriate manner."
MPs collapsed with laughter at the apparent innuendo as May realised what she had said. Mr Bone, blushing somewhat, raised his eyebrows.
As MPs laughed, Speaker John Bercow intervened to make them be quiet. "I want to hear what's coming next," he told them.
"Calm down Mr Speaker," May told Bercow.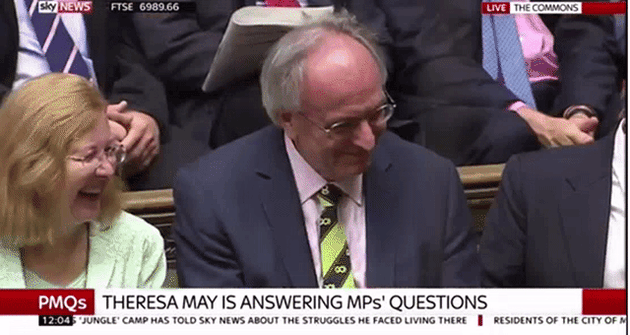 Distressingly, it is not the first time a prime minister has made a joke about Mr Bone's wife. David Cameron said in 2011: "I do feel now that a very big part of my life is trying to give pleasure to Mrs Bone."
SUBSCRIBE AND FOLLOW
Get top stories and blog posts emailed to me each day. Newsletters may offer personalized content or advertisements.
Learn more