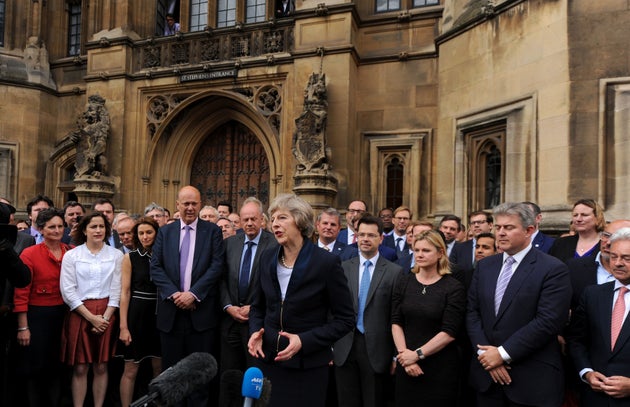 Desk banging, enthusiastic clapping, loud cheering - and that was just for Graham Brady, chairman of the Tory's backbench committee.
This afternoon, Conservative MPs made no attempt to hide their delight at having a new leader in place fewer than three weeks since David Cameron announced he was standing down.
The parliamentary party gathered in the Boothroyd Room in Portcullis House – the glass ceilinged annex of the Palace of Westminster – at 5pm for the official announcement.
After Brady's warm welcome, he confirmed what had been clear since Andrea Leadsom withdrew her leadership candidacy this afternoon.
"I have received confirmation from the board of party and Mrs May has been confirmed leader of the Conservative Party with immediate effect," he said, to much desk banging.
Moments later, and the new Conservative Party leader appeared at the end of the corridor leading up to the room.
After walking through a tunnel of gathered journalists – many of whom said "Congratulations" as she passed – May entered the room to cheering, clapping and desk banging from her colleagues.
In a short speech, she reaffirmed that, while she was a Remainer in the referendum campaign, "Brexit means Brexit and we're going to make a success of it".
May praised her leadership rivals, singling out Leadsom in particular as she acknowledged what a tough decision it was to withdraw, one MP told HuffPost UK.
Hacks outside the room were left puzzled when there was an eruption of laughter from the MPs at one point, but HuffPost UK was later told it was because May had referred to Brady as "Sir Graham" by mistake.
May went on to tell MPs the party had a job to do until 2020 – suggesting she plans to carry on as leader for the next four years and not seek a snap election this autumn.
Before most MPs had left the room, Steve Baker – one of Leadsom's key supporters – emerged and gave a statement in which he emphasised the unity of the party.
"There is no doubt in my mind that this was the right decision today because you can hear that the Conservative Parliamentary Party is entirely united behind Theresa May. We are grateful that Andrea has made the brave decision today to give way to allow Theresa May to deliver the leadership which clearly Members of Parliament want.
"I know many people in the voluntary party will be disappointed not to have a vote but I hope they understand that Andrea made a thoughtful and considered decision about what was in the best interests of our nation and you can now hear that in the reaction to Theresa May."
As Baker finished speaking, the room burst open and Tory members spilled out into the corridor, the vast majority with beaming grins on their faces.
The pack of Parliamentarians then moved en masse to the St Stephen's entrance of the Palace of Westminster where May would address the TV cameras.
Moving through the historic Westminster Hall, the MPs all gathered behind a heavy, wooden door waiting to file outside to provide a visible show of support for May.
One Labour-sympathetic journalist who witnessed the march of the Tories quipped: "The look like a lost tribe".
Actually, in the space of 17 days, the tribe had found a new leader.
With the country's media, and her campaign group of MPs, gathered on the steps of St Stephen's entrance to the House of Commons, there was a sense of the history being made. Parliamentary staff leaned out of windows high above, their necks crooked to get the best view.
Nick Robinson, the BBC's former political editor and now Today programme presenter, quipped "Apparently she's withdrawn as a candidate!" At which the throng of Maybelievers laughed heartily, if nervously. Sir Alan Duncan smiled broadly as he pointed at Robinson and replied: "Boom!"
SUBSCRIBE AND FOLLOW
Get top stories and blog posts emailed to me each day. Newsletters may offer personalized content or advertisements.
Learn more