This week, a robotic operation to remove a patient's rectal cancer was streamed live to surgeons, believed to be the first time ever via satellite.
Conducted jointly by Mr Tas Qureshi, Consultant Surgeon and robotic lead at Poole Hospital NHS Foundation Trust, and Professor Parvaiz, Professor of robotic surgery at the Champalimaud Foundation, this could be a big deal.
Why? Because being able to livestream robotic surgery represents a huge opportunity - if surgeries can be done remotely, it means that a wider range of people can be taught how to do surgery by the best specialists around the world, and a wider number people can receive the best treatment.
SEE ALSO:

Could This Discovery Help Scientists Eradicate Skin Cancer?

Machine Revolutionising Killing Cancer Trialled In UK For First Time
The Da Vinci robot, which was used for the surgery is operated remotely from the patient using a console and provides high definition 3D images with the most sophisticated instruments available. This allows much greater precision, which benefits the patients in the short and long term.
Mr Qureshi said: "There are some myths about robotic surgery and it's important for patients to be reassured that the robot is unable to work or move independently. I control every movement the robot makes by sitting at a console, which is like a remote control device for the robot."
The live stream also allowed questions to be asked of the surgeons in real time. The stream offered the viewer both a 360-degree perspective of the operating theatre, as well as a 'robots-eye-view' of the inside of the patient.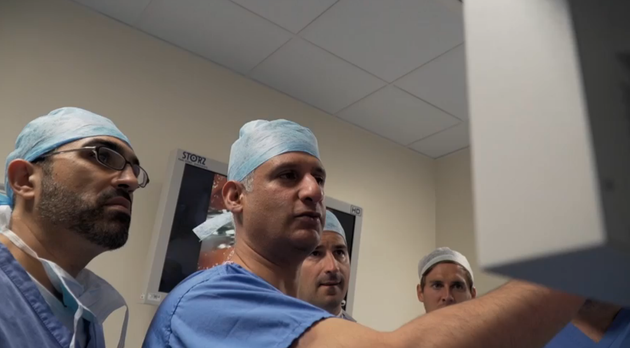 The Da Vinci System has been designed to improve upon conventional laparoscopy, in which the surgeon operates while standing, using hand-held, long-shafted instruments, which have no mechanical wrists. With conventional laparoscopy, the surgeon must look up and away from the instruments, to a 2D video monitor to see an image of the target anatomy.
The surgeon must also rely on a patient-side assistant to position the camera correctly.
In contrast, the Da Vinci System's design allows the surgeon to operate from a seated position at the console, with eyes and hands positioned in line with the instruments and using controls at the console to move the instruments and camera. Surgeons can also sit at dual consoles and remotely work collaboratively to assist each other.
Mr Qureshi said: "Traditional keyhole surgery, or laparoscopic surgery, has instruments with very primitive movements. The Robot provides me 3D high definition views and wristed instruments able to perform seven degrees of movement, the human hand has only six.
"This means I can very precisely access difficult areas in the body and take cancers out with better precision, and with much more confidence that the whole cancer can be taken out. This hopefully will mean patients require less radiotherapy and chemotherapy, both of which can be difficult for patients."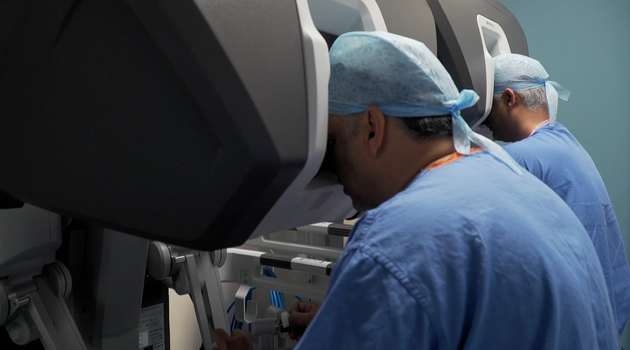 The mode of transmission of the live stream using satellite rather than physical ISDN lines has implications not just for real time teaching but also for the potential of robotic telesurgery in the future - a specialist can operate remotely from an identical console on a patient from anywhere in the world or even assist a colleague on a similar console in the operating theatre remotely.
The current constraint for robotic telesurgery is a physical reliance on the Internet with its potential to slow down transmission especially during times where an unforeseen peak in social media may suddenly devour redundant bandwidth. Point to point satellite overcomes this potential hurdle.
"It will be exciting to see this technology develop further in the coming years, providing a fantastic teaching and training platform, and perhaps allowing patients to be operated remotely all over the world, by the best surgeons," he said.
10 Symptoms That Could Mean Cancer
SUBSCRIBE AND FOLLOW
Get top stories and blog posts emailed to me each day. Newsletters may offer personalized content or advertisements.
Learn more