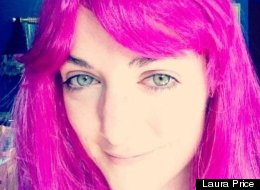 Ok, let me first make it clear that I am in no way urging you to try these steps at home. Hair loss is one of the things we most commonly associate with cancer and chemotherapy, so I decided to make light of my experience and share with you the unfortunate steps of my road to bald-dom.
Here goes...
How to Lose Your Hair in 10 Easy Steps (Ideally During Chemotherapy...)
Take picture of self with existing hair.

Ask friendly local hairdresser to come in on her day off and cut locks into appropriate short style. Take photo of self, being careful to use same clothing, setting and lighting conditions to convey truthful Before and After pics.

Wait approx 3 weeks and enjoy new hair style, being careful to tame early-morning "Something About Mary"-style spikes.

Begin to pull hair strands out gradually when ready.

When hair is thinning and ready for final chop, try out several punk hairstyles for experimentational purposes. Number One: The Forward Sweep

Number Two: The Sideways Sweep/ Toupée

Number Three: The Balding Mohican

Number Four: The Arrogant Jedward

Check oneself out in mirror one last time.

Take long bath or shower and slowly pull out hair. Alternatively (and in hindsight) go straight to step 9.

I give you... The Baby Chick

Return to friendly, accommodating hairdresser at short notice and ask for final head-shave. I give you... The Sinead

Don wig of your choice and adopt alter ego accordingly. (Tonight Matthew, I'm going to be... Miss Candy Pink!)

...Miss Valerie

Be careful to remove synthetic hairpiece when attempting to cook perfect cheese, mushroom and tomato omelette. Wigs are highly flammable...

Here's one I made earlier.
Being bald hasn't exactly been the best thing to ever happen to me, but it certainly is liberating. You can take your wig off when you get too hot, you can have a totally different look every single day, and you save a fortune on shampoo and conditioner (though it doesn't quite offset the money doled out on expensive wigs...)
Follow Laura Price on Twitter: www.twitter.com/LauraPriceWrite