A stupid question, you may think, but ask a group of well-known writers of both short stories and novels which is the more difficult form, as I did recently, and you get some interesting answers.
Last week, in Dubrovnik, I met a woman called Maya, who had lived in the city her whole life - including the eight months that the city was under sieg...
Roald Dahl believed in taking practical steps to improve the lives of those around him and his creativity and determination even helped to develop pioneering medical treatments such as the Wade-Dahl-Till valve, which benefited children across the world.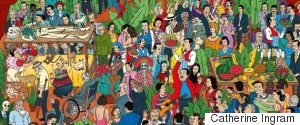 Where's Wally is a classic that's fun and tempting to play with. With Where's Warhol, we were lucky: the formula seemed made for him. Warhol's name begins with W, providing that essential alliteration in the title. Then there's Warhol's branded look of jeans, stripy jumper and dark glasses, which is uncannily similar to Wally's wardrobe.
Benjamin Sullivan's recent BP Award-nominated portrait of Hugo Williams is a powerful thing. It stirs memories in me of my experiences with the poet's work, and the poet himself, and how both have changed irreversibly in the past decade.