So where does the blame lie? In the complacent self-sustaining world of publishing, where agents and publishers alike employ young, middle class interns to weed out the chaff and find the next big thing. Except of course most of these readers, being young and middle class, haven't actually got a clue about good writing OR the real world...
Six things that happen when you open up about being a budding erotic fiction writer. 1. Everyone turns into a schoolboy. You don't quite anticipate t...
Nominations for authors or writers who have had a significant influence on the literacy cause in the past year are being sought from schools, charities, libraries, booksellers and individuals. The closing date for entries is 31 May.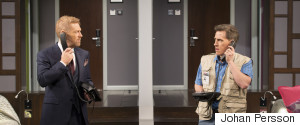 Kenneth Branagh is actually on ketamine in this play. I mean not actually, he's doing acting, but one of the characters has cruelly injected his character's bum with horse tranquiliser and it's safe to say he struggles. His trousers fall down a lot. He does funny voices. And he does lots of cuddling on the bed with Rob Brydon. And it's hilarious.
At home, I can go for a drink or have dinner on my own and it feels like the most empowering thing a woman can ever do. I haven't found my Felipe, but in a sense I don't want to right now. The end of my journey hasn't happened yet and I can't wait to find out what's waiting for me.