Sometimes it would be triggered by what was going on around me, what I was watching on TV or reading about and sometimes it was completely at random. For example, if a story about something bad came on the news (and let's face it a lot of the stories are) my mind would instantly race down this tunnel placing people I cared about in this exact situation.
The Feminist Library is under threat of closure, ironically at the start of Women's History Month, but we are fighting strong. I am the Writer in Residence at this unique resource in a central London building just off Waterloo that was opened 30 years' ago specifically to house community, grassroots and minority organisations.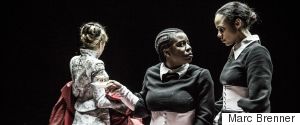 I actually felt a bit bewildered by The Maids. It's about two maids who are obsessed with their employer to the extent that they will dress up in her clothes and pretend to be her, but also hate her so much that they want to poison her tea. I will no longer be drinking any more tea made for me by my co-workers.
Leonardo Di Caprio's impassioned Oscars acceptance speech urging collective responsibility for Climate Change demonstrated how popular culture can rai...
If your child struggles to read, or lacks enthusiasm for reading, try books with relatively large text and short chapters. Funny and adventure-based stories are also more likely to appeal: they are easy to get into and mean children won't feel like they're reading a school book.