We all know that tech has the potential to change lives for millions of people living with a disability. In recent years we have seen a couple of big breakthroughs that have opened up the arena for designers and developers. Namely 3D printing, the Internet of Things and Big Data are all huge areas of potential aid that hasn't yet been fully unlocked.
My practice is all about displacing people and ideas from their natural habitats, prizing them out of their comfortable environment to see w...
If competition ends up as being a fight to the finish, then we need a new way of thinking about economic success.
AI has already nearly infiltrated every aspect of our daily lives. We consult Siri, the intelligent personal assistant developed by Apple, enjoy multi-player games on our Xbox, or appreciate the personalised film recommendations on Netflix.
This Friday, ten companies will make their final pitches in Virgin Media Business' Pitch to Rich competition. Although the event will take place in Sh...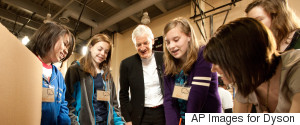 The UK faces a deficit of 340,000 engineers by 2020. Only 6% of Britain's engineers are female. China produces 20-times more engineers than the UK every year, and one in three of them are women. At school and university women outperform men in Science, Technology, Engineering and Mathematics. Indeed, the few who do become engineers enjoy it - 98% of women engineers find their job rewarding. Who wouldn't? It is therefore incomprehensible that 93% of parents would not support their daughters in pursuing a career in engineering.
Faced with 59.5 million forcibly displaced people also forces the world to reconsider how we position ourselves in creating a future that does not become a holding pattern for misery, but rather a movement where we make the best of what we have.
Science is unlikely to garner much mainstream media coverage in the lead up to the vote, making initiatives such as Scientists for EU all the more important. EU membership greatly benefits science in the UK and it is vital that the wider public is made aware of this, before it is too late.
Three years ago I started the Evermore journey, determined to provide positive lifestyle choices for people in later life. Key to this has been changing the conversation around ageing as for too long it had focussed on either decrepitude or the cost of care.
There is an opportunity to broaden horizons here, but in many ways it emphasises the distance away from these magical places, rather than revealing what children would need to do to have greater social mobility and experience them in the real world.
You'd never know from reading the headlines and the one sided reporting, that a real inventor with a legitimate claim for willful patent infringement was behind the case of Smartflash LLC v Apple Inc. Many readers will be aware of the old adage "never let the truth get in the way of a good story" but in this case the real story and the facts are probably far more interesting than the myth being proffered by Apple. Patent Troll... screamed the headlines around the world, after we soundly defeated Apple at trial, won a unanimous verdict for willful infringement and a Jury award for $532.9million.