But there's another economy which does reward work which is exploratory in and of itself. "R&D in the arts" seems to be quite a new thing, inspired by the digital model, but not motivated by financial revenue. I worry about the arts taking on the mantle, because R&D and innovation are terms with such an overwhelming direction built in to them
The most important innovations, the ones that change the way businesses, sectors and people operate, always share the same starting point: simplicity ...
Innovation - or the invention of new products and ideas - is the most important factor in long-term prosperity. The North of England was once the country's innovation heartland, building and dispatching pioneering ships, trains, and machinery by the thousand to all corners of the world.
It's hard to trust our leaders. Across the globe, the gap between rich and poor is widening while seldom a week passes without a political figure or big brand being exposed for avoiding tax, involvement in corrupt practices or making decisions that blatantly work against the public good.
'Fashion tech' and wearables are often described as solutions looking for a problem. The fashion industry is, paradoxically, resistant to change, while science and technology exist to pose and answer questions and catalyse change.
A third of our days on this planet are working days and all too often work becomes transactional. We do things that don't necessarily fill our hearts ...
TEDxBrum was an extraordinary event held on Saturday 11th June 2016. Fuelled by a 70-strong team of volunteers the event epitomised 'people power' and...
imin started life as an app, the app. The one place where people could find and book any physical activity they wanted: a lunchtime squash court on the way to uni; a running group for later that afternoon; a last-minute game of football before leaving work, all from one single app.
Innovation is often misunderstood by small business owners. Many have a limited view of what the word means. Mention of the subject often conjures up ...
Headhunters are trying to talk to more women about senior roles. But one recently told me that the overwhelming majority of women he approaches cannot, or will not, make time to talk. Most of the men, meanwhile, will. And we wonder why men outnumber women in leadership roles.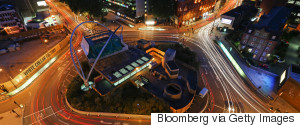 We matched developers and designers with people who understood the problems they were trying to solve - public servants, experts and academics, ordinary people who'd experienced first hand services they wanted to improve. We fed them lasagne and supplied them with post-it notes and wifi. Quite a few of them didn't sleep.