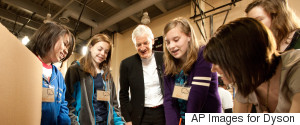 The UK faces a deficit of 340,000 engineers by 2020. Only 6% of Britain's engineers are female. China produces 20-times more engineers than the UK every year, and one in three of them are women. At school and university women outperform men in Science, Technology, Engineering and Mathematics. Indeed, the few who do become engineers enjoy it - 98% of women engineers find their job rewarding. Who wouldn't? It is therefore incomprehensible that 93% of parents would not support their daughters in pursuing a career in engineering.
Faced with 59.5 million forcibly displaced people also forces the world to reconsider how we position ourselves in creating a future that does not become a holding pattern for misery, but rather a movement where we make the best of what we have.
Science is unlikely to garner much mainstream media coverage in the lead up to the vote, making initiatives such as Scientists for EU all the more important. EU membership greatly benefits science in the UK and it is vital that the wider public is made aware of this, before it is too late.
Three years ago I started the Evermore journey, determined to provide positive lifestyle choices for people in later life. Key to this has been changing the conversation around ageing as for too long it had focussed on either decrepitude or the cost of care.
There is an opportunity to broaden horizons here, but in many ways it emphasises the distance away from these magical places, rather than revealing what children would need to do to have greater social mobility and experience them in the real world.
You'd never know from reading the headlines and the one sided reporting, that a real inventor with a legitimate claim for willful patent infringement was behind the case of Smartflash LLC v Apple Inc. Many readers will be aware of the old adage "never let the truth get in the way of a good story" but in this case the real story and the facts are probably far more interesting than the myth being proffered by Apple. Patent Troll... screamed the headlines around the world, after we soundly defeated Apple at trial, won a unanimous verdict for willful infringement and a Jury award for $532.9million.
Last week I wrote about an event staged in London involving more than 200 speakers, stakeholders and thought leaders representing the private, public and 3rd sectors, with a vested interest in reimagining our future.
Last week more than two hundred would-be revolutionaries answered a call to arms and gathered in London with a view to reimagining the future - let me tell you about the first day of the proceedings...
(Mark Bowen Director of Magna Solutions Ltd. assessing student expectations for their lean training) Teaching in Higher Education and especially wh...
If you're anything like me, in various accounts online you'll have some pounds, some airmiles, some supermarket rewards points, perhaps even some doll...
Kids absolutely love asking questions: If I can see all those stars, can they really be so far away? Who's the fastest runner in the world? Where do...