What on earth is the Imperial War Museum in London doing organising an event called "Comics & Conflicts" one might well ask? Stereotyped as fluffy entertainment they may be, but the IWM event, held on the weekend of the 19th-20th August, was a simple acknowledgment of the significance of the modern comic book and graphic novel to report and represent stories of war in a rich variety of ways. Such is the wealth of material on warfare to be found in the comics medium that the IWM event packed in a day-long international academic conference, one-off in-conversations with comics creators, panels, workshops, the documentary Comics Go To War, and exhibitions of rare war comic artwork.
War comics have been around as long as comic books themselves -which means since the 1930s. Evolving out of newspaper strips, the modern comic book truly exploded in the United States with the success of Detective Comic's Action Comics # 1 featuring a caped character called Superman. Superman debuted in 1938 with storm clouds already gathering over Europe, so comics arguably were born in war.
It would take an academic essay to truly illuminate the history and variety of the war comic, but we can take a brief trawl here through those comics that many creators and critics at the IWM event held up as worthy examples of the genre. A brief dip alone throws up an embarrassment of riches, a handy guide for those looking to learn more and maybe start a collection.
WWII looms large in the war comic genre for obvious reasons, but wars where combatants had to look each other in the eye rather than aim down a rifle have been the fuel for several major comics works. Frank Miller's 300 (Dark Horse, 1988) retells the 480 BC Battle of Thermopylae with the dramatic and intense blood-spattered artwork and stylised dialogue that Miller has become famed for. It is a heady mix.
British comic writer Warren Ellis tackled the Hundred Years war in Crecy for Avatar Press in 2007, depicting the invading English battling the French in 1346. The artwork by Raulo Caceres illustrates in exquisite detail a story of a turning point in the development of modern warfare and the end of chivalry. Caceres's panels of arrow volleys striking mounted troops are beautiful and brutal.
Plenty of American teens have no doubt used their illustrated adaptation of Stephen Crane's 1895 novel The Red Badge of Courage to learn about the American Civil War. Its a fine example of not only a comic set in post-independence America, but of comic artists, in this case Wayne Vansant, being called on to illustrate academic texts about warfare.
It took over fifty years after the war's end for what many consider the definitive WWI comic, and one of the most acclaimed war comic series of all time, to come into existence. British war series Charley's War hit newsstands in 1975 in the pages of IPC's Battle Picture Weekly. What made this series stand out was its attention to detail and lack of sentimentality. Through the point of view of young Tommy recruit Charley Bourne, writer Pat Mills and artist Joe Colquhoun exquisitely rendered the daily struggles of the British infantryman on the frontline without jingoism or demonisation of the foe, the very human stories backed up by solid research. Running until 1985, it remains a landmark and is available today collected into new hardcovers.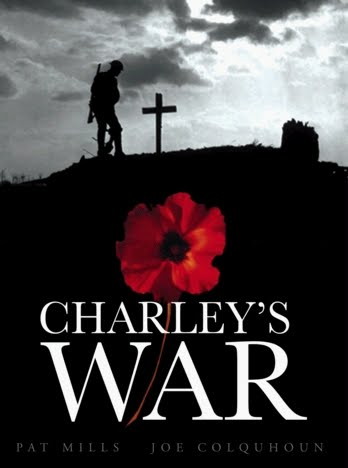 The WWII period itself saw a largely jingoistic outpouring in comics in Britain and America. Captain America's first appearance in Timely comics in 1941 has him punching Hitler in the face. Plenty of publishers got on board to sock it to the Germans and the Japanese in many fantastical (and often racist) tales. The passing of a few decades allowed more complex comics set during that war to emerge, with a heyday of sorts emerging across the 1950-70s in the American and British markets whilst the very real Korean and Vietnam wars raged in the background. Many of the comics creators famous today as shaping the medium, such as Stan Lee, Joe Simon, Jack Kirby and Will Eisner, had had defining experiences serving in WWII and this could often be felt in the pages of war comics produced in the years after.
EC Comics' Two-Fisted Tales (1950) and Frontline Combat (1951) are well regarded as distinctive examples of the American war comic genre that avoided jingoism, did their research, and were out of step with the mainstream in their story and art choices (for example one Frontline Combat cover featured a crying Korean war orphan). They can be found in reprinted collections today.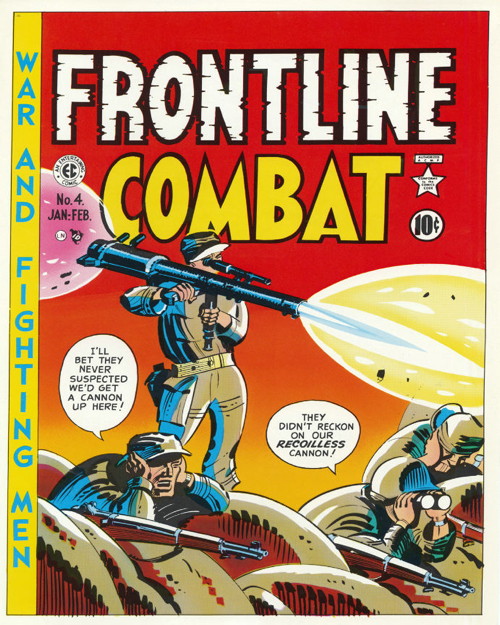 The granite-jawed WWII grunt Sgt. Rock became something of an American comic book icon and was one of the first regular war characters to keep cropping up in continuous stories (as opposed to variety anthologies of war stories as were popular in Britain). He debuted in a six-page strip in 1959 in DC Comics's Our Army at War series and was taken on for the long term by writer Robert Kanigher and artist Joe Kubert. The character still soldiers on 50 years later. Our Army at War has been reissued in reprint collections, and Rock himself has been both reprinted and re-imagined.