 If any of you still have the unenviable task of buying Christmas presents left to check off your seasonal to do list, this little gift guide might well come in handy.
In reality it's just a bunch of totally awesome stuff that I would love to find under my tree or that I'm sending to other people this year, with standouts including a wine club membership from super helpful new wine and spirits gifting company, Bowden & Co., the Clarisonic Mia 2 face brush which I'm totally hooked on (if you have dry skin like me, save yourself facial money and just get one of these - it's not only addictive, it actually works, and quickly too).
Also, the LCN baked apple & cinnamon lip gloss which smells of Christmas and comes in the cutest packaging, and the animal print Eastpak bags which I could do with for my Christmas hols. As a shamelessly self-promotional plug, may I also suggest Saint Bustier gift vouchers for the designer clothes-loving busty lady in your life as a great last minute gift too.
I'm off to check out the shops in NYC til next month now so season's greetings everyone, happy holidays, enjoy the sales and see you in the New Year! x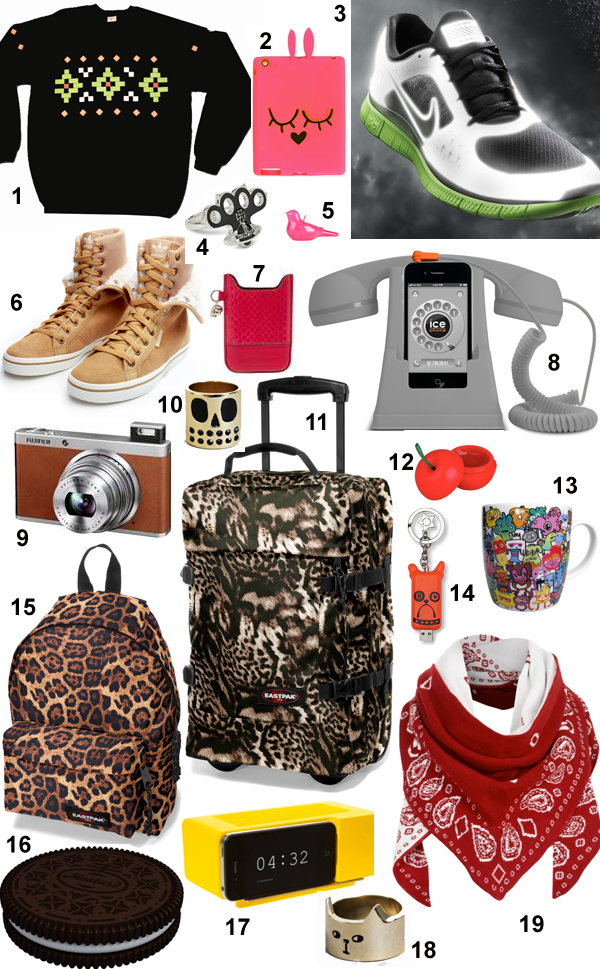 1 Lyrics 4 Lyrics Leggo Christmas Jumper, £125 (Limited edition)
2 Marc by Marc Jacobs Katie Bunny iPad cover, £55 from Selfridges (iPhone cover also available)
3 Nike Free Run Free 3 Shield shoes (reflective for night running), £85 from www.nike.com
4 Vivienne Westwood knuckleduster, £95 from www.selfridges.co.uk
5 Bird candle, currently reduced to 99p each from the British Heart Foundation shop so buy in bulk!
6 adidas Originals Honey Hi sneakers with faux fur lining (women's), £60 from www.adidas.co.uk
7 Alexander McQueen fuchsia BlackBerry case, £170 from www.alexandermcqueen.com
8 Ice Phone for iPhone, £29.95 from www.red5.co.uk
9 Fujifilm XF1 vintage style camera which includes various retro filters, £399 from various stockists - who needs Instagram?
10 Lazy Oaf skull ring, £18 from www.lazyoaf.co.uk
11 Eastpak Leopard print Extra Small Transfer Bag, £85, both from their new animal print Authentic Pit'on collection - online exclusive at Urban Outfitters.
12 LCN baked apple and cinnamon lipgloss, £6.80, from www.bcidirect.com
13 Burgerman Doodle mug, £9 from www.culturelabel.com
14 Marc by Marc Jacobs Pickles USB key chain - so handy - £35 from www.selfridges.com
15 Panther print Eastpak backpack (looks more like cheetah to me but hey, what do I know...), £35, also from their new animal print Authentic Pit'on collection and an online exclusive at www.urbanoutfitters.co.uk
16 'Cookie-style' (you know what they mean) USB-powered mug warmer, £10 from www.very.co.uk
17 Areaware iPhone alarm clock dock, £25 from www.lazyoaf.co.uk
18 Cat ring, £16, also from Lazy Oaf
19 Bandana print scarf, £25 which is from Lazy Oaf too (I love Lazy Oaf)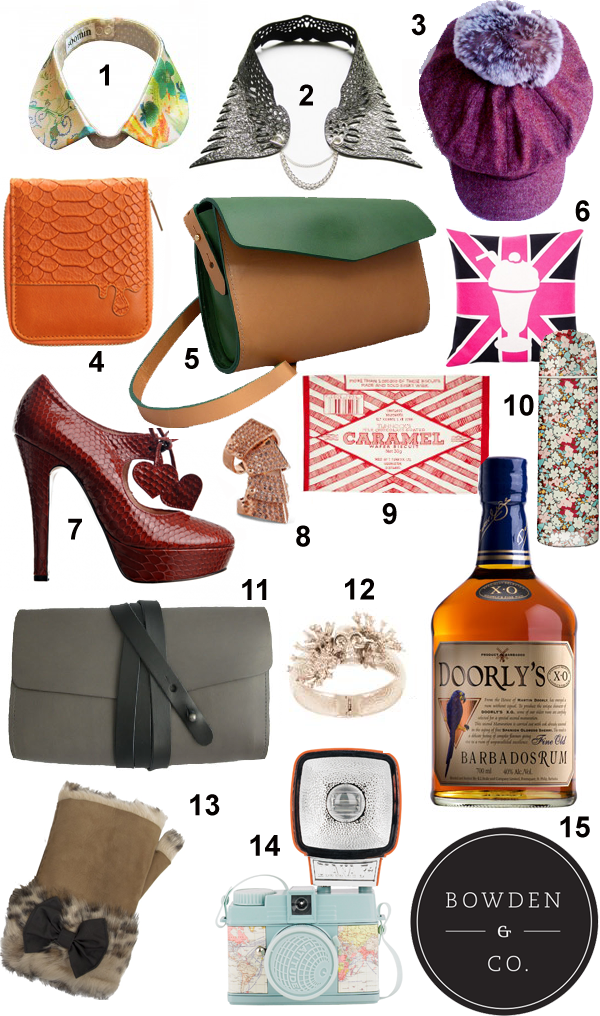 1 Beryl silk viscose print collar with cotton lining, £75 from www.soomin.co.uk
2 Reversible black suede/silver leather Tara laser cut leather collar, £125 from Soomin
3 Darcey Duchess faux fur pom pom Newsboy cap, £89 from Blanche in the Brambles
4 Drip wallet small in orange, E.165 from Finnish Elle's Accessories Designer of the Year, Minna Parikka. Buy online at www.minnaparikkashop.com
5 Strapped Howe handbag in green/natural by M Hulot from www.mhulot.co.uk
6 Handmade felt ice cream sundae cushion, £34.99 including cushion pad, from the Cheer Up Clothing Company at www.cheerupclothing.com
7 Jezebel Anaconda shoes in red with a 12cm heel, E. 340 from Minna Parikka
8 Rose Gold Vivienne Westwood armour pave ring, £290, from www.selfridges.com
9 Tunnocks Caramel Wafer biscuit wrapper print organic tea towel, £8.50 from www.culturelabel.com
10 Hello Kitty flask from Debenhams (in store)
11 Garrard clutch in graphite & black, £ by M Hulot www.mhulot.co.uk
12 Alexander McQueen Atom Flower bracelet with signature skull, £495 from www.alexandermcqueen.com
13 Sheepskin leopard fingerless mitts, £115 from Blanche in the Brambles
14 Lomography Diana Mini Latitude camera, £100 including 12 gel filters, from www.urbanoutfitters.co.uk
15 Doorly's Barbados rum (yum) from wine and spirits gifting company, Bowden & Co. who also do Wine Club memberships and are really helpful so great for arranging last minute presents: www.bowdenandco.com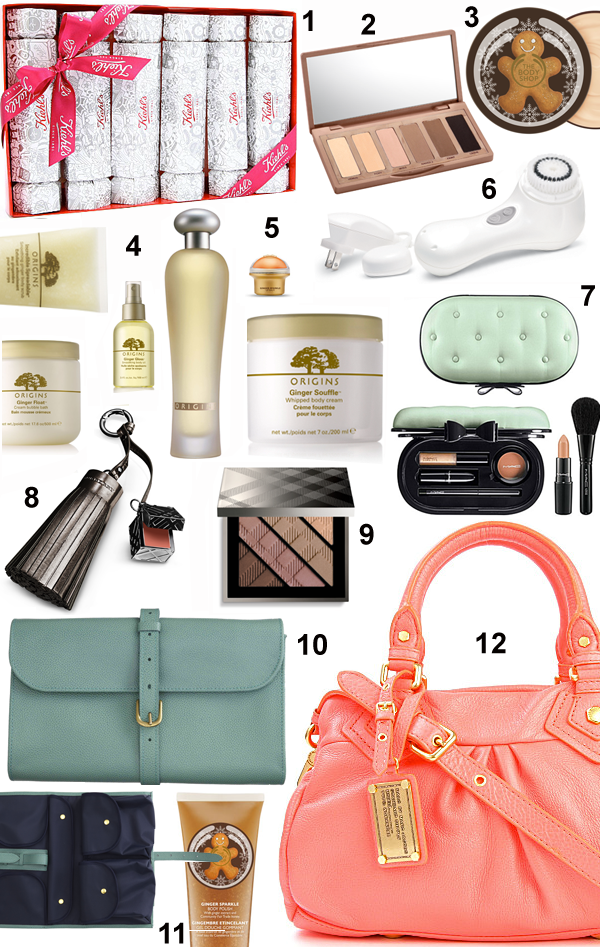 1 Kiehl's Christmas Crackers, £35 from www.selfridges.co.uk - WANT WANT WANT
2 Urban Decay Naked Basics palette of six gorgeous matte neutrals and smokey eye essentials, £20 from House of Fraser and Debenhams stores (try online too although it's so popular it seems to be sold out on their websites at the time of posting)
3 Body Shop ginger body butter - utterly delicious - currently on sale for £6.50, www.thebodyshop.co.uk
4 Various products from the reliably outstanding Ginger range by Origins - one of my favourite Christmas scents although (and this may be my nose) this sometimes smells like cola bottles to me although they smell great too so win/win. Check out the full range (I adore the Ginger Essence perfume in particular) at www.origins.co.uk
5 Body Shop Ginger lip balm, from Body Shop stores (no longer available online)
6 Clarisonic Mia 2 sonic face cleansing system, £130, from Space NK
7 MAC Sinfully Chic face compact, £45, exclusively from Selfridges
8 Burberry Beauty Charm which conceals a Burberry Beauty Lip Glow in a glossy pink nude shade, £70, - super adorable, who wouldn't love this? Fab gift from http://uk.burberry.com/store
9 Burberry Beauty Complete Eye Palette, £40 (reassuringly chunky packaging) from http://uk.burberry.com/store
10 Daines & Hathaway finished to order 'wet pack' wash bags (shown rolled and unrolled), £115, from www.dainesandhathaway.com
11 Body Shop Ginger Body Polish, currently on sale for £5 from www.thebodyshop.co.uk
12 Marc by Marc Jacobs Classic Q Baby Groovee shoulder bag in highlighter orange, exclusive to Selfridges, £315 - go on, Santa - you know you want to :)
SUBSCRIBE TO & FOLLOW UK STYLE