Whether you're into the Royal family or not, four days straight off work is reason enough to celebrate in my book. So, if you're planning on joining in with Queenie's Diamond Jubilee flag-waving this weekend here's a selection of geniusly tacky souvenirs, patriotic street partyware, plus beauty, fashion and accessories ranging from the cheap and cheerful, to in-your-face flamboyant, and understated anniversary chic. Happy Bank Holidays!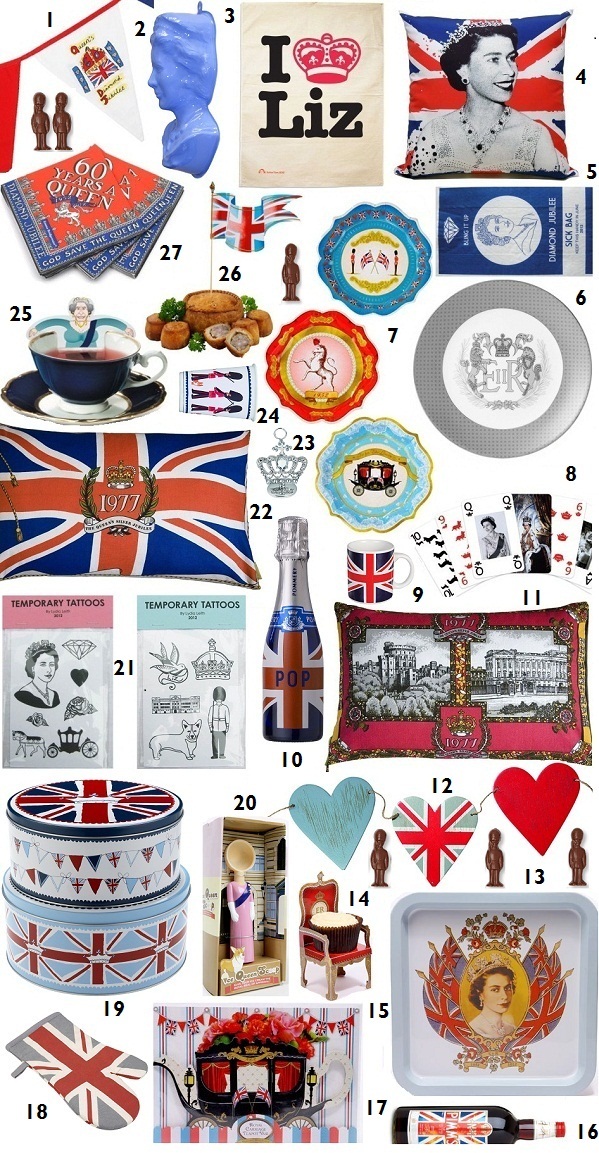 1. British Museum Jubilee Emblem Bunting, £9.99 for 3 metres, www.culturelabel.com
2. Of Cabbages and Kings x Lydia Leith Blue Jubilee Jelly Mould, £10, www.culturelabel.com
3. Twisted Twee I Love Liz Jubilee Tea Towel, £15, www.culturelabel.com
4. Alive House Young Queen cushion, £35, www.culturelabel.com
5. BALTIC x Lydia Leith Jubilee Sick Bag, £3.50, www.culturelabel.com
6. British Museum Wedgewood Diamond Jubilee Fine China Plate, £60, www.culturelabel.com
7. British Museum Jubilee Paper Plates, £4.50 for 12, www.culturelabel.com
8. V&A Royal Playing Cards, £5, www.culturelabel.com
9. Union Jack mug, £6 from branches of Next.
10. Pommery POP, £14, in store at House of Fraser.
11. Hunted and Stuffed Vintage Jubilee cushion, £60, exclusively at www.culturelabel.com
12. TU Heart Union Jack Bunting, £6, from Sainsburys (in store)
13. Michton chocolate soldiers, £3.99 www.selfridges.com
14. Royal Jubilee British Cupcake Thronestand, £8 for two, online exclusive from www.urbanoutfitters.co.uk
15. Jubilee Tin Tray, £12, www.urbanoutfitters.co.uk
16. Pimm's 3 litre Jeroboam, £150, world exclusive at www.selfridges.com
17. Royal Jubilee British Teapot Carriage Vase, £10, online exclusive at www.urbanoutfitters.co.uk
18. Debenhams Antique Union Jack Oven Mitt, on sale for £4.80 at www.debenhams.com
19. Jubilee Cake Tins, £10 for a pack of two, Sainsburys (in store)
20. Royal Jubilee Ice Cream Queen Scoop, £8.00 from www.urbanoutfitters.co.uk
21. BALTIC x Lydia Leith Jubilee Temporary Tattoos, £3 per pack, www.culturelabel.com
22. Hunted and Stuffed Union Jack Jubilee Cushion, £60, exclusively from www.culturelabel.com
23. TU Jewelled Crown Place Name Holder, £3.50 from Sainsburys.
24. Soldier design plastic party cups available in store at Sainsburys.
25. Saatchi Gallery x Donkey Creative Royaltea Tea Bags, £7.99, www.culturelabel.com
26. British Museum Jubilee Union Jack Mini Flags, £4.50 for 8, www.culturelabel.com
27. V&A Jubilee napkins, £40 for a pack of 20, www.culturelabel.com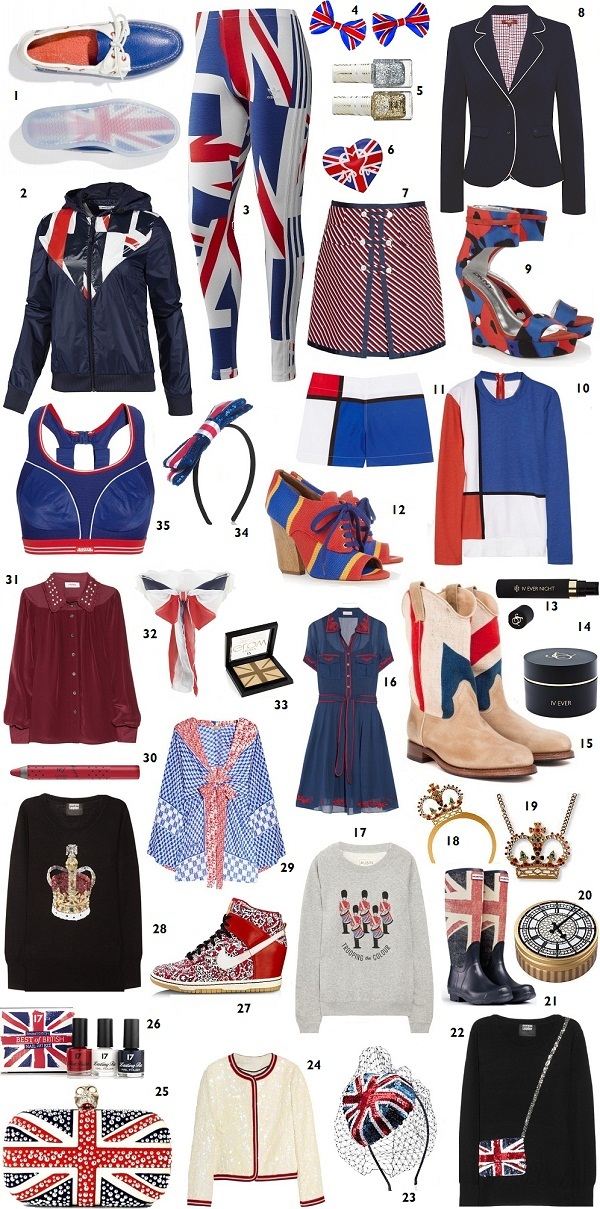 1. Spinnaker The Patriot Docksiders by Sebago, £109, www.sebago.com/uk
2. Adidas Olympics Flag Windbreaker, £80, and 3. Adidas Women's Olympic leggings, £40, both from www.adidas.com/uk
4. Union Jack hair bows from George at Asda.
5. Silver and Gold Glitter nail top coat varnishess, £8 each from Boots No. 7 www.boots.com
6. British Heart Foundation charity badge, £1 from BHF Stores www.bhf.org.uk
7. Black Fleece Striped textured-cotton mini skirt, £295, www.net-a-porter.com
8. Merc Amber navy jersey blazer with red white and blue checked lining, £80, www.merc.com
9. DKNY Printed canvas wedge sandals, £245 www.net-a-porter.com
10. Pret-A-Surf colour-block cotton sweatshirt, £195, and
11. matching printed boy shorts, £145, both from Net-A-Porter
12. Dolce & Gabbana Woven lace-up peep-toe ankle boots, £380 www.net-a-porter.com
13. Carol Joy London IV Ever Night anti-aging serum, £340, and 14 IV Ever rejuventating cream moisturiser, £360, both containing Diamond Dust and available from Carol Joy London salons (The Dorchester, Harrods' Urban Retreat etc.) see www.caroljoylondon.com
15. Penelope Chilvers Union Boots, see www.penelopechilvers.com for details.
16. Colette by Colette Dinnigan embroidered silk-georgette dress, £415, www.net-a-porter.com
17. Aubin & Wills Aireshire soldier printed cotton-jersey sweatshirt, £70, www.net-a-porter.com
18. Tatty Devine Crystal Crown Tiara, £126, and 19. large Crown necklace, £108, both exclusive to Selfridges.
20. Big Ben Steamcream moisturiser, £12.95 www.steamcream.co.uk
21. Hunter Original Brit wellingtons, £125, www.hunter-boot.com
22. Markus Lupfer Union Jack Bag sequined merino sweater, £310 exclusive to Net-A-Porter.com
23. Accessorize Sequin Heart Pill Box fascinator, £32
24. J Crew Sequined linen bomber jacket, £400 www.net-a-porter.com
25. Alexander McQueen Union Jack bubble-studded box clutch, £1,095 exclusively from Selfridges.
26. 17 'Best of British' red, white and blue nail art kit, available in store at Boots.
27. Liberty x Nike Print Dunk Sky Hi Sport hidden wedge trainers, £95 www.liberty.co.uk
28. Markus Lupfer Crown sequined merino wool sweater, £300 exclusively at Net-A-Porter.com
29. Issa Printed silk-chiffon kimono-style mini dress, £415, www.net-a-porter.com
30. Poppy King for Boots No. 7 Raindrops collection lip crayon, £11.50 www.boots.com
31. Sonia by Sonia Rykiel Crystal-embellished silk shirt, £265, www.net-a-porter.com
32. Laura Cloke for Elle and Cee Union Jack Jubilee knickers, £50, exclusively at Selfridges.
33. 17 Instant Glow limited edition Union Jack bronzer, available in store at Boots.
34. Accessorize Union Jack bow headband, £5, available in store only.
35. Shock Absorber Great Britain Run sports bra, £37 from www.net-a-porter.com
SUBSCRIBE AND FOLLOW
Get top stories and blog posts emailed to me each day. Newsletters may offer personalized content or advertisements.
Learn more