Officers Attack Lack Of Political Leadership And Demand Guidance On Tactics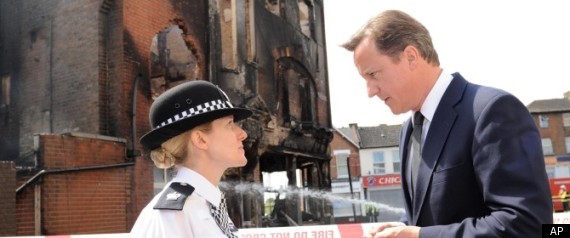 The Metropolitan Police Federation has attacked politicians for their lack of leadership in the face of widespread unrest in London, and has demanded clear guidance for officers on what tactics its officers can and can't use.
The Metropolitan Police has confirmed that 16,000 police officers will be on duty in London from midday Tuesday until Wednesday morning. Officers from up to 26 police forces from around the UK will be on duty.
However Neil Cratchley, who is general secretary of the Metropolitan Police Federation, which represents rank and file officers, said they still lack proper instructions from politicians on what tactics they can use.
"What we really need now is for politicians to start giving us some really clear guidance on whether we're going to police this gently-gently, or effectively," Cratchley told the Huffington Post UK.
"It's for politicians to say whether they want us to stand by and just try and contain things, or do they actually want us to go in and move these people on and start arresting them."
His comments join rising criticism of key ministers and other politicians, many of whom were not in the capital until Tuesday despite three nights of violence.
They include the home secretary Theresa May and Mayor of London Boris Johnson, who returned from holiday on Monday and Prime Minister David Cameron who arrived back in the capital on Tuesday.
Johnson and May were booed and heckled by Londoners on the streets of Clapham on Tuesday lunchtime for what has been seen as their conspicuous absence so far in the crisis.
Alluding to recent incidents where tactics used by police to contain violence were later criticised as heavy-handed, Cratchley said that it was down to politicians to set the standards so that police officers know what is and what is not expected of them.
"Police want clear instructions on what to do, not to be told to do one thing today and then be criticised by the politicians tomorrow, who then say 'well that isn't actually what we meant'. Which quite often happens."
Cratchley added that there was "no point" arresting looters if prosecution services are not set up to bring charges.
"If we're going to start arresting them then officers need the support of the criminal justice system. There is no point us arresting them if they're going to be out a few hours later. Or not to be able to hold them at all because of their ages."
The 16,000 officers on the streets on Tuesday evening is more than five times as many as the 3,000 officer who would normally be on duty.
Those numbers include patrol, response and riot squad offices, and community support officers.
That number is "probably unprecedented" Cratchley said. He added that many officers have been on duty for up to 36 hours.
"You can only do it for so long before people get very tired and concentration levels and other things take a hold."
However Cratchley said that despite everything officers would be working hard to restore order, and praised their dedication.
"This is what they do. And I have to make the point to you, that despite everything, despite all the provocation, they're still out there doing it. They are tired but they are committed."