The UK is enduring its fourth night of rioting with pockets of unrest reported in the Midlands and Manchester. For the first time since the disturbances began on Saturday, the focus has shifted away from the capital, with Manchester worst hit. Reports suggest as many as four to five hundred young men rampaged through the city centre looting shops and setting fires, following earlier unrest in Salford.
In an emotional press conference, assistant chief constable Gary Sherwan of Manchester Police said, "levels of violence in the city are "unprecedented". He also assured residents that the force was "determined to clamp down on youths running riot" and that it would be "business as usual tomorrow".
Rioting also broke out in West Bromwich, West Midlands, however subsequent police reports suggest that the group responsible later dispersed. Smaller scale rioting has also been reported in Wolverhampton, Birmingham and Leicester. In Nottingham a police station was firebombed.
In Enfield, scene of Sunday's looting, vigilante groups have taken to the streets to protect homes and business from mob rule, while in Southall near Ealing, hundreds of Sikhs are standing guard outside their temple in an act of defiance against the rioters.
Earlier today, sixteen thousand police officers were brought in to patrol the streets of London as Britain braced itself for a tense evening.
Extra officers have were drafted to the capital from as far away as Newcastle. The Prime Minister David Cameron announced a massive surge of police in London following three nights of violence across the capital. Police have admitted they may use plastic bullets tonight if there is serious disorder.
(CLICK HERE TO GO STRAIGHT TO LIVE UPDATES)
More than 400 people have been injured after three days of rioting in London. On Tuesday afternoon businesses across the city closed early as rumours spread that yobs were targeting various areas, including Barnet and the West End.
Many parts of the city spent the day cleaning up after Monday night's riots which affected several areas of London, including Croydon, Peckham, Ealing, Hackney and Enfield.
This evening it was confirmed that more than 100 police officers have been injured in London since the first riots broke out on Saturday night in Tottenham.
There were isolated reports of further unrest outside London throughout the day, following last night's violence in the centre of Birmingham. Up to 800 people went on the rampage in the centre of England's second-largest city last night.
The rioting was ostensibly triggered by the killing in Tottenham by police of local man Mark Duggan last Thursday. His death is the subject of a police investigation. Today the Independent Police Complaints Commission said there was no evidence Mark Duggan opened fire on police before being shot by them.
However, the police and politicians have claimed most of the rioting in Britain this week has nothing to do with the death of Mark Duggan and claim most of those involved are opportunistic looters. The causes of the riots will inevitably be debated and argued over in the coming days.
Earlier today it was confirmed that a man shot in Croydon last night had died in hospital. Another man in his 60s remains critically ill in hospital after battling with rioters in Ealing.
The mayhem in London also led to tomorrow night's football friendly between England and Holland to be cancelled.
David Cameron returned to Britain this morning having cut his holiday in Italy short. Following a meeting of the government's emergency planning COBRA team, the PM announced that parliament would be recalled from recess on Thursday to debate the ongoing crisis.
Speaking outside Number 10, Cameron pledged 'more robust action' to deal with the rising sense of lawlessness across Britain.
Politicians have been criticised for not taking decisive action sooner. The Mayor of London Boris Johnson was heckled as he visited parts of south London affected by last night's rioting, and a member of the Police Federation in London has criticised politicians in general for failing to give the police proper direction on what kind of response they should have made to the rioting.
Questions have been asked about the use of social and mobile networks as co-ordination tools by those behind the violence. Three people have been arrested - one in Glasgow and two in Kent - for allegedly posting inciteful status updates on Facebook. The handset manufacturer Research In Motion, who produce BlackBerry phones, has come under the spotlight after allegations that its BBM messaging service was one of the main networks used by those looting and destroying property in London.
Tonight there are reports of low-level disorder in parts of London. A car has been burnt out in Croydon and thousands of police officers are taking to the streets as people go home. The overwhelming majority of Londoners will be hoping and praying Tuesday night passes off peacefully.
11/08/2011 20:35 BST
Arrest Figures Update
West Midlands Police have announced that they have arrested 389 people in connection with the riots.
11/08/2011 20:31 BST
Sky News Debate
Peter Hitchens: "People riot because they are wicked, selfish and lawless...we have dismantled every form of authority in society."
11/08/2011 20:14 BST
Sky News Debate
For the next hour Sky News is hosting a debate on the riots, with journalists Peter Hitchens and David Aaronovitch. It could get interesting...
11/08/2011 19:52 BST
Sky News: 186 Police Injured
| | |
| --- | --- |
| | @ SkyNewsBreak : 186 Metropolitan Police officers reported injured since Saturday |
11/08/2011 19:51 BST
Sky News: New Arrest Numbers
| | |
| --- | --- |
| | @ SkyNewsBreak : Metropolitan Police have arrested 950 people so far since starts of the riots, 457 of those have been charged |
11/08/2011 18:58 BST
Police and arrest update
The met police have arrested a thug for robbing an injured student during the riots.
He is one of 950 people who have been arrested in connection with violence, disorder and looting by the metropolitan police. A total of 457 people have been charged.
11/08/2011 16:06 BST
Update On Rioters:
| | |
| --- | --- |
| | @ SkyNewsBreak : Met Police: Roughly half of 240 people who have appearedin court so far charged over London riots were under 18 |
11/08/2011 15:05 BST
| | |
| --- | --- |
| | @ TimGatt : K Clarke tells Sky:"This is worse than 25 yrs ago[...]There are several sections of the population that are much more totally irresponsible" |
11/08/2011 14:11 BST
Interesting On Morality And Politics From The Telegraph's James Kirkup
Mr Cameron has set himself an enormous task here, effectively pledging to reverse the drift of popular culture in Britain and change the way the country thinks and feels.
11/08/2011 14:01 BST
While this continues, Met police have been making more arrests and raided properties - officers in Brixton, south London, recovered clothing and an iPod,
In Pimlico, West London, they found £1,600 in cash and "thousands of pounds worth of Hugo Boss clothing - all still with the labels on."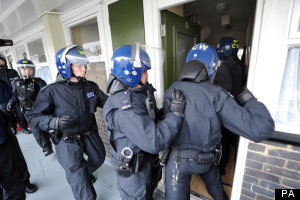 This Blogger's Books and Other Items from...
SUBSCRIBE TO & FOLLOW UK DAILY BRIEF