Three men have died in Birmingham as the UK suffered its fourth night of rioting and disorder.
Police have launched a murder inquiry in response to the incident which happened around 1am in Winson Green, Birmingham.
The men were returning from a mosque and protecting their area from rioters.
The father of one of the victims, Haroon Jahan, 21 today told of how he helped the injured men without realizing they were his children.
Tariq Jahan said: "The car came up on the pavement for God knows what reason and I was standing nearby.
"I heard it happen and I turned round and I saw three people on the ground and my instinct to help and I started CPR and someone told me that one of them was my son.
"I started CPR on my own son and my hands and face were covered in blood. What was the point in doing it? We are here defending the community. He was a good kid aged 21, and very well liked", he told the BBC.
The other two victims were brothers Abdul Nasir, 31, and Shazad Ali, 30.
Witness Kabir Khan Isakhel told the press association: "People came out of prayers and they were protecting the area. My friends were targeted - they were standing on the side of the road and the car just came and ran them over."
West Midlands police, in a statement released on Wednesday said:
"West Midlands Police have launched a murder inquiry, arrested one man in connection with the incident and recovered a vehicle from near the scene which will be examined by forensics experts."
A man beaten by rioters in Enfield also died in hospital on Wednesday morning, bringing the total number of those who have died in riot related incidents to five.
(SCROLL DOWN FOR LIVE UPDATES)
The tragedy comes after the violence, which began in north London on Saturday evening, spread to the north. There was disorder in Liverpool, Wolverhampton, Bristol, Gloucester, Salford and West Bromwich all
There was widespread looting and vandalism in Manchester, and a police station in Nottingham was firebombed.
In an emotional press conference on Tuesday evening, assistant chief constable Gary Sherwan of Manchester Police said, "levels of violence in the city are "unprecedented". He also assured residents that the force was "determined to clamp down on youths running riot" and that it would be "business as usual tomorrow".
Police made 108 arrests in the city.
Follow our liveblog for the latest developments and news of the clean ups:
11/08/2011 20:35 BST
Arrest Figures Update
West Midlands Police have announced that they have arrested 389 people in connection with the riots.
11/08/2011 20:31 BST
Sky News Debate
Peter Hitchens: "People riot because they are wicked, selfish and lawless...we have dismantled every form of authority in society."
11/08/2011 20:14 BST
Sky News Debate
For the next hour Sky News is hosting a debate on the riots, with journalists Peter Hitchens and David Aaronovitch. It could get interesting...
11/08/2011 19:52 BST
Sky News: 186 Police Injured
| | |
| --- | --- |
| | @ SkyNewsBreak : 186 Metropolitan Police officers reported injured since Saturday |
11/08/2011 19:51 BST
Sky News: New Arrest Numbers
| | |
| --- | --- |
| | @ SkyNewsBreak : Metropolitan Police have arrested 950 people so far since starts of the riots, 457 of those have been charged |
11/08/2011 18:58 BST
Police and arrest update
The met police have arrested a thug for robbing an injured student during the riots.
He is one of 950 people who have been arrested in connection with violence, disorder and looting by the metropolitan police. A total of 457 people have been charged.
11/08/2011 16:06 BST
Update On Rioters:
| | |
| --- | --- |
| | @ SkyNewsBreak : Met Police: Roughly half of 240 people who have appearedin court so far charged over London riots were under 18 |
11/08/2011 15:05 BST
| | |
| --- | --- |
| | @ TimGatt : K Clarke tells Sky:"This is worse than 25 yrs ago[...]There are several sections of the population that are much more totally irresponsible" |
11/08/2011 14:11 BST
Interesting On Morality And Politics From The Telegraph's James Kirkup
Mr Cameron has set himself an enormous task here, effectively pledging to reverse the drift of popular culture in Britain and change the way the country thinks and feels.
11/08/2011 14:01 BST
While this continues, Met police have been making more arrests and raided properties - officers in Brixton, south London, recovered clothing and an iPod,
In Pimlico, West London, they found £1,600 in cash and "thousands of pounds worth of Hugo Boss clothing - all still with the labels on."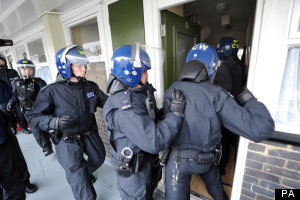 SUBSCRIBE TO & FOLLOW UK DAILY BRIEF