David Cameron Promises A 'Better Time Ahead' To Conservative Party Conference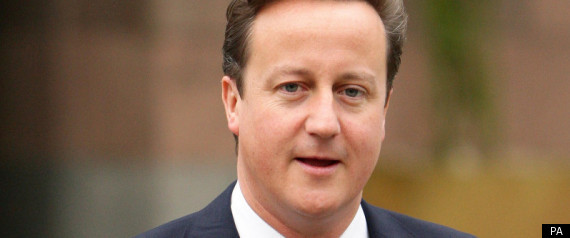 David Cameron has delivered his speech to the Conservative party conference - after a last minute re-write that saw the prime minister ditch a phrase urging the public to pay off their debit cards.
The prime minister acknowledged that the country was facing "difficult times" but urged delegates to "reject the pessimism":
"Let's bring on the can-do optimism. Let's summon the energy and the appetite to fight for a better future for our country, Great Britain".
(CLICK HERE FOR LIVE REACTION)
Delivering a speech to a packed conference hall, he promised that the coalition were laying the "foundations" for economic recovery and that the government would stick to their deficit reduction plan.
Addressing the ongoing eurozone crisis, he said he would get the country out of eurozone bail out deals.
Cameron also addressed growth, saying the country needed "jobs" so would do "everything" to help businesses.
"Where that means backing off, cutting regulation – back off, cut regulation. Where that means intervention, investment – intervene, invest. Whatever it takes to help our businesses take on the world – we'll do it. "
He promised told British businesses that he would cut red tape: "So here's a direct appeal: If you want skilled employees, we'll provide the funding, we'll cut the red tape. But you've got to show more leadership and give us the apprenticeships we need."
The prime minister addressed Labour's call last week for "something for something" saying that people really got "something for nothing".
"Under Labour they got something for nothing. With us they'll only get something, if they give something. If they are prepared to work, we're going to help them – and I mean really help them.
"If you've been out of work and on benefits for five years, a quick session down the job centre and a new CV just isn't going to cut it. You need to get your self-esteem and confidence back; you need training and skills; intensive personal support."
Click here for the full text of the PM's speech
TUC General Secretary Brendan Barber said: "The economic news just keeps on getting worse. Today's revision of the GDP growth figures show the economy is doing even more badly than expected. There is now a real danger of the UK going back into recession, and the best that current policies can deliver will be years of stagnation.

"We need action to kick start the economy, rather than speeches telling us to look on the bright side. The fall in household spending is almost as steep as at the height of the crash as wages are squeezed, prices rise and families cut back.

"Of course people should be sensible about paying back unsustainable debt, but the truth is that the government is relying on people borrowing more as OBR forecasts reveal. George Osborne must be hoping that people ignore the Prime Minister's advice to pay back their credit cards today."