Occupy Wall Street: Demonstrations Held In Cities Around The World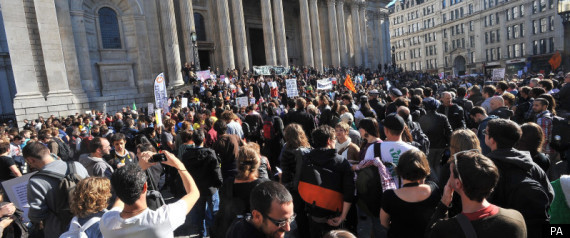 Demonstrators have taken to the streets in cities around the globe.
Inspired by the "Occupy Wall Street" protests in New York, demonstrations have been held in Sydney, Hong Kong, Tokyo, Rome, Toronto and London. The targets for many of the rallies are the institutions of the global financial system. Demonstrations are planned for more than 80 countries.
In London, thousand of protesters gathered near the London Stock Exchange in the heart of the city. The Telegraph reported that around 1,000 demonstrators were in attendance.
The BBC reported the figure to be between 4,000 and 6,000. All were there to voice their discontent at financial corruption, corporate greed and government cutbacks.
Veteran campaigner Peter Tatchell spoke at the London event, encouraging adoption of the Tobin Tax, as well as the implementation of a 20 per cent emergency tax on the richest tier in Britain.
"The richest 10 per cent of the UK population have a combined personal wealth of £4 million, million. A one-off 20 per cent tax on those people would raise £800 billion," he said.
"Those people can afford it, they'd feel no pain, and they're so fabulously wealthy.
"With that sum of money you could pay off the entire government deficit. No need for any public spending cuts."
He also said the Tobin Tax could raise "at least £100 billion a year… allowing the government to clear the deficit".
Wikileaks founder Julian Assange also addressed the crowd, fighting his way through protesters and police before speaking on the steps of St Paul's.
"People are being ordered to Guantanamo Bay to obey the rule of law, and money is being laundered through the Caymen Islands and London to obey the rule of law," he said.
"This movement is not about the destruction of law, but the construction of law."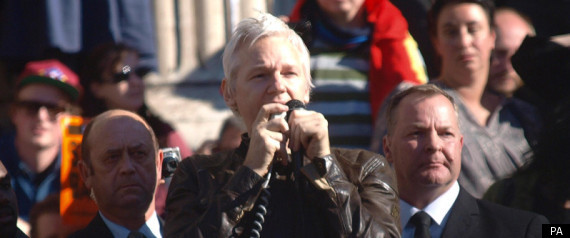 According to the BBC, more than 50,000 demonstrators gathered in Rome, galvanised by their dissatisfaction with Prime Minister Silvio Berlusconi and his government.
Italy has recently been downgraded by Standard & Poor's, while Berlusconi has been blighted by confidence votes and allegations of corruption. The protests, which gathered near the Colosseum, turned violent when demonstrators attacked property and a government ministry. Cars were set on fire and a police van was overturned.
Italian Police have reportedly used tear gas to quell the crowd.

Around 500 people gathered in Tokyo, while similar numbers were reported in Hong Kong. According to The Telegraph, around 600 protesters "set up camp outside Australia's central bank" in Sydney.
Madrid, Dublin and Frankfurt have also seen demonstrations.
Earlier in the UK, campaign organisations, including direct action group UK Uncut, said they would support an occupation of the heart of the capital's financial centre as part of a "global movement for real democracy" to highlight social and economic injustice.
The Occupy London Stock Exchange collective said a Facebook page on the protest had attracted more than 13,000 followers, with more than 5,000 confirmed attendees.
Laura Taylor, a supporter of the so-called OccupyLSX, said: "Why are we paying for a crisis the banks caused? More than a million people have lost their jobs and tens of thousands of homes have been repossessed, while small businesses are struggling to survive.
"Yet bankers continue to make billions in profit and pay themselves enormous bonuses, even after we bailed them out with £850 billion."
Another supporter, Kai Wargalla, said: "We want to make our voices heard against greed, corruption and for a democratic, just society. We stand in solidarity with Occupy Wall Street, protesters in Spain, Greece and the Middle East who started this movement. They have inspired people all over the world to step forward and make their voices heard."
UK Uncut supporter Peter Hodgson said: "The success of the square occupations across Spain in calling for democracy and an end to austerity, alongside the rapid growth of the Wall Street occupation, has shown that this is what is needed in London and the UK. The Government is ignoring its electorate as they impose these austerity measures."
OccupyLSX issued a statement which said: "The words corporate greed ring through the speeches and banners of protests across the globe.
"After huge bailouts and in the face of unemployment, privatisation and austerity, we still see profits for the rich on the increase. But we are the 99%, and on October 15 our voice unites across gender and race, across borders and continents, as we call for equality and justice for all.
"In London, we will occupy the Stock Exchange, reclaiming space in the face of the financial system and using it to voice ideas for how we can work towards a better future, a future free from austerity, growing inequality, unemployment, tax injustice and a political elite who ignores its citizens, and work towards concrete demands to be met."
Via HuffPost Miami:
When an Occupy Miami member offered evicted protestors vacant apartments in a building he owns in Downtown Miami's Overtown neighborhood, it seemed like the perfect solution: the 'Peace City' space would provide headquarters for the movement and shelter a small faction of the group's most vulnerable members. But it hasn't gone well. Other tenants say the building has become a cesspool of drug use and violence while non-resident Occupy Miami members are trying to distance themselves from the 'radicals' -- all while the two factions are wrestling for control over Occupy Miami's social media sites and future plans.
The feud between the Overtown occupiers and more mainstream members has only gotten worse. The two factions are now battling for control of Occupy Miami's social media sites. The movement's main Twitter account recently announced it had been "hijacked by a small, non-consensus group of radical members." The Occupy Miami Facebook page was also temporarily hacked by someone inside Peace City. Meanwhile, the Overtown occupation is slowly driving away more moderate members.

"This is a black eye on the Occupy movement," says Shannon Reaze, an Overtown community organizer and Occupy Miami supporter who is now helping tenants move out of Paz's building. "The violence and drugs going on here are way outside of what I thought Occupy stood for. This place is destabilized."

...The supposedly hard-core activists here spend their days drinking and getting high. And as Peace City devolves into lawlessness, the most committed occupiers are leaving. Local landowners and politicians want the place shut down, while cops are suspicious. Yet as long as Paz wants the protesters around, nothing short of a demolition order can keep them out.