Corruption: UK Companies Slip In Bribery Rankings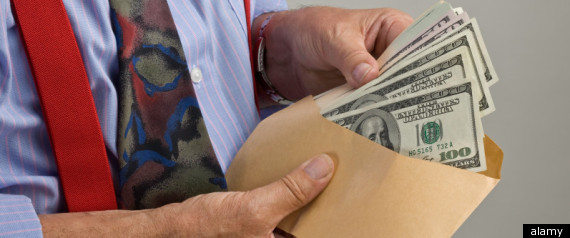 The British government needs to pressure its fellow G20 members for action on corporate bribery and "level the playing field" for UK companies overseas, the anti-corruption watchdog Transparency International (TI) has said.
Releasing its 2011 report on corporate bribery payments on Wednesday, TI said that companies from Russia and China are seen as the most likely to pay bribes overseas.
The UK has fallen two places to eighth on the rankings, despite the enactment of the Bribery Act in July, which finally brought the country in line with standards on overseas corruption set by the Organisation for Economic Cooperation and Development (OECD).
While that law is too recent to have had a major effect on the UK's position in the rankings, it is still disappointing that the country has slipped despite its rhetorical focus on anti-corruption, according to Chandrashekhar Krishnan, executive director of Transparency International UK.
"Certainly, I hope that now we have a robust new law, that it will be enforced vigorously," Krishnan said.
The United States has become more active in recent years in using the Foreign and Corrupt Practices Act (FCPA) to prosecute companies who use illicit payments to further their business interests overseas, and a new piece of legislation – the Dodd-Frank Act – compels natural resource companies to disclose payments made to government officials overseas. The European Union is pursuing similar legislation.
However, with companies from China in particular increasingly doing business overseas in competition with UK and other peers, the playing field is unbalanced, TI warns. If companies from other jurisdictions are able to get away with paying bribes, UK businesses may be pressured to do the same in order to compete.
Smaller businesses are at a greater risk of succumbing to this pressure, as they rely more heavily on individual contracts, whereas larger companies are more able to absorb lost business. With better legal advice, multinationals are more likely to have taken steps to comply with the legislation. They are also typically under more scrutiny from law enforcement.
"Many of the larger multinationals have done quite a lot to put [processes] in place," Krishnan said. "The question is whether they are monitoring and implementing them."
The temptation to succumb to the idea of corruption as 'business as usual' would be enormously damaging, Krishnan said, adding "We would just have a race to the bottom."
Widespread corruption adds to the cost of doing business and reduces the development impact of enterprise, with money that would otherwise be directed either to tax or jobs instead being concentrated amongst corrupt officials. In the long term, it undermines political stability and the competitiveness of economies.
The construction and public works industry, as well as the oil and gas and natural resource sectors are seen as the most prone to bribery, according to TI.
Both China and Russia have pledged to tackle overseas bribery by their companies, but with corruption endemic to differing degrees within the two countries, the likelihood of concrete action in the near term is slim. This is why, Krishnan said, the UK government needs to pressure its peers at the G20 to take action.
In the meantime, Krishnan urges companies to "hold the line" and stick to their principles in the short term, in order for longer term gain.