When David Cameron met Nicolas Sarkozy at the G20 Summit, their first handshake was accompanied by giggles and creases.
Considering that the future stability of the eurozone is at stake amid Greek calls for a referendum over a bailout, what could have been so funny?
Provide your thoughts in the comments section below. The winner gets bragging rights and a speech bubble on the photo.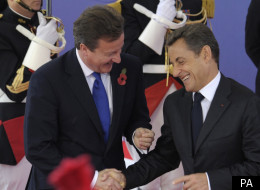 SUBSCRIBE AND FOLLOW
Get top stories and blog posts emailed to me each day. Newsletters may offer personalized content or advertisements.
Learn more