Harry Potter Star Tom Felton: 'We Were All Expecting To Be Replaced At Some Point' (PHOTOS)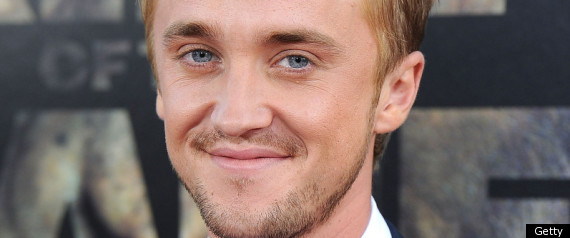 "It's fascinating to have your teenage years documented. We were all expecting to be replaced at some point," explains Tom Felton, while talking about the Harry Potter film franchise that made him a star.
Felton, who spent 10 years having his hair and eyebrows dyed at least once a week while on set as nasty Draco Malfoy, speaks gratefully about the role that taught him to act.
"There was talk about it, getting some decent actors in at some point, but they let us blossom. When you're surrounded by the pedigree of British cream like we were you are very blessed.
"The irony is that we were wizarding children and went to a wizards' school to learn magic and in actual fact we were young actors being taught by the head of the acting world how to do it, so it was quite ironic. We learnt on the job for the first six years, I think," Felton reflects on his part of the most successful cinema series of all time.
Harry Potter without the inexperienced but extremely endearing Daniel Radcliffe, Emma Watson, Rupert Grint and Felton seems almost unimaginable now, but as Felton explains, it was once a very real possibility.
Now the Hogwarts dream has come to an end, with the final part in the series being marked tomorrow (Friday) with the last film Harry Potter and the Deathly Hallows - Part 2's DVD release.
Fans of the magic film phenomenon have been stockpiling the DVDs and Potter keepsakes for years, throwing coins into Warner Brothers' pockets and helping make Daniel Radcliffe the richest British actor under 30, his staggering wealth now at an estimated £51,750,000 at the age of only 22. But do the Harry Potter stars watch the DVDs back just like the fans?
James Phelps, who played mischievous ginger-haired Weasley twin Fred, admits: "It's more the special features that I like. On part 1, we did a golf trip and on part 2 they've got some really cool behind-the-scenes stuff."
Fred's onscreen sister, Bonnie Wright, who played Ginny, says: "A lot of the time now it's shown around the holiday periods and you catch it so weirdly, when you're flicking through channels it's like 'oh my god' it's someone you know so well, much younger, on TV."
George Weasley, played by Oliver Phelps, agrees: "You know when it's on TV because a friend of mine will ring me, not just one but I'll get a few saying: 'How high was your voice?!' You like to make out when you were thirteen or fourteen you were really cool, but I can't really lie about that. I was cool in my own individual way, but my voice was like I was on helium unfortunately."
The Harry Potter films have brought the cast wealth, fame and an adoring, relentless fan-base, but what will the stars take away from it and what are they most proud of?
For Rupert Grint, Potter's best friend and Hermoine's eventual lover, it's "just generally being a part of it" that he holds dearly, he also hopes he's "made ginger people proud".
Felton, meanwhile, jokes: "I hope I've discouraged people from being evil. It's quite interesting to paint a picture of why Draco's such an unpleasant young being due to his family and the scenarios he's in, hopefully we've drawn a softer side to Draco as well, which is kind of cool over the ten years."
After leaving "evil" Draco behind, Felton has gone on to star in Rise Of The Planet Of The Apes but won't ever forget the impact Potter has had on, not only his own, but his fans' lives: "I've had lots of people come up to me and say 'we've grown up together, thanks so much for being a part of my childhood.' You're a really memorable part and you don't realise quite how far the grasp of Harry Potter goes but it's worldwide, literally. I go to countries I've never been to before and they know it, it is a very touching and humbling thing."
Harry Potter and the Deathly Hallows - Part 2 is available on Triple Play Blu-ray, DVD and Digital Download from December 2nd, 2011
SLIDESHOW: The final Harry Potter film in photos...