On The Sixth Day Of Christmas My True Love Gave To Me: 11 Winter Ducklings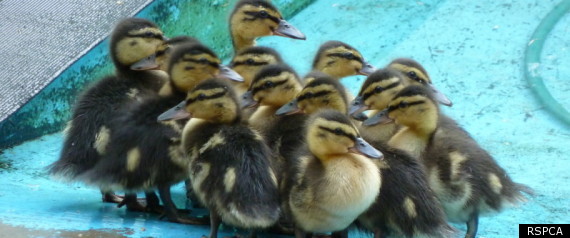 A brood of winter ducklings are being cared for by staff at a wildlife centre in East Sussex after members of the public rang in concerned for the chicks' survival in the hostile winter months.
Just days old, the fluffy ducklings were brought into Mallydams Wildlife Centre, after being spotted huddling together round a private pond in in Beckley, near Peasmarsh in East Sussex.
Ducklings are usually born in spring or summer when the weather is warm enough for them to find food. Staff at the RSPCA centre say that had they not been brought it, they would have perished.
Richard Thompson, rehabilitation team manager said: "We are always inundated with ducklings earlier in the year, in the spring and the summer, but it's very unusual for us to be caring from some at this time of year."
"If they hadn't been brought in to us they probably would not have survived. Ducklings primarily eat insects and duck weed so as the weather gets colder there would not be enough food for them."
The ducklings are being gradually introduced to water, to help waterproof their feathers, and are being kept under a heat lamp to keep them warm. They are being fed a special bird feed to help them keep their strength up over Christmas.
Adam Grogan, senior scientist from the RSPCA's wildlife department, said: "It is very unusual for wild mallard ducklings to hatch this late in the year.
"Wild mallards normally lay their eggs in the spring and they take about a month to hatch.
"It is possible the mild weather may have played a role in this late brood but we cannot be sure.
"The most likely explanation is that the ducklings are actually a domestic breed of duck which can produce eggs much later in the year.
"Most domestic ducks have been bred from mallards and these ducklings could be the result of an encounter between a wild mallard and a domestic duck."