Britain Battered By Wind And Rain In Windiest Week Of The Year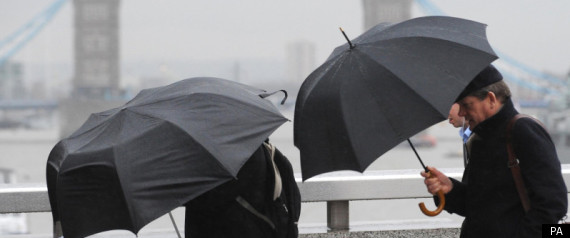 High winds and heavy rain battered England and Wales on Monday night while parts of Scotland could face blizzards conditions later as the unsettled weather continues.
One man had a miraculous escape when a tree smashed into his bedroom while he was asleep in Winchester, Hampshire.
Former ambassador Richard Wilkinson, 65, suffered only an ear injury despite the beech tree crushing his bedroom. Luckily his wife Angela, 52, was away as the tree crashed onto her side of the bed.
The south of England and South Wales bore the brunt of the wind and rain on Monday night with up to 40mm falling in some areas in 12 hours.
But an even stronger storm that was forecast for later this week is now expected to be weaker and hit France and Germany, explained Chris Burton from MeteoGroup, the Press Association's weather arm.
"It's not unusual to get a westerly flow from the Atlantic causing stormy weather over the UK during Autumn and early winter," he said. "For the last few years it's been different with colder weather, so it seems worse than usual, but it's not."
Gusts of 70mph were measured in Devon, 60mph in South Wales and 64mph was recorded in Langdon Bay, Kent, Meteogroup said. There was isolated flooding in the West Country and high winds closed part of the Tamar Bridge, one of the main routes between Devon and Cornwall for a time. Up to 40mm of rain fell in Plymouth.
The Environment Agency has a number of flood alerts on rivers in the South West with the rain causing some flooding.
The focus will now switch to Northern Ireland and south-west Scotland where gusts of 80mph are expected.
The Met Office has issued severe weather warnings of snow for eight regions of Scotland. Forecasters also warned of strong winds with gusts of up to 80mph possible across Argyll and Bute and winds of more than 60mph a possibility throughout the central belt.