Jacob Rees-Mogg On Bagpuss, Why Europe Could Split The Coalition, And Why He's Not More Of A Tory Than Cameron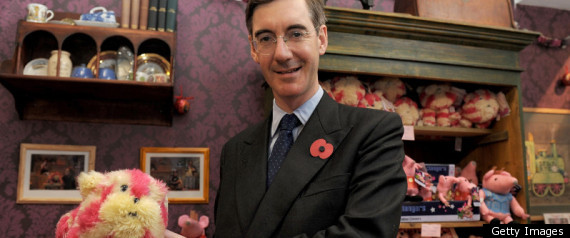 "Stiffen your sinews, summon up the blood imitate the action of a tiger. For that is how you should behave to our European partners, not like Bagpuss."
Not our words, Jacob Rees-Mogg's. The Conservative MP spent an awkward 49 seconds explaining his extended metaphor to Jeremy Paxman in the wake of a recent backbench rebellion over Europe.
But two months on, sitting down for a pre-Christmas coffee with Huff Post UK in the Commons, he said the children's TV character "just sort of came to mind" as he attempted to deliver a speech that was not "sort-of pre-heated or re-heated speech".
It's not the first time the member for North-East Somerset has attracted press attention. Once described as David Cameron's worst nightmare, on his first attempt to get elected to parliament the largely working class seat of Central Fife in 1997, he famously campaigned alongside his nanny.
It took 13 years for him to finally got a seat in the 2010 general election. Widely considered to be one of the more eccentric MPs of the Tory backbenches, Mogg even has his own twitter-impersonator ("when I see it on twitter I sometimes think 'it's very funny, I wish I were clever enough to have written that.')
Despite the double-barreled name, crisp tones and apparent attachment to his nanny at the age of 28, in person there's a serious side to Rees-Mogg, or The Mogg as he is referred to by Labour wags.
And he even gets on with some Labourites "not so secretly": "I get on very well with quite a number of them. Thomas Docherty, who is on the procedure committee with me, Nic Dakin I get on very well with. I admit, I even like some Lib Dems. I like John Hemming who I think is a most interesting man."
A feverent Eurosceptic, Rees-Mogg believes Europe could easily end up fracturing the coalition, believing it the largest of many "irritations" within the government. He says being in coalition is "a price worth paying" if it means controlling the deficit and having a stable nation - "unless, and this is the important caveat, unless there is a European treaty that would tie us further in, at which point Europe is more important than the coalition. I don't expect we'd be getting masses of power back but if there is any question of us giving any ground or not using any negotiation opportunity that's when the coalition is under greatest threat."
So, does he have any ambitions beyond the backbenches? The married father-of-three (with another one on the way) says being an MP is the absolute pinnacle of his ambition. Rees-Mogg even refuses to name a ministry he'd like to run, hypothetically: "I'm not very good at thought experiments. I don't think I have enough imagination."
At heart he's a traditional Conservative - and he believes the prime minister is one too, firmly denying he is a bigger Tory than Cameron.
"I think David Cameron is thoroughly Conservative. I think David Cameron is a proper Conservative, a eurosceptic Conservative, possibly he's even an old high-Tory. Not that he'd necessarily be complimented to be called an old high Tory, but I have no doubts... There's very little about him that you would question as a Conservative."
And what does it mean to be a high-Tory? A belief in a smaller state, lower taxes, and deregulation - not to mention euroscepticism.
For the NHS, apparently, that means leaving it as it is, although "I think the health reforms may make it more efficient".
"I'm all in favour of private medicine. I think it takes a burden off the NHS and should be encouraged", Rees-Mogg says.
But what about the public? "I think you may want to make them feel about private health as people do about private education. I think there is more stigma attached to private health then private education, and that's a mistake because every private appointment is an appointment the NHS doesn't have to do."
Then there's his surprisingly positive attitude toward immigration. "I'm more pro immigrant than I am pro-immigration" he confesses. "I think by and large the people who are willing to up sticks, move half-way around the world and come to Britain are quite remarkable people because I'm not sure I'd like to do that. Do that with no money and so on. And I think very few people come here for the sake of benefits."
Quickfire with Jacob Rees-Mogg:
Have you thought about changing your name to be less posh?
My name isn't particularly posh actually. Everybody has double barrels nowadays. Nearly.
Have you thought about tripled barrelled names for your children?
No
NHS or private
I do and I don't [use the NHS]. You can't be registered with two GPs so in London I have a private GP and in Somerset I have an NHS GP. So, if I fall ill in Somerset I use the NHS, in London I use private care.
Do you think Labour MPs are rude to you?
They may be in the Chamber. That's fine. It's what debating is about. They're doing the right thing, they're trying to put me off my stride and I'm trying to keep on my stride. That's seems to be perfectly fair.
When was the last time you wore jeans?
I am afraid I am invariably suited and booted
Do you know any Latin?
I know a few Latin quotations but I am afraid I don't speak Latin.
Who would you invite to your fantasy dinner party?
I think Pitt the Elder would be fascinating, as long as he was in a good mood. Disraeli would be entertaining. Churchill would be great, because he's Churchill. That's three. Let's throw in two living people; the Queen and the Pope... They're both the same sort of age.
Will you start tweeting?
No. I have very stiff competition. The problem with tweeting is that you either say things that are immeasurably boring and no one's interested or you say things that are so indiscreet you get yourself into endless trouble. I don't think there is, really, a happy medium.
Have you ever stolen anything?
No. Stealing is wrong, I think you should tweet that.